Without marketing, your tech startup won't achieve its true potential. Why? Because there's no point in having a great product when people won't know about it. Startup marketing is more of a need now than it ever was before.
With the advent of social media marketing and digital marketing, marketing your startup is an important business function that shouldn't be neglected.
In fact, you should go all out on your startup marketing budgets and cream your competition.
While not every startup has the budgets to pull off over the top marketing campaigns, you can start with the basics and build from there.
Startup marketing is unique to every startup, and the purpose of this guide is to give founders an excellent place to start.
Find Cool Tech Company Name Ideas On .tech
Foundation
You can't start with startup marketing without having a well-thought-out plan or a solid foundation in place. Be sure to cover the below-mentioned bases before kickstarting your startup marketing activities:
#1 Choose A Market
The startup space is packed with innovative, cutting edge new businesses. To make your marketing efforts a success, you need to start by determining your target market, learning about their interests, and try to reap maximum conversions out of it.
Consider four factors before choosing a market:
Market Size – Whether you're targeting a regional demographic, males or females, or children, you need to determine a number for your potential customers.
Market Wealth – You need to find out whether your target audience has the purchasing power to buy your products.
Market Competition – Find out about the level of your competition in the market.
#2 Define Your Keywords
You need to define a set of core keywords that perfectly summarize your startup and your core competency. For instance, 'Augmented Reality' can be your primary keyword if you are an AR-based startup.
Then expand them to secondary keywords, through which you can elaborate a little. Keywords like 'Augmented Reality solutions', 'Augmented Reality apps', 'Augmented Reality iOS', 'Mixed Reality', etc. can be your secondary keywords.
In the digital world, keywords are critical for winning at SEO since they eventually drive maximum traffic to your website and posts. In fact, not using the right keywords could be a reason why your startup website fails to appear on SERPs. 
#3 Define Your Success
Every startup has its own definition of success. Whether it's a particular number of signups or a fixed amount of revenue, you need to define it early for your company and keep your entire team on the same page as well.
Irrespective of how you define your success, stay consistent and measure it the same way every month.
#4 Set Core Metrics
Make sure that your core metrics are specific and accurately measurable. Vanity metrics might seem appealing, but if they don't bring out the real growth of your company, they aren't of any use to you.
Vanity metrics might even mislead you and it could be far too late when you realize your company's actual position. Ideally, you need to rely on a few highly valuable metrics that are based on actions taken throughout your customer acquisition funnel.
Instead of measuring everything, just focus on the key indicators of your success.
#5 Estimate A Conversion Rate
Based on historical data, estimate your lead conversion rate. Also, estimate the lifetime value of your customer. Once you study how many of your leads converted and the amount of revenue those conversions generated, you can assign values to your goal completions.
For example, a goal of 100 newsletter signups could be incredible if your conversion rate is 20% but insignificant if it's 2%. Set goals like, $2,000 per month from newsletter signups – this is a more definitive goal.
#6 Set A Budget
All things said and done, everything comes down to money. What ultimately matters is how much can you spend on your startup marketing strategy.
You also need to define the areas of your startup which are giving the maximum return and focus a larger budget there.
Make sure you settle your logistics before you start your spends.
Social Media
Social Media is no more just a marketing platform. Users spend so much time surfing through content all day, that it provides a great opportunity for brands to reach them and engage with them.
In fact, there are quite a few effective social media tools you can use to optimize your social media marketing.
There are a couple of tricks that can help you reap maximum benefits out of social media.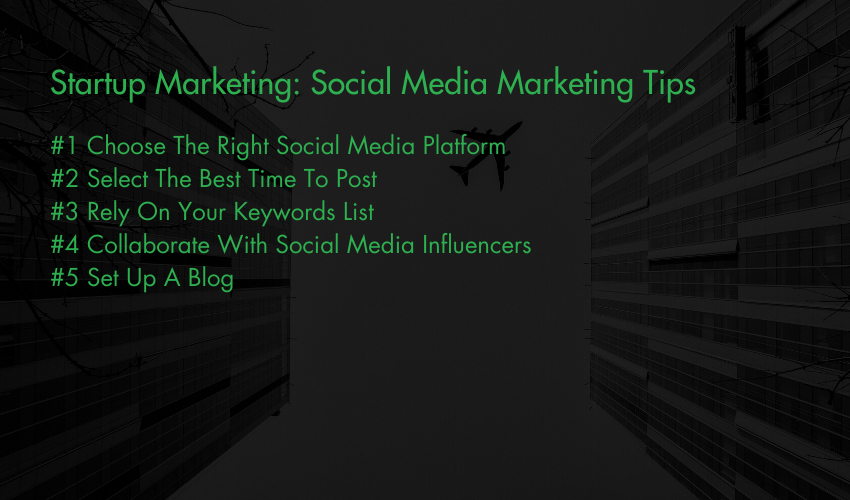 #1 Choose The Right Social Media Platform
There are multiple social media channels like Facebook, Instagram, Twitter, Pinterest, LinkedIn, and Reddit. Each of them has its unique characteristics and you need to identify the ones that match best with your products and services.
Another key element to consider here is which social media platform your target audience spends the most amount of time on. 
#2 Select The Best Time To Post
Understanding your target audience, which platform they are most active on and what time fo the day they are active on will help you decide which time is best suited for posting content.
Doing this study will help you derive the best results from your social media campaign. 
#3 Rely On Your Keywords List
The keyword list you earlier created will be supremely useful here. Use your keywords as hashtags or in captions of your respective social media posts to ensure that users who are interested in similar content come across your posts and engage with them.
The key to successful social media marketing is reaching the right audience through relevant keywords and the right hashtags.
Find Cool Tech Company Name Ideas On .tech
#4 Collaborate With Social Media Influencers
One of the most effective startup marketing strategies on social media is influencer marketing.
Partnering with social media influencers who share the same interests as you or who are interested in the kind of products you offer is a great way to promote your startup and product on social media.
Influencers already have a strong following of your target audience and hence it makes sense to piggyback on their brand value to appeal to relevant members of your audience.
It's simple; when influencers promote your products, their followers are likely to buy them too.
#5 Set Up A Blog
If you follow blogging best practices, you can potentially reach untapped audiences who might not be that active on other social media platforms.
Starting a tech blog not helps you improve SEO, it also helps to establish your startup as an authority in your niche.
You can set up a blog on WordPress, a free and simple blogging platform, which allows you to post your blogs and even offers many plugins.
Design your blog in a way that appeals to your target audience and use the right keywords efficiently to take advantage of SEO. But in the end, make sure that your content is value-driven and well-written.
Content Creation
To leverage the power of social media marketing, you need to create high-quality content. 
#1 Create A Topic List
A great way to start creating content is to first create a list of topics based on your keywords. Typically, you should search for topics that are relevant and trending. 
Next, identify unique but relevant secondary keywords around your core keywords. You can think of topic ideas that revolve around each of your core keywords, even use them in the titles if necessary.
#2 Types of Content
Besides blog content, there are four other types of content that can help you reach and engage with your target audience.
eBook/Guides – Offer free eBooks in exchange for a name and email address. With their contact information, you can market your products to them
Webinar – A Webinar is one of the most interactive ways to generate leads, as it helps you capitalize on the advantages of live engagement with your audience.
Newsletter – Even today people go through their emails daily, and if your

newsletters

are informative, they could generate the lead that you need for your brand.

Video – There's always a category of people who would always prefer watching a video than reading. So, make sure you create engaging videos to inform such people about your products and offers
#3 Guest Blogging
Guest blogging plays a great role in startup marketing. Guest posting on a popular blog could help you to build your reputation as a brand. You can also have an influential blogger to guest blog on your startup's blog to drive some traffic.
Test and Iterate
By following the steps mentioned above, you surely create a strong startup brand and get your startup marketing strategy in motion.
But don't expect to be completely successful at the first go. There's always room for improvement. That's where testing comes into play.
#1 Set Up Analytics Tool
An analytics tool gives you insights about your website and social media handles. There are various analytics tools out there, but it's wise to start with the basic, Google Analytics.
#2 Measure Against Benchmarks
Use the metrics that you recorded earlier as a benchmark to measure your current performance. Compare your weekly and monthly performances to check if you are on track to meet the goals you've set.
Whenever you see significant growth or decline, look into it closely and try to find out what exactly is giving you such outputs, and then act on it.
#3 Brainstorm Creative New Ideas
Doing what you're already been doing is great. But what's better is to come up with fresh ideas that might give you results that you haven't achieved yet.
Many new ideas could likely fail, but the few innovative ones that would succeed will be the ones that make a real impact.
Best Practices
Three best practices of startup marketing are:
#1 Sell The Solution
The best way to kickstart your startup marketing endeavors is to identify a problem, and how your product or service could provide a solution. That's what will eventually matter to your potential customers.
Even though there could be a host of available products that could solve the problem, you need to promote the USP of your product and what makes your solution the perfect choice.
#2 Tell A Compelling Story
The journey of every idea is different, and if your potential customers can relate to your journey, that's half the job done. Share your story of how you came up with the idea, your struggles, and your journey.
Startup marketing has a lot to do with building an authentic relationship with your customers.
#3 Use All Your Resources
Your team can serve as a great marketing tool too. Ask them to share your startup's story with everyone they meet. Writing blog posts or make videos about them and create a dedicated campaign about them. 
Final Thoughts
From crafting an integrated marketing campaign to making SEO mistakes to figuring out how to market to tech-savvy customers, your startup marketing journey is going to be riddled with interesting turns and twists.
Sometimes, even the best ideas fail due to a lack of customer awareness and media attention. However, if executed with diligence and focus, a well-prepared startup marketing strategy could make all the difference.
The strategy that worked for one startup might not work for you, and vice versa. Based on the nature of your business, your target audience, your campaign budgets, and your team's ability, you need to find a sweet spot between what can be done and what should be done. 
Starting a tech startup? Build it on a .tech domain!