If you're on the lookout to buy a new smartphone, chances are that you'll watch review and unbox videos on at least one tech YouTube channel.
And two hours later, you'll be watching a documentary on how Graham Bell invented the first telephone.
YouTube surely is addictive.
With a subscriber base of over 1.9 billion monthly active logged-in users, YouTube has grown to become the world's second-largest search engine.
Today, 70% of the millennials watch YouTube channels to learn how to do something new or to learn something new.
According to the research consultancy IDC, the global information technology industry is on pace to reach $5 trillion in 2019.
These statistics offer a lucrative and dynamic opportunity to anyone with a penchant for technology for starting a tech YouTube channel.
Confused about how and where to start?
Without further ado, let's get you started with the tips and tricks that will help you start your own successful tech YouTube channel.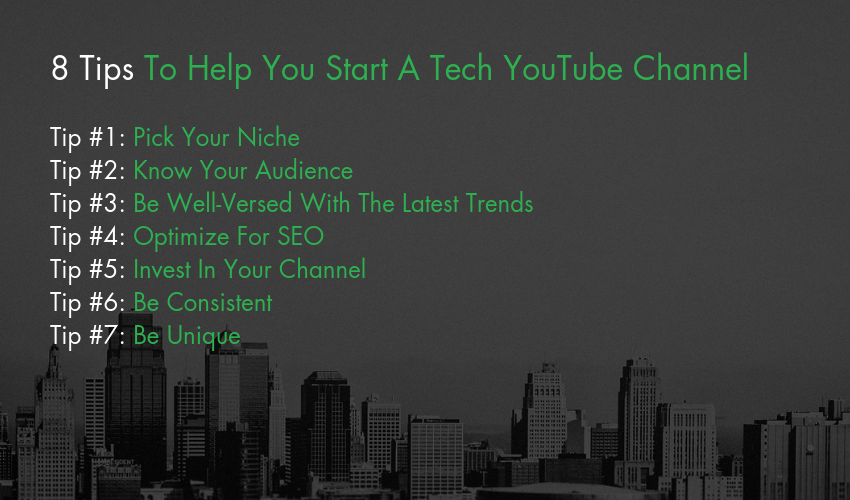 8 Tips To Help You Start A Tech YouTube Channel
Tip #1: Pick Your Niche
The overall approach for starting your tech YouTube channel is very similar to graduating from a university. You need to pick your major. Period.
Yes, possessing knowledge about a variety of subjects is always a great idea but picking a niche for your channel and sticking to it is even better.
Doing this will give you command over the subject matter, making you an expert in your own right.
It will also give you an opportunity to create and grow a subscriber base that is dedicated to your YouTube channel wholly on the basis of your niche.
Even top YouTubers like Marques Brownlee follow the same strategy, mostly engaging in review videos for gadgets.
Tip #2: Know Your Audience
After you have picked your niche, uploaded your videos and build a decent subscriber base to start with.
Engage with your audience to understand their preference for what type of videos would they like in the future.
A well-crafted and detailed approach will enable you to cater to the needs of your subscribers all the while sticking to your niche.
Your main aim should be to put up content which addresses their issues and requests.
This technique will ensure that your audience keeps returning for your innovative, interactive and content-rich videos.
Tip #3: Be Well-Versed With The Latest Trends
In the words of Marc Benioff, founder of Salesforce, "The only constant in the technology industry is the change".
Hence it is always a good idea to be on your toes and gather information on all the latest trends and the newest products in and around your niche.
Try and capitalize on the opportunity by being one of the first YouTube channels to upload a video on the latest trends or newly launched gadgets or latest product reviews.
Staying ahead of the game will ensure a wider audience. Being pro-active might also earn your tech YouTube channel paid partnerships with brands for review of their just-launched products.
Tip #4: Optimize For SEO
To give your tech YouTube channel that extra push, its wise to optimize your videos for SEO.
It is very important to include the targeted keywords in the video description. The right keywords will ensure that you rank well in the searches.
As an added step, optimize your videos with tags which help increase your visibility in cases of loose end searches with common words.
Use catchy titles that are peppered with relevant keywords.
Tip #5: Invest In Your Channel
It is a very common saying that the "First impression is the last impression".
Similarly, the thumbnail and your video title make the first impression for your YouTube channel.
Let your creativity loose to make your account stand-out from thousands of other tech channels.
Start with an appealing thumbnail and an even more appealing title. The title should be worth enough of holding the attention of the viewer once and for all.
Tip #6: Be Consistent
Regularly uploading high-quality content on your tech YouTube channel is a proven way to increase user engagement.
Regular content keeps your channel active and increases your web presence.
Another trick up your sleeve that will enhance your YouTube presence is to make a series of videos for the same product.
For instance, you could start with unboxing a new gadget and upload another video of comparing the same product with other similarly priced products. 
This strategy provides you with enough content to keep your audience occupied for weeks.
Tip #7: Be Unique
Even though the tech industry is ever-evolving, the content starts to get dull with every tech YouTube channel talking about almost the same products within that short span of time.
You can, however, work this situation to your advantage by putting in innovative videos for even the most mundane of topics.
Brainstorm and work on a unique perspective for every video thus rendering each video a unique soul.
For example, think about Jenna Marbles. Her videos generally cover commonplace topics, like what girls do in the car, dogs or relationships.
She creates her niche by making even these humdrum topics entertaining and funny, giving her every right to amass over 2 billion views.
Tip #8: Quality Over Quantity
Yes, you should be consistent with uploading videos on your tech YouTube channel, but not at the cost of quality.
You need to ensure that the content is rich in quality. Pay close attention to the audio and video quality as well.
Your viewers will never stick around to watch a whole video with say, unflattering lighting conditions or maybe a scratchy noise in the background.
Final Thoughts
Now that you have a fair idea on how to go about and start a tech YouTube channel, you are all set to take that first step and upload your first video.
Remember, continuous efforts to produce high-quality content with optimization will go a long way.
Make it a point to engage with your audience by answering their comments. Whenever possible, try and take a third-person perspective on your YouTube channel.
This will help you understand your mistakes and ensure that you do not repeat them again.
It also gives you a better understanding of what your audience is actually looking for.
Starting a tech YouTube Channel? Use A .tech Domain To Redirect Your Traffic!