Did you know that top YouTube influencers bring in millions of dollars a year? By producing content like tutorials, reviews, and video game commentary, they have changed the marketing game BIG time.
But, as the market gets more saturated in these areas, it becomes more and more important to carefully chose what you want to pursue regarding your YouTube channel.
What can you do to set yourself apart from billions of other YouTubers?
How can you grab a viewer's attention and get them to come back over and over again?
We've compiled the best tips for starting a YouTube channel so that you can learn how to start a YouTube channel (or re-start) on the right foot and climb the charts to be the next big YouTube star.
How to Become a YouTube Influencer
Earning the title of "YouTube influencer" boils down to a few key points.
1. Create Quality, Reliable Content
People will only watch your complete video if it keeps their attention, or if they are getting something from it. Most top-performing channels provide reviews or tutorials for their viewers.
2. Work on Getting Subscribers
The first milestone is reaching nano influencer status, which means you have one-to-five thousand subscribers. These accounts are usually more approachable, depending on the content provided, and are seeing a lot of success.
3. Follow Trends
In the tech field, specifically, your content can seem out of date quickly if you aren't staying up to date with what people want. Find popular channels and subscribe to platforms and news outlets that can let you know anytime there is a change.
4. Market Carefully
People don't generally go to YouTube to buy something, so make any product recommendations or sales pitches part of the content organically. If they feel like they're in on a secret or some fantastic deal that you support, they will trust the product more confidently.
5. Stay in Your Lane.
It can be tempting to grab and opportunity to produce quick content for a little money, but the most successful influencers stick to their niche and become an expert in that field. The more you stray, the less trustworthy you will appear to viewers.
8 Tips for Starting a YouTube Channel
The perfect time to start a YouTube channel is now! So here's your ultimate guide on how to start a YouTube channel.
People love getting quick, clear answers to the things weighing on their minds. They want to know what to buy and why. They want to know the best way to use something, and they want to know NOW.
When you're getting started in the tech market, it's essential to educate yourself on the topic you will be creating, every time you put a video together.
What sort of questions do you think people may have on this subject?
Watch some videos or read some articles that may already exist on the topic. Are there are any comments from viewers? Chances are, those questions will provide fantastic content ideas for your channel.
Here are five pro-tips for starting a YouTube Channel you should keep in mind as you put your plan in place.
1. You Won't Instantly Have a Ton of Views
Chances are, your first few videos will only be seen by the people with direct access to your channel. Don't let this discourage you! Continue creating new content, so people who stop by will have a better idea of who you are and what your channel stands for.
What helps build the views and subscriber base is to engage with your audience to understand their preference for what type of videos would they like in the future.
A well-crafted and detailed approach will enable you to cater to the needs of your subscribers all the while sticking to your niche.
Your main aim should be to put up content that addresses their issues and requests.
This technique will ensure that your audience keeps returning for your innovative, interactive, and content-rich videos.
2. Find a Cadence That Works for Other Channels in Your Niche and Try it Out
If there is a top influencer in your target niche, subscribe to their channel, and take note of how regularly they post new content. Consider commenting on their videos to see how quickly they respond.
The best way to make a connection with your viewers is to include them in the creation and videos that call out commenters who provided the idea are a great way to make that connection memorable.
The overall approach for starting your tech YouTube channel is very similar to graduating from a university. You need to pick your major. Period.
Yes, possessing knowledge about a variety of subjects is always a great idea but picking a niche for your channel and sticking to it is even better.
Doing this will give you command over the subject matter, making you an expert in your own right.
It will also give you an opportunity to create and grow a subscriber base that is dedicated to your YouTube channel wholly on the basis of your niche.
Even top YouTubers like Marques Brownlee follow the same strategy, mostly engaging in review videos for gadgets.
3. Keep the Content Interesting, but Don't Stray From Your Target Niche
As we previously mentioned, it's crucial to stay in your lane when you're producing content. But, if there is a trend or topic that pertains to your niche but may be slightly different, don't be afraid to try it out to see how it performs.
Trends come and go quickly, so choose ones that are relevant to your topic, so you don't run the risk of looking outdated or unfocused.
In the words of Marc Benioff, founder of Salesforce, "The only constant in the technology industry is the change".
Hence it is always a good idea to be on your toes and gather information on all the latest trends and the newest products in and around your niche.
Try and capitalize on the opportunity by being one of the first YouTube channels to upload a video on the latest trends or newly launched gadgets or latest product reviews.
Staying ahead of the game will ensure a wider audience. Being pro-active might also earn your tech YouTube channel paid partnerships with brands for review of their just-launched products.
4. Market Your Channel
It's easier than ever to market using social media platforms to promote yourself, but it is vital to keep your marketing aligned with your channel. Create new social media accounts under your channel's name, search top-performing keywords in your niche, and make sure the thumbnails for your videos catch a viewer's eye.
Let your creativity loose to make your account stand out from thousands of other tech channels.
To give your tech YouTube channel that extra push, it's wise to optimize your videos for SEO. That's basically your 'How to start a YouTube channel 101'. 
It is very important to include the targeted keywords in the video description. The right keywords will ensure that you rank well in the searches.
As an added step, optimize your videos with tags that help increase your visibility in cases of loose-end searches with common words.
Use catchy titles that are peppered with relevant keywords.
5. Produce Clear, Edited Video Content
When you're just getting started, it's ok to use a smartphone and free editing software to create your videos. Key things to keep in mind are:
Lighting: Make sure you have bright lighting, so the viewer can see you.
Background: Pick a space that you can film with minimal background distractions. A plant, abstract art, or a tidy bookshelf make great backdrops that won't be distracting. Avoid clutter or personal photos at all costs.
Music: If you choose to add music to your videos, make sure you pick royalty-free music. If you don't, there is a chance YouTube will decline your upload or make you tag the artist, which takes away from the focus of your content.
If you're on the lookout to buy a new smartphone, chances are that you'll watch review and unbox videos on at least one tech YouTube channel.
And two hours later, you'll be watching a documentary on how Graham Bell invented the first telephone.
YouTube surely is addictive.
6. Be consistent
Regularly uploading high-quality content on your tech YouTube channel is a proven way to increase user engagement.
Regular content keeps your channel active and increases your web presence.
Another trick up your sleeve that will enhance your YouTube presence is to make a series of videos for the same product.
For instance, you could start with unboxing a new gadget and upload another video comparing the same product with other similarly priced products. 
This strategy provides you with enough content to keep your audience occupied for weeks.
7. Be Unique
Even though the tech industry is ever-evolving, the content starts to get dull with every tech YouTube channel talking about almost the same products within that short span of time.
You can, however, work this situation to your advantage by putting in innovative videos for even the most mundane of topics.
Brainstorm and work on a unique perspective for every video thus rendering each video a unique soul.
For example, think about Jenna Marbles. Her videos generally cover commonplace topics, like what girls do in the car, dogs, or relationships.
She creates her niche by making even these humdrum topics entertaining and funny, giving her every right to amass over 2 billion views.
8. Quality Over Quantity
Yes, you should be consistent with uploading videos on your tech YouTube channel, but not at the cost of quality.
You need to ensure that the content is rich in quality. Pay close attention to the audio and video quality as well.
Your viewers will never stick around to watch a whole video with say, unflattering lighting conditions or maybe a scratchy noise in the background.
Looking for a domain name for your tech channel? Get it here!
YouTube Video Ideas for 2021
Looking for YouTube video ideas for your tech channel? You've come to the right place!
We spoke to content creators from various walks of life to give you inspiration so you can come up with some amazing YouTube channel ideas.
From preferred content on tech channels to tips for tech YouTubers on how to start a YouTube channel, here's all the information you need to think of YouTube video ideas for your channel in 2021. 
1. Tanisha Cherry, Lifestyle Content Creator on Instagram
As a content creator, I watch a lot of tech videos on YouTube to learn how to shoot and edit my video/photo content better.
I like to see behind the scenes (BTS) walkthrough videos of how people use their equipment, adjust the settings on their equipment, and how they prepare to shoot their content.
I turn to tech YouTube channels to see how creators are actually using the products and services, and not just reiterations of the specs that can be found on the company's website. 
If I had to give YouTube video ideas to a tech YouTuber, it would be a series on how they record and edit their YouTube videos. I like seeing tutorials of how people do things step by step in layman's terms. 
I find that a lot of tech enthusiasts forget that they are not their audience. The people truly seeking the content that these YouTubers are putting out are looking for answers and do not know as much as them.
I personally don't like unboxings and find reviews before 30 days of use unnecessary.
2. Antoinette Miller, Training Team Manager at I Am IT Training
I love seeing diverse faces sharing their story of how they got into tech, as well as tips on getting jobs and promotions.
For YouTube channel ideas, I would suggest topics like 'How to utilize tech to reduce work stress' and 'How to disconnect.'
I prefer content formats such as course reviews, human networking tips, a day in the life of, etc. 
3. Bill Joseph, Founder & CEO of Frontier Blades
YouTube is an excellent platform to share high-tech products and trends in the future of technology. Tutorials, unboxing, reviews, and content marketing are all excellent content formats to view on YouTube, as they are all helpful plus insightful in the market.
Personally, I run an online eCommerce store called Frontier Blades, where we sell collectible items. It is essential to advertise these products on YouTube and other social media platforms.
Customers who view these videos are more inclined to purchase from our store and leave positive feedback as well. Hence, I understand the importance of YouTube and other social media platforms in promoting products to customers online.
In addition, my preferred content format for YouTube channel ideas is tutorials, as they are very helpful in learning new information. I learned so much about Shopify from online tutorials and I recommend them to everyone, regardless of age or financial circumstance. 
4. Will Cannon, CEO of Signaturely 
If you're looking for YouTube video ideas for your tech channel, I recommend product reviews, where you can pick various models of computers, laptops, mobile phones, or other devices to review and critique.
These kinds of videos can get a lot of views, as people perform a check on the reviews before initiating a purchase. Tell them what you love about them the most, or what you don't like. 
Another topic could be presenting the specs of products. These types of videos can be effective for those who want to delve into the specifics of devices.
You can also make videos about the technology of the future. Impress your viewers with astonishing and unreal future technology examples.
Can a human head be transplanted? Are humanoids with characters real? What about superfast flying cars?
5. William Cannon, Founder of Uplead 
I think features and performance overviews are good YouTube video ideas for tech YouTubers. Here, you can discuss the characteristics and performance of particular devices.
You can also choose to compare different devices or software. Or, you can pick various versions of the same device, talk about the variations, and what's been modernized.
Another YouTube channel idea could be 'Old but gold gadgets', where you can talk about the technology of the past 60 years, which were the discoveries of their time.
You can also be the first to introduce a new device or gadget through your videos. 
6. Jeff Cooper, Manager of Messagely
Here are my top suggestions for YouTube video ideas. Start with videos on your favorite gadgets. Can you assume your life without gadgets? Which ones are your picks?
Another topic could be your wishlists, where you show the gadgets that have obtained their place on your wishlist. 
One cool idea could be showing off your gadgets as part of a video series. Another YouTube channel idea could be giving technology news and updates. This is a very extensive topic and there are loads of things you can incorporate.
Simply watch the news and once you find something worth speaking of, take out your camera and film your video.
7. Julian Goldie, CEO of Goldie Agency
If you're chiefly into computers, then a good YouTube video idea for you is to create videos about computer hardware and its most advanced updates.
You can also make videos about smart products and gadgets. Make a video about the various products or gadgets and their use in our daily life. 
Another YouTube video idea for tech enthusiasts could be talking about software beta versions. Are you one of the fortunate ones who have access to the beta variant of software? Record the trial and review that version, and analyze it with the general release.
8. Abbie Richie, Tech Guru at Senior Savvy
When I look for content on YouTube, I'm looking for instructional videos for my clients. My clients are in their 80s and 90s. They are looking for tutorials on low-tech subjects such as iPad basics and email tips.
For YouTube channel ideas, I'd encourage tech YouTubers to make instructional videos for a much older audience. These videos would be shorter – around 10 minutes, be spoken at a slower rate with no accent, and would only cover the simplest of introductory topics.
9. Sebastian Schaeffer, CTO/Co-Founder of Dofollow.io
When I watch tech channels on YouTube, I like to see tutorials for skill-building related to app development, coding, and web design.
Soon, I think a lot of people will attempt to start online businesses as side hustles while working remotely. So, they will want to know how to start and build businesses in the niches I mentioned.
For me, the bottom line is that I want to see tech content that helps me understand the technology and use it to add value to my business or my skill set.
As an avid YouTube user that follows a lot of tech channels, I can say I especially love tech tutorial videos. Tutorials and cute cat videos are the heart of YouTube, and that's undeniable.
Tech tutorial videos are both informative and helpful, which makes me think there's not another tech content format that people search for more. Every time I get a new tech device, I look for tutorials on YouTube to know how to make the most out of it. 
If I had to give YouTube video ideas to tech content creators, I truly wouldn't say something specific. Don't try to find the best topics, or those you think can get you a lot of views. Just talk about topics that interest you and if you're passionate about them, success will follow.
11. Stacy Caprio, Founder of Her.CEO
I would suggest making 'How to' content as an idea for YouTube channels.
Whenever I don't know how to use a new device or I'm looking for help figuring out how to do something technology-related, I always head over to YouTube and watch a how-to video, which is why I appreciate and love them so much.
12. Iyana Garry, IT & Security Analyst at Thrive Global
I prefer to see tutorials on tech YouTube channels.
Not to sound shady, but there are not too many tech people who know how to explain things well in written form. They may forget certain steps, have certain system configurations that the readers do not have – which can affect the readers' ability to follow the tutorial on their own system successfully – and assume the readers' level of knowledge pertaining to the technology that the written tutorial is about.
So, I prefer to watch tutorials because I get to see how something is completed from beginning to end, and this is the type of content I would suggest for YouTube video ideas for techies. 
Since almost everyone is working from home, I think a great topic for tech YouTube video ideas would be to share some tips on the best webcams or microphones for video chatting.
Clear sound and video are like a sign of respect to your colleagues who are on the call with you. 
If I have to suggest a unique idea for a tech YouTube channel, I would say go for innovation in technology and the process of brewing better coffee.
You can't make coffee without technology. Thus, this could be interesting.
I'd like to see people traveling to different places and checking the technology of creating coffee in each location.
15. Tim Robinson, Founder of inVPN.com
For tech YouTube video ideas, I would like to suggest and see reviews from a tech YouTuber regarding the best VPN they have used.
I want to see if they have the same point of view as mine when it comes to VPN. I also want to see if they can give tutorials to people on how to get a free VPN and how to upgrade it.
Also, it will be a good idea to have some guest experts featured in their content.
16. Lilia Manibo, Writer and Editor at AnthroDesk.ca
Here are some YouTube video ideas in the tech space that I think will be interesting for the viewers:
Ergonomic products in the office

New gadgets that can be useful for office workers

Unboxing new purchases
17. Helene Berkowitz, Founder and CEO of ReceetMe
I'd like to see tech leaders on YouTube sharing up-and-coming projects from female founders.
Whether it's a new mobile payment solution, IoT device, or software tool, women tech leaders are bringing new innovations to market faster than ever before. Yet at the same time, their companies receive less investment and fewer media coverages than male-led companies.
Just 20% of funded companies have a female founder. Let's change that by profiling new technologies from women-led companies.
18. Atta Ur Rehman, Content Manager at Physicians Thrive
As a tech enthusiast, who watches YouTube for tech and car-related (EV) matters, here are my ideas for Youtube channels.
I usually like to watch unboxing videos of the latest tech gadgets, in-depth reviews, smartphone color comparisons, latest laptops, and their reviews, and wearable tech. Recently, I have developed an interest in electric vehicles, so I mostly watch EV reviews and upcoming electric cars.
One big Youtube video idea I have is an Ideal Laptop For The Average Consumer/ Business/ Student/ Medical Student, etc. This is because the people watching your videos are not always content creators. Many just watch tech videos in order to decide what to buy for the purpose of their office work, school, medical studies, business studies, note-taking, day-to-day use, watching movies, etc.
I personally found that YouTubers who review laptops are always talking about video editing in their videos, which gets annoying sometimes. Therefore, please make your videos more generic, touching every aspect and not just video editing.
My preferred content format for tech YouTube channels is mostly unboxings, smartphone and laptop reviews, color comparisons, in-depth reviews, DIYs, first impressions, and first drives (electric vehicles).
19. Heinrich Long, Privacy Expert at Restore Privacy 
I've been a tech professional for many years and it's great to see my community doing so well on a platform like YouTube.
My favorite tech channel on Youtube is MKBHD, who is a reviewer and vlogger who made his own Youtube TV show. Most of his videos are 10-20 minutes long and cover some of the most innovative phones, laptops, personal devices, and even electric cars.
I see a bright future when it comes to tech channels on YouTube – views within the community are only rising and the tech around us is only getting better.
I prefer reviews of new and exciting products, but I also find pleasure watching unboxings and tutorials across tech channels. 
20. Laura Fuentes, Operator of Infinity Dish
I love seeing representation in my community on YouTube and I'm always looking forward to seeing the next big tech channel.
Right now my favorite channel is Linus Tech Tips. Linus does reviews, unboxings, and tutorials, and I watch them all! My favorite of his videos is the tutorial videos because I am able to learn more about building and fixing the tech products I use every day.
As far as Youtube video ideas go, I would like to see shorter videos that jump straight to the point of the video. 10-20 minute videos can get old after a while and I'd like to see some short-form content dedicated to sharing a particular tip or piece of information about a product. 
21. Simon Elkjær, Chief Marketing Officer of avXperten
I think that one type of content that I'd like to see from all tech channels on YouTube is informative videos that dig deeper into tech.
Going beyond just the features of a product and really giving valuable advice as to what tech suits each user the best will not only help personalize the entire experience, but will also help your audience make informed decisions that will make their entire purchase worth their time, money, and effort.
Producing more and more content of this kind is one of the best ways to showcase your business' value and expertise, and boost your place in your industry.
Search for a domain name for your YouTube channel! 
How to Develop a Content Strategy for YouTube
When it comes to starting a YouTube channel, it can be challenging to know how to plan your content strategy. In the tech industry, you need to keep your focus on trending products and the latest updates in the industry.
Try to be as consistent as possible with how you present your information. Try out a few different presentation methods when you're getting started to see if you get better feedback from your viewers. Do they like lists with clear, trackable information? Do they want you to tell them an interesting or humorous story that entertainingly presents the information?
Connect with other tech YouTubers and even companies in the industry to learn lingo, tricks, and information you can pass along to your viewers.
Find ways to keep your viewers engaged by offering them actionable steps they can take to prove that they've watched your video. Do you have a website, blog, or newsletter to which they can subscribe or a unique discount code they can use to purchase something you mentioned? Make all the steps crystal clear.
Make your channel optimized for search by viewers. Create a title using keywords that pertain to your content but help drive volume to your channel. All the thumbnails for your videos should be engaging to represent your content, and you should tag your video correctly to drive traffic to your channel.
Create content that is inclusive instead of exclusive by avoiding tricky acronyms or vague terminology. While it's essential to create content geared to your target audience, you want to make sure the searchers and learners out there can relate to your content as well, especially in a potentially vague arena like tech.
How to Handle Negative Comments on your Youtube Channel
One of the most challenging things about putting yourself out on the world wide web is the certainty that there will be negative feedback.
If the comments are constructive, consider taking the time to thank the commenter for pointing something out to you. Even if they are rude, you can diffuse the situation and possibly turn their opinion around by reacting and adjusting with a positive attitude.
If they are focused on your content, see if there is any truth to what they are saying. Are the comments accusing you of regurgitating existing data or copying another influencer? If your content is genuinely similar, you have an excellent opportunity to revisit your vision to define your niche more clearly.
Unfortunately, if someone takes a jab at your looks, voice, or personality, it can be difficult not to let it affect you. Try to keep in mind the fact that some people seek out new YouTubers to knock them down or rag on them for attention. It most likely has nothing to do with you.
Be proud of yourself and your accomplishments and embrace everything that makes you unique.
It isn't easy putting yourself in the spotlight, but if you are passionate about something and you put forth the effort to create content, people will most likely be more positive than negative.
What do you need to start a Youtube channel?
Getting started is the hardest part, but these tips for starting a YouTube channel should help. Along with how to start a YouTube channel, you also need to know what you need in order to do that.
Figure out what your niche will be in the tech world and do lots of research.
Find a few YouTube channels that may have similar content and study their presentation, engagement with viewers, cadence for posting, and relevancy with current topics. What do you LOVE about their channel? What do you HATE about it?
Create your channel name, your look, and your vibe. Tech channels are known for being sleek, modern, and clean, but that doesn't mean yours has to be! Once you nail your look, start creating content, and post it to YouTube.
Keep in mind that it will take some time to create followers, but the more you market yourself and the more specialized you are in the field, the more likely it is that you will become a destination channel for those seeing information in your area.
Looking for a domain name for your tech channel? Get it here!
30+ Tech YouTube Channel Name Ideas on .TECH
artweb.tech
fluxpool.tech
austinevans.tech
foxbit.tech
authen.tech
gearheadcentral.tech
aweof.tech
jordanash.tech
bananabox.tech
londonvideo.tech
briantong.tech
missourivalley.tech
bytemybits.tech
noen.tech
checkthe.tech
officialgamesky.tech
cimer.tech
pyre.tech
communityx.tech
quantumjump.tech
danielrivera.tech
secondopinion.tech
delo.tech
semicolons.tech
dom.tech
speedowork.tech
dreamdefenders.tech
startupwiki.tech
edgar.tech
style4sure.tech
fittech.tech
upschool.tech
fluxmail.tech
uscreener.tech
Looking for a domain name (redirect) for your tech channel? Get it here!
80+ Tools to Help You Grow Your Tech YouTube Channel
| | |
| --- | --- |
| askanthonyjohnson.com | YouTube Subscribers |
| gotubers.com | YouTube Subscribers |
| tubehackers.com | YouTube Subscribers |
| gregbaroth.com | YouTube Subscribers |
| yt-digital.com | YouTube Subscribers |
| youttam.com | YouTube Subscribers |
| womenetworking.net | YouTube Subscribers |
| vrocket.co | YouTube Subscribers |
| stunbee.com | YouTube Subscribers |
| ledringpros.com | YouTube Subscribers |
| buyYouTubeviewscheap.biz | YouTube Subscribers |
| shecaninvest.com | YouTube Subscribers |
| briangjohnson.mykajabi.com | YouTube Subscribers |
| john-crestani.org | YouTube Subscribers |
| YouTubeconsultation.com | YouTube Subscribers |
| reallycreativemarketing.com | YouTube Subscribers |
| boostyouronlinepresence.com | YouTube Subscribers |
| vikasmoond.com | YouTube Subscribers |
| aliparnell.com | YouTube Subscribers |
| ravindrareddy.com | YouTube Subscribers |
| gofer.app | YouTube Subscribers |
| nankyvideonetwork.com | YouTube Subscribers |
| serpseed.com | YouTube Subscribers |
| realsubscribers.com | YouTube Subscribers |
| tech-podium.com | YouTube Subscribers |
| podmytube.com | YouTube Subscribers |
| growviews.com | YouTube Subscribers |
| rapidtags.io | YouTube Subscribers |
| tubefluence.com | YouTube Subscribers |
| gamingalibi.com | YouTube Subscribers |
| filmflavour.com | YouTube Subscribers |
| buy-youtub-views.com | YouTube Subscribers |
| genuineearning.online | YouTube Subscribers |
| buyYouTubeviews.org | YouTube Subscribers |
| terrhevolution.com | YouTube Subscribers |
| utubegraphics.com | YouTube Subscribers |
| myhotfollowers.com | YouTube Subscribers |
| YouTubeguidance.com | YouTube Subscribers |
| nowgem.org | YouTube Subscribers |
| mengidea.com | YouTube Subscribers |
| easygrowsit.com | YouTube Subscribers |
| anthemmediaco.com | YouTube Subscribers |
| YouTubemarketing.co.uk | YouTube Subscribers |
| evidmedia.com | YouTube Subscribers |
| comedyhints.com | YouTube Keywords |
| ytbos.com | YouTube Keywords |
| marvelstrikeforcehacked.top | YouTube Keywords |
| freemarvelstrikeforcehack.top | YouTube Keywords |
| t-educate.com | YouTube Keywords |
| regirank.com | YouTube Keywords |
| trafficjeetapp.com | YouTube Keywords |
| videocents.com | YouTube Keywords |
| keyntag.com | YouTube Keywords |
| YouTubekeywordtool.com | YouTube Keywords |
| ytengine.com | YouTube Keywords |
| vidiq.com | YouTube Keywords |
| tuberbug.com | YouTube SEO |
| bestcreatortools.com | YouTube SEO |
| seoprovide.com | YouTube SEO |
| YouTubeseeks.xyz | YouTube SEO |
| yt.tools | YouTube SEO |
| smallYouTubersboost.com | YouTube SEO |
| sayseo.net | YouTube Tags |
| YouTubetagtools.com | YouTube Tags |
| tagsYouTube.com | YouTube Tags |
| ytstop.com | YouTube Tool |
| YouTubevideoconvert.com | YouTube Tool |
| happyplaces.xyz | YouTube Tool |
| gimmyit.com | YouTube Tool |
| littledude.tv | YouTube Tool |
| tubekit.xyz | YouTube Tool |
| ytskill.com | YouTube Tool |
| 1000subscribers.com | YouTube Tool |
| freehashtags.com | YouTube Tool |
| tubekit.win | YouTube Tool |
| avcware.com | YouTube Tool |
| noxinfluencer.com | YouTube Tool |
| ytseotools.com | YouTube Tool |
| nature-music.de | YouTube Tool |
| subscribercounter.com | YouTube Subscribers |
| yfihub.com | YouTube Traffic |
| ultraviews.net | YouTube Traffic |
Looking for a domain name for your tech channel? Get it here!
Exclusive Interview with YouTuber Jason (ByteMyBits)
To take your Youtube game to the next level, we are including here an exclusive interview with Jason, who runs a tech YouTube Channel called ByteMyBits, to talk us through the best ways to improve YouTube search rankings for your videos. 
Jason also shared some interesting tips for people looking to start a new tech YouTube channel.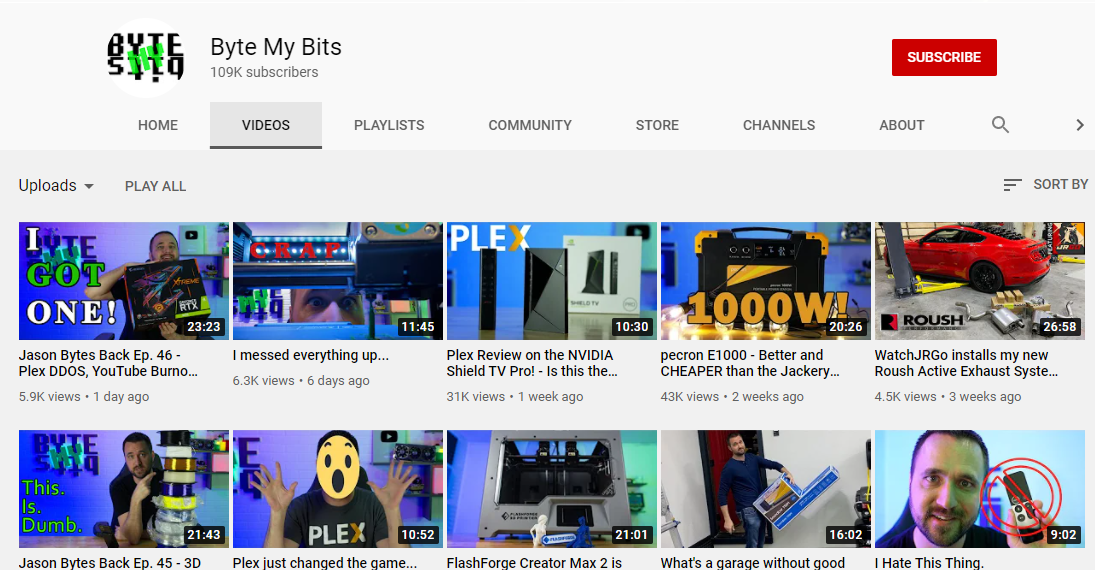 1. Who inspired you to start a YouTube Channel? Tell us the story.
After watching Paul from Newegg (now PaulsHardware) long enough, I began admiring the idea of working with the latest tech and being able to make videos about it.
So I decided to try it myself and here we are today.
2. What is the best way to improve search rankings on YouTube?
Keywords, keywords, keywords. Hint your primary focus in the title, explain it in the description, and make sure to add the right keywords for everything.
Also, give your audience something to discuss in the comments. Good or bad, it helps your overall engagement.
3. Can you share 3 tips for beginner content creators on YouTube?
For beginners, I'd advise the following:
Tip 1: Don't expect to make money or get lots of views right away. It's a marathon, not a sprint.
Tip 2: Always look for ways to be creative and improve on your previous videos. Keeping it interesting and evolving will keep you interested and growing.
Tip 3: Expect and embrace negative feedback. If you're not getting it, you're not relevant enough. Use it to grow, not to hold you back.
4. How to develop an effective YouTube content strategy?
To better manage my content, I maintain monthly goals for specific types of videos. The rest I am completely random with.
I learned quickly that too many goals or responsibilities turn it into a job and not a hobby.
The idea is to simplify the process whilst keeping your vision for the channel intact.
Looking for a domain name for your tech brand? Get it here!
Exclusive Interview with YouTuber Kalle Halden
A great way to build your personal brand in the tech space or to grow your commercial tech brand is to start a tech YouTube channel. Now, you may be wondering there's very little scope to grow on YouTube because every engaging video idea is already taken.
To put your apprehensions to rest, Kalle Halden talks about his experience of starting a successful tech YouTube channel as he spills the beans on his process of sifting through content ideas and how new tech YouTubers can do the same. He talks about everything from how to start a YouTube channel to what he did to make his YouTube channel successful.
Kalle also sheds light on his passion for programming, his interest in specializing in automating tech, and how his domain extension has enabled him to build a strong tech brand.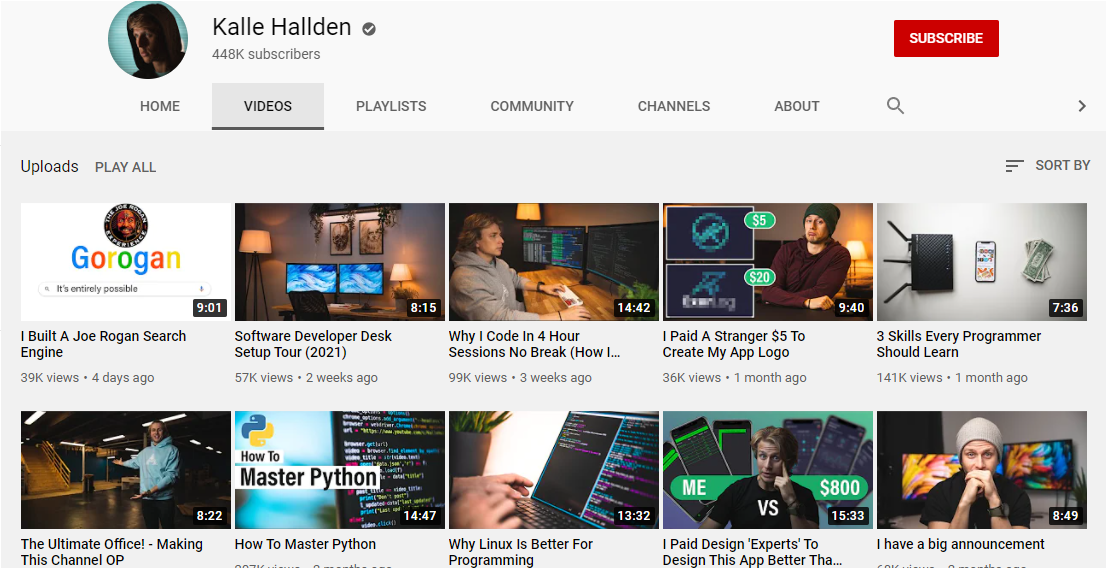 1. What inspired you to start your own YouTube channel? Tell us the story.
Well, I have been doing YouTube videos for almost as long as YouTube has been around. Initially, a friend and I started learning how to juggle.
However, in late December 2016, I decided to start vlogging. So I created my current channel and started uploading vlogs.
I did this for about six months, and then I lost interest because no one watched my videos. I was speaking in Swedish so my target audience base wasn't too big. With this, I understood that there's nothing very special about my YouTube videos. So, I stopped.
Then, I started watching videos called "A day in the life of a software engineer". The first time I searched for it there were about two videos out.
Then, throughout the rest of 2018, I saw more and more of those videos coming out and each one getting about 300-600K views.
I thought to myself "I missed my chance, I should have uploaded a video like that!". I wanted to upload a similar video during the summer of 2018 but I never did. So then about ten months ago I decided to just make one and hope that it wasn't too late to catch this little wave.
Today that video has 800,000 views. And I have gained tremendous momentum. At the start of 2019, I had exactly 16 subscribers. 16 total, not 16K. And it was pretty funny too at the start because that video would just get so many views, it would be at 10,000 views, and the video before it was at 32.
When the video started taking off, I was really quite fast at trying to utilize that momentum so I started pumping out two videos per week on programming-related content. So that is the longish version of the story up until this point.
2. What are your future plans for your YouTube channel and website? How are you planning to grow the 'Kalle Hallden' brand?
My future plans are to keep growing and continue making videos. I love the fact that I have the freedom to work on whatever interests me. If I feel like building something or learning something new, I can just film it and use that as a video for my channel. This is really an incredible privilege to have.
So the idea moving forward is to continue building the channel, and I have also started to diversify to other pastures and become less dependant on YouTube.
Since you never know what might happen to YouTube tomorrow., I am starting to channel my effort into Twitch, Instagram, Twitter, my blog, and email marketing.
The ultimate goal would be to someday create a really popular app. I am currently working on a few ideas and it's been awesome to have my audience help me mold whatever I end up creating. I think that will be super interesting to see how it turns out.
3. Of all the videos you've done, what are your top three favorite videos?
Video one – Because it's the by far most useful thing I've built with code.
Video two – Because I love the cleaning sequence
Video three – Because I'm really proud of doing this. Helping a few members of my audience get started on building their apps.
4. For someone looking to start a programming tech YouTube Channel, what tips would like to share? 
1. Be the first
Find a way to be the first to cover a certain topic or a concept. What I personally like to do is look at YouTube channels in other unrelated categories and see which videos are doing the best. Then try to figure out if I can create a video with a similar title that is related to programming.
An example would be MrBeast "I Spent 24 Hours Straight In Prison" and the video I recently posted "I Spent 12 Hours Straight Coding!. For a 12 hour long video, it has done pretty okay. This is what I suggest experimenting with, sometimes it will work, and often times it won't.
What you need to do is to take an existing category and create a subcategory. For instance, my most popular series called "One Day Builds" is something I found by looking at Adam Savage's channel where he does this. So the category existed but not for programming specifically. So I was first in that new category. That's the idea.
2. Think really hard about creating content that is valuable
The videos that have delivered the most results for me are the videos that imparted the most value to people. Value means something that you would want yourself. The value you provide need not necessarily mean creating tutorials and educational videos.
It can be as simple as watching a video for entertainment. So ideally combine the concept of entertainment and education in order to maximize the value that you bring to your viewers.
3. Plan ahead
This is super important. Planning ahead means plan the videos that you will upload in advance. This way you can structure your content and channel in a smart way. I try to make sure that 70% of my content is the stuff that I know will do well, like One Day Builds, Python videos, Flutter videos, etc.
Then I try to ensure that 20 percent are related videos that may not do as well like tutorials, programming in other languages, and tech in general. Lastly, 10% of my videos are experiments. This is where I try something new and hope it does well.
These numbers are from Eric Schmidt's description of what Google uses for its business. 70% focus on core products, 20% on related products and 10% on experimentation. Planning ahead means that I can see whether I am following this recipe or whether I have strayed too far off the path.
4. Don't saturate a popular category
Every video category is popular only when there aren't a ton of videos already in that category. The more videos that get released in the category, the less this category is worth.
For instance, I don't want to post two 'one day build' videos in a row. Because posting very similar videos back to back will saturate the category of that video faster.
If I post six 'one day build videos' six weeks in a row then that category might get saturated. People won't have time to see the first one and they also won't long for the next one.
I try to space my video categories so that they are close enough for people to still have it fresh in their minds, but far enough apart so that there's time to "miss" it.
The idea is to not saturate a popular video category so you can use it to grow your channel over a long period of time without people losing interest.
5. Could you share your thoughts on what are some of the most effective ways to promote a programming tech YouTube channel?
Create the best content you can. I haven't really used any promotional strategies. I use Instagram but I don't have a very strong follower-base as compared to my YouTube subscribers.
My strategy has been to focus on the content. To simplify everything. Why do you subscribe to a channel? Because you want to see more of it. Why would you want to see more of it? Because you like what is being created.
So the best way to get more subscribers must be to create stuff that people like. And people like things that give them some value. So I definitely believe that your channel's success is directly correlated with how much value you create.
For instance, there are a lot of tutorials out there that create tremendous value in terms of what they teach, but their entertainment value is very low. If my theory is correct, then they should try to focus on making tutorials more entertaining in order to make their channel more popular.
6. How is a .TECH domain helping you build a stronger tech brand?
The .tech domain is helping me create a stronger connection between me and programming. Since the word tech is related to programming, I believe that using .tech instead of .com will easily communicate what people can expect when visiting my site better than .com would.
I also want my website to have a slightly wider scope. So I want to be able to do tech-related things and not just programming-related things. The association between my name and tech is therefore very beneficial.
I also have a new domain name called www.automating.tech which I will use to create a sub-branch of my brand to specialize in automation. Again, this domain name, Automating.tech, clearly translates what the site is about – Automating tech.
Are you starting a tech YouTube channel? Don't forget to get yourself a .TECH domain!
Exclusive Interview with YouTuber Edgar Oganesyan (Techsource)
Starting a YouTube channel to become an influencer is a nifty way to 'channel' your expertise and share it with the world.
However, if you're just starting off, only knowing how to start a YouTube channel isn't enough – you will need to understand the tips and tricks of getting your channel to rank higher and the craft of creating engaging videos.
We spoke with Edgar Oganesyan, who runs a tech YouTube channel aptly called Techsource that boasts of over 3 million subscribers, to share his expert tips on how tech enthusiasts can become influencers. Edgar also shared his thoughts on the recipe of creating engaging videos for a tech YouTube Channel.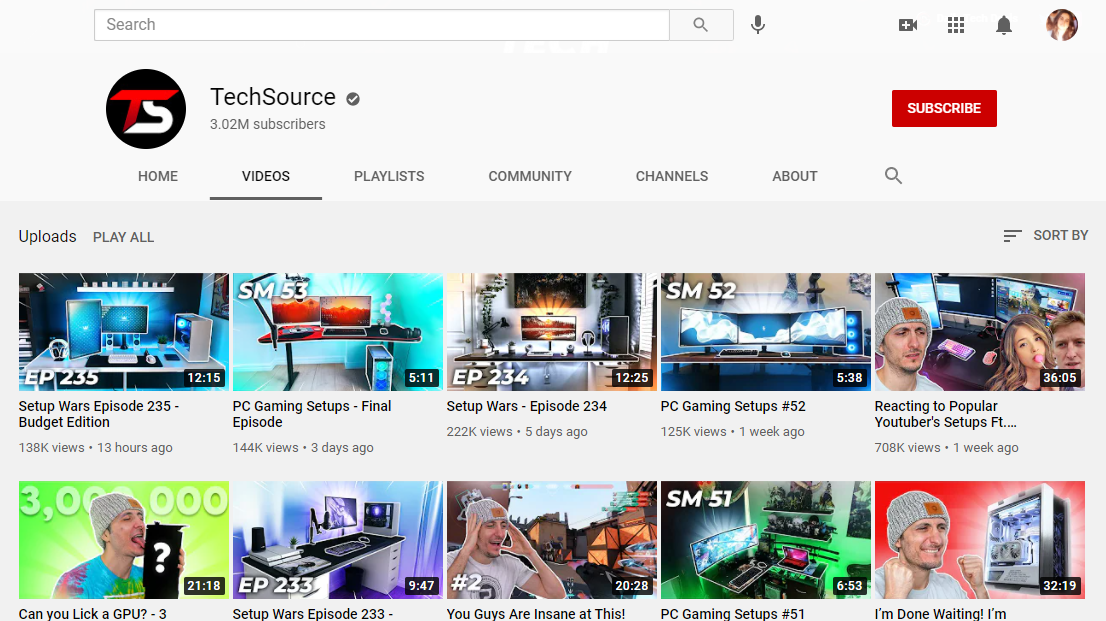 1. What inspired you to start a YouTube Channel? Tell us the story.
I started the YouTube channel as a hobby. My cousin and I were into tech and wanted to express our passion through the internet and found out about YouTube. In 6 months of running it, we made a business out of it!
2. How did the idea for Deal Source come to be?
I was tired of looking around multiple websites to find the best deals on tech that I wanted to buy or get gift ideas for holidays and birthdays. So, I decided to start my own website and consolidate everything into a user-friendly and clean page where people can stop by to check out the latest deals. That's how Deal Source came to be.
3. Share 5 tips on how tech enthusiasts can make the transition to becoming tech influencers on social media.
Here are 5 tips on how enthusiasts can become tech influencers:
1. Consistency
2. Quality
3. Knowledge
4. Personality
5. Unbiased
These are the 5 essential things you need to keep in mind to be successful on social media.
4. Can you share 5 ways to create more engaging videos that rank higher on YouTube?
In order for your YouTube channel to rank higher, you need to create videos that rank high on YouTube. Here's how you can do that:
1. Speak to the viewers as they are your friends and not just subscribers
2. Be more personable
3. Be entertaining
4. Add humor
5. End videos with engaging questions
5. Why did you choose a .TECH domain name? How is it helping you develop a unique online brand?
Not only is the entire URL shorter and easier to remember, but it ties in great with the type of content I am producing.
Starting a tech YouTube channel? Get .TECH now!