Every great startup today was just an idea at some point – an idea that was backed by grit, determination, and a push in the right direction. 
With this idea in mind, .Tech Domains launched Pitch.Tech, an idea-stage competition to enable aspiring entrepreneurs to bring their great ideas to life.
As part of the competition, entrepreneurs were invited to submit their startup pitch as the first step to turning their idea into a business.
The competition was held in the months of May, June, and July in partnership with Startup Grind with 131 participants from 7 chapters that included Boston, Miami, New Haven, and more. 
The grand finale was held on 7th July and the winner Judit Giro Benet, from the chapter Hollywood + West LA, walked away with $10,000 in equity-free funding and benefits up to $100,000 including AWS credits.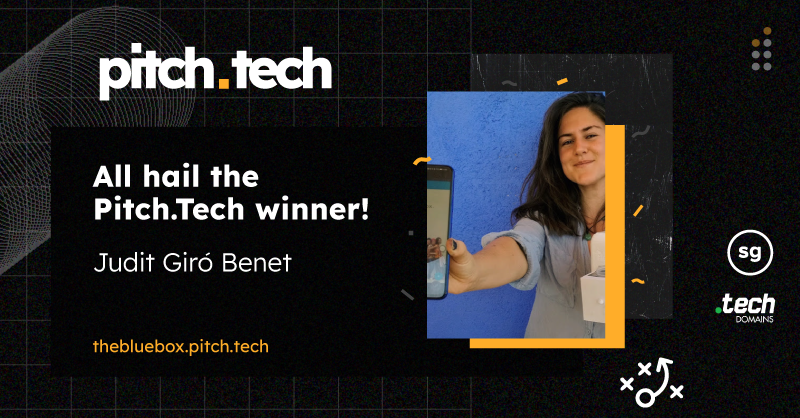 Equity-free funding is the funding provided to a startup without an exchange of equity. In other words, the startup can use the funds for the business without having to give up an equity stake in the business to the investors.
This type of funding is more like a grant than an investment. Even though you won't have to give up equity for receiving the money, you might have to provide detailed reporting or there could be some other strings attached.
Whatever be the case, this type of funding could really be the much-needed thing for the growth of your startup.
Having said that, we asked 40+ Startup Founders what they would do with $10,000 in equity-free funding for their startup or business. 
Here's what they had to say
#1 Enricko Lukman, COO, ContentGrow
Our business is still in the product-market fit stage. And honestly speaking, while US $10,000 does help, it's not a lot.
I'll be prudent and try A/B testing more aggressively with ads. I will also need to answer the following question.
Which product offering gets the best traction for which target market, and in which country? For example, we offer a wide range of content creation services which includes blog articles, press releases, interview articles, ebooks, etc. We would like to test what happens if we brand ourselves to be a specialist in only selling press releases (product) for tech startups (target market) in Hong Kong (geography).
Ads are the fastest way to get feedback related to our messaging. We assume that the best message will get bigger traction.
Since we are in the execution stage currently, if we won $10,000 we'd invest the entire amount in the recruitment of new hires. Most likely we'd hire an SEO expert for a few months, to help us rank for certain keywords and get our site out there in front of the right people.
As a business owner, I would buy a lot of raw materials for my startup. One of the biggest allocations of our budget in our startup business is buying our raw materials.
We have to buy quality raw materials in order to produce quality products. And since we have to prepare a lot of products before launching them, winning $10,000 would really help us out.
Once these products are sold, we are going to use this money to buy more materials for our products so it will just go to our revolving money.
#4 Jonathan Saeidian, CEO, Brenton Way
As the CEO and creator of a digital marketing firm, I would advise spending $10,000 in starting an internet marketing business. This kind of start-up provides SEO, social media, or copywriting services to small businesses.
This simply entails improving your client's social media and internet presence, whether in retail, restaurants, personal services, or other industries. This demand for social media and online marketing continues to rise because it helps a lot in making other businesses profitable.
Your clients will be thrilled if you can make them aware of the shifting online scene and in front of consumers with that starting firm. You might need experience in digital marketing, but if none, you can take an online course to help you have a breakthrough in this field.
#5 Mikey Wu, Founder, WuWuLife
We specialize in ultra-thin natural marble, as thin as a credit card, and our team is planning to launch the world's first leather + marble cigar bag. It's a feat combining the two and has not been properly done due to the weight and thickness of natural stones.
If there was $10,000 equity-free funding, we would use a portion of it to negotiate better pricing and volume with our supplier. And another portion for PR and social media marketing to raise awareness about this product.
This would allow the product to be developed quickly, efficiently, and to perfection as well as return on investment.
#6 Raj Ragavan, Founder, DataMyth
DataMyth is in the execution phase right now. So if I win $10,000 equity-free funding, I would go by the 60:40 rule and spend 60% of the budget on tech manpower to continue to build the product, and 40% on marketing.
The goal would be to educate users about how they can save time and improve their productivity, and identify early adopters who can convert into customers. The money generated will be reinvested into the product to expand their customer base.
Content will be key here, to generate inbound and outbound traffic to the website and eventually convert them.
Content Marketing – Build content to address digital marketing topics and increase organic visibility

Paid Marketing – Channels like LinkedIn and Google Ads will be used to identify early adopters
#7 Ju Li, Cofounder, BuyLo
Since my B2B startup is still at the idea stage, and we're currently validating the idea by conducting customer interviews, I would be spending the $10,000 in this way:
$1,000 to hire a designer to create a landing page and high fidelity prototype in Figma

$4,000 on prospecting tools like LinkedIn Sales Navigator, lead enrichment services, and lead gen services

$5,000 on MVP development. We already have in-house talent for building, so this would be for getting additional help to get it off the ground faster
#8 Olivia Tan, Cofounder, CocoFax
My company is at the implementation stage, so if I stumble on $10,000 equity-free funding, the first thing that comes to my mind is to hire the right team. After testing the prototype of my services at a community level, I've seen that all I am lacking is competent people to drive my business idea so that the business can gain traction.
So, with a $10,000 equity-free funding, I will use part of the money to hire the right team remotely, and then use the remaining balance to drive my marketing plans.
#9 Ali Tarek, Cofounder and Chief editor, Fishing Creative
I am currently building a site, which is in execution. I don't know if it can be considered a startup or not, but here is how I would use the money.
If I get the $10,000 equity-free funding, I'll probably spend it on the following:
I will spend them on hiring good writers to fill up my site with content that provides good value.

I will get a premium subscription in shutter stock and canva.

I will buy a new host that can afford more visitors and provide faster server responses.

I will consider spending some on building links.
#10 Michael Hammelburger, CEO, Sales Therapy
We help marketing agencies boost their closing rate by coaching them on
game-changing sales strategies. So I'll spend the $10,000 equity-free funding on generating more leads for my startup and reaching out to more audiences globally since our services can be delivered online.
Our consultancy firm is aimed at helping businesses revive their sales figures. Moreover, we are more than motivated to help thousands of startups recover from the impact of the pandemic in the industry.
#11 Nicholas Luft, CEO, Idle
Idle is a smartphone app that allows users to both rent and rent out items that
they already own. We have a bit of a new spin on going green so that instead of throwing away things, you can even make money by renting them to people who might have a use for them. 
Moreover, the practice of putting things into use that people already own helps reduce consumerism. Because renting an item is a more eco-friendly practice than constantly buying new goods.
If we were to win $10,000 equity-free funding, we would spend all of it on marketing.  Our mission is to get the idea behind Idle out to as many people as possible.
So that we can get them to think of peer-to-peer first instead of going to the big-box retailers for their equipment and party rental needs.
#12 Leslie Danford, Founder, Vitaminis
If I had won $10,000 equity-free funding I would use it to survey and speak with my target consumers, health-conscious moms, and to engage a food scientist and nutritionist to help with the formulation.
#13 Grant McNamara, Owner & Creative Director, G ALXNDR
For the first year and a half of my business, I would say to myself (and my incredibly supportive wife), If I only had US $10,000 I could do X and really help build the business. It wasn't until during the pandemic when all revenue came to a screeching halt for my groom's personal styling service and luxury custom menswear business. 
I realized that I needed to think differently given the situation, still plan for that $10,000 spend, but also keep my long-term goals in mind. I began thinking I needed to plan for the next $1,000, $10,000, and $100,000 and I know precisely what I would do with $10,000 at all times.
I usually have 2 or 3 iterations of what I would do with the $10,000, and each would start with, well, if I wanted to go this route I could do X. The reason I started thinking about $100,000 is it helps you consider your long-term goals and dreams for the business and the possibilities when it takes off.
But I noticed that with each $1,000 that I took in, I was forced to think about the most pressing need for the business. Since I wasn't sure when revenue would start up again, I needed to consider each and every situation.
My long-term goal was always to create a nationally recognized styling brand for all people for all occasions, and sell beautifully made, unique readymade pieces to those that care. One month ago, I rebranded the business to G ALXNDR (much more friendly to non-male identifying clients than Gentleman's Personal Stylist) and expanded the services to everyone.
While there is so much to do, here's what I'd do if I won a $10,000 equity-free miracle gift:
Use $1,650 to produce 25 pairs of my most purchased shoe design to sell on my website, which would generate $7,500 in revenue.

Use $1,200 to produce 100 bow ties to sell on the website, which would generate $5,000 in revenue.

Invest $5,150 in the photo and video shoot of the brand to get at least 2 years' worth of marketing content. The benefit of working in fashion and having built a large network of creative professionals, I can keep my clothing costs near zero, and just pay for talent and extras. A shoot of this caliber can easily cost companies 10-15k.

Spend $2,000 to hire a freelancer to write 3 or 4 15,000 to 20,000-word blog posts as master guides that I could split up into additional posts, post in full, and also use to create supporting video content. These posts would boost SEO and traffic to the site. Because the posts will have embedded products from my styling software, we will also receive commissions off of purchased goods.
These are the priorities for the business right now. I always want to be creating new revenue in the short term, so producing bulk orders of my best sellers is a good way of doing that while balancing the long-term benefits of the SEO and traffic boost from the articles.
Photo and video are important for any company, especially a styling one, and with the rebrand, we need some additional imagery to use over the next couple of years.
#14 Jacob Wedderburn Day, Cofounder and CEO, Stasher
Treepoints is still in the early execution phase. We have our first 150 customers and the product is built, but we're still striving for product-market fit.
In our case, as we've built a lot of the tech in-house, I think we'd look to allocate the spend on marketing experiments. The $10,000 equity-free funding would help us identify where we can scale marketing effectively (e.g. paid social, PPC, more content, partner deals, etc).
We would then use the performance metrics from these experiments to build a case study for raising a more serious round of financing.
#15 Anant Mohan Sinha, Founder, Strippy
Given our product is content-focused (an Indian comics discovery platform), we would be using the $10,000 equity-free funding to create more of such original comics. We would take the help of freelance comic illustrators and invest in expanding our community across social
channels, including Discord which will help strengthen our distribution network.
#16 Samuel Jacintho, Founder, Aw.D.O. Cast
Since we are an everything Podcast company, we do everything from audio engineering to social media management or network management to arranging guests and even acquiring new Podcasts for that network. For each client, we discuss what are the best products and services so we can tailor the best plan.
So if we won the $10,000 equity-free funding, we would be able to use it for marketing our subscription plans. And if we get to acquire 5 more clients (in the auto-pilot plan), due to our business model, we would get it back in the next two months.
We can keep doubling the advertising amount every other month then. Because every client covers all of its costs and for outsourcing some activities we can grow very quickly and indefinitely, just managing the growth to be healthy by hiring people to manage sets of 10 clients.
#17 Sara Feldstein, Founder, Barumba Play
I would use the $10,000 equity-free funding towards getting help with my online marketing. As a new business owner trying to navigate learning Facebook and google ads, you can feel like you are just throwing money into the wind.
I am a non-technical founder as I actually have been an executive marketing and sales leader for 4 startups, 2 of which are now unicorns. So I'd use the $10,000 equity-free funding to shore up a no-code app (built on Bubble.io), to prove that no-code is good enough to launch a technical SaaS product to provide MVP and get initial traction.
#19 Eric Grafstrom, Founder and CEO, Exit Guide
I am in the early stages of my new venture, ExitGuide. So if I received $10,000 in non-dilutive capital I would invest in a combination of product development and marketing spend for acquiring customers, in my case, small business owners.
Most of the traffic to the site comes from Google PPC and I want to learn more about converting free customers to our Pro and premium offering.
I'd probably split the money and put half into a new website and half into marketing. I'm making do with a website I cobbled together myself, so it would be good to get a professionally designed and built site.
And, of course, you can't go wrong with spending on marketing and getting your brand out there.
#21 Brian Kearin, Founder, Boat Easy 
$10,000 isn't a ton and not enough to hire a developer or develop an app unless you can do some of the work yourself. It is however enough to give you a solid start in SEO.
I'd spend it on driving organic traffic to our site. Guest posting, content creation, sharing across various platforms, outreaching to local news organizations covering tech startups, etc. are the areas where I would spend it.
A handful of quality backlinks and posts will go a long way toward your site's authenticity in the eyes of Google and other search engines. $10,000 would go a decent way towards this goal and give your startup's site a baseline of traffic and authority upon which to build.
Even better if you can figure out how to monetize that early traffic and bring in monthly revenue.
#22 Stefan Ateljevic, Cryptoentrepreneur & Founder, Ahoy Games
If I won $10,000 equity-free funding for my crypto startup, this is what I would do. I would allocate all of it to build a powerful Ethereum mining rig and here is why.
As the second strongest cryptocurrency, ETH is set to end all mining by the end of 2022 when it transitions to proof of stake (PoS). So instead of buying the coin directly, I would try and pile up as much as possible, then once the gold rush to 2022 is up, set the mining rig to mining Ravencoin, or whatever is profitable at that time.
This way, no matter what happens in the next few years, I will be pretty much guaranteed to earn at least x4 the $10,000 investment on the conservative side. If cryptocurrency continues heading towards mainstream adoption and Bitcoin is phased out and replaced by Ethereum, then it could add up to a lot of money.
This could then be reinvested later down the line to start up my dream business: a cryptocurrency-powered brick & mortar casino. 
#23 Adrienne Denaro, Global Communications Director, BagsID Network
BagsID Network is moving out of the idea stage and into execution. Even though we are not into commercial use yet, we are testing our technology with various airlines and airports.
If we were to receive $10k in free funding, it would be greatly appreciated. We'd first invest it in hosting a virtual event for airports, airlines, and related travel baggage operations professionals.
So we could further teach and demonstrate how our BagsID Network AI photo recognition technology can help replace traditional thermal barcode scan tags and RFID for baggage identification. We'd create an online event that would show how our 'baggage biometrics' solution is easier, more accurate, more profitable, and better for the environment than the systems that are currently in place. There's so much to show and tell!
If there were any budget left after this, I'd enjoy bringing our global team together for the first time since we launched during the pandemic. We have an amazing team with individuals spanning from the United States to the United Kingdom, and from the Netherlands to India.
They do amazing work together across oceans and time zones, I can only imagine the great ideas they'd develop if everyone was in the same room. It would also be a nice way to give back for their hard work and dedication to BagsID.
I'm pivoting from primarily serving clients to instead bringing several of my software-oriented ideas to life as new businesses. I've also recently taken a coding Bootcamp to learn the missing backend development skills necessary to complete these ideas.
So if I had $10,000 equity-free funding, I would pay experts/advisors to review my new product's code and to give input on how to best bring these new products to fruition.
There are several things that I would do with $10,000. Firstly, I would hire an SEO expert to optimize my entire site to help improve my ratings on SERPs.
Secondly, I would use it to help launch a new campaign on my blog about the dangers and harm of Critical Race Theory. And thirdly, I would hire an employee that specializes in SEO Optimization.
If there were any more money left I would hire a PR agency to help make my company as visible as possible.
The Mood Guide is an online visual buying guide for millennial women, where we organize the best stuff on the internet by style. Currently, we are two women running against time to keep social media updated and write enough quality content to keep growing organic traffic.
Besides, finding time for consistent marketing and PR is a big challenge. So, with the $10,000 of equity-free funding in my hands, I would definitely hire at least one copywriter and one digital marketing expert.
#27 Christopher Thompson, Co-founder & CEO, Homsby
If I won $10,000 equity-free funding, I'd split it up across two initiatives: 
Creating content to build awareness as we look to launch

Solving our product's biggest pain points quicker
This is what our exact split would look like:
60% (Marketing) – Having enough content and collateral is huge for us in the industry we're in. We'd look to build this out (via contractors) in preparation for kickstarting our outbound campaigns (social, digital, direct, etc.)

40% (UX) – We have a number of problems we are looking to solve based on early feedback. We'd spend about 4,000 workings with a top UX designer to look to solve our most pressing issues vs. bootstrap them.
#28 Sadie Higgins, Founder & CEO, Gleam
As the founder of a startup B2C app, there are two hugely important factors in making sure our product is successful: obtaining and keeping users, and making sure the tech develops with the needs of our consumers.
Our gifting app, Gleam, launching this August, is extremely useful year-round for birthdays and anniversaries. But we are anticipating that there will be a huge demand during the holiday season as the pain point of stressing to search for the perfect gifts will be at an all-time high.
If we were to receive a $10,000 equity-free grant, we would put it towards the continued development of our product and testing different marketing channels. Specifically, into social media marketing, PR, and customer engagement.
Knowledge is key to understanding what our users respond to and what they enjoy most about the app.
#29 Paula Panagouleas Miller, CEO, Karmascore
If I won the $10,000 equity-free funding, I would definitely spend it on marketing. You can have a great product, but if no one knows about it then it will not be successful.
Brand awareness is something we are working very hard on right now. So the money would be spent on all things affiliated or associated with marketing.
We are currently working on a strategy to make sure Karmascore is well known and to be the go-to app for building better relationships. Karmascore is a great tool for empowering better relationships, people just need to know all the things it can offer.
#30 Minesh Chandarana, CEO and founder, Rely Circle
If I won $10,000 equity-free funding for Rely Circle, I would spend it towards marketing. We have a fully developed product designed to help consumers and small business owners which would take away the need of having a consultant to help with partner outreach programs.
Between Yelp, Google and Facebook, it seems like the online review marketplace is firmly consolidated. But startup app RelyCircle is breaking in with a true sharing economy business model and patented referral system software that also protects user privacy.
It's the first social-selling app that lets small businesses market to new customers with zero upfront costs. And that's what we want our potential customers to know with the help of the $10,000.
#31 Michelle Rosaline, Founder, Hello Otter
HelloOtter is a new video conferencing platform in the beta and execution stage. I'd split the $10,000 equity-free grant, put $5,000 towards building out another product, and the other $5,000 towards influencer marketing.
Survivor Match is a dating site that is designed as a powerful resource for dating for survivors of different conditions. My story began when a close family friend overcame her second bout with cancer.
Having beaten the odds twice only to get a divorce did not sit well with me. That's when the idea manifested for me to start Survivor Match.
I truly believe that every survivor deserves happiness. If I won $10,000 equity-free funding for Survivor Match, I would apply it towards building an app.
I have a website with registered customers, but I need an app to take my business to the next level. Survivor Match is still in the early execution stage and an app could do wonders for it.
I am currently in the execution stage of my start-up company. I launched a user-guided experience born out of a need that I had as a busy working mom, household CFO, house manager, activities director, dog mom, and the list goes on.
I also had a near-death experience from a post-delivery hemorrhage with the birth of my second child that opened my eyes. If I had not made it home, all of the things that made our household function were not in a condition that my parents or spouse would have been able to pick up and continue.
I am a CPA, have 17 years of consultative selling experience and many other professional experiences. However, I have gaps in digital marketing and how to execute a marketing strategy properly.
I would invest all of the $10,000 between SEO for my website along digital marketing execution. I have a deep need for this and do not feel equipped to do this independently, nor do I have the funds necessary to make this happen.
As a female entrepreneur who has invested in developing this service with my own funds, I am not able to spend the additional money necessary to see the service executed on a proper launch.
I would have created a must-have list if I achieved $10,000 as equity-free funding. I have often seen that businesses failed due to the common mistake of poor fiscal management.
In order to fight against this, I have created a list of essential expenses like legal advice, a competent CFO, and top-notch customer service. Here, I didn't pay an enormous budget for these items.
Instead, I always considered paying for quality is inevitable. Next, if I acquire such a lump sum amount, I will invest in minimal staff as I know supporting staff is the backbone of any business.
Outsourcing to professionals at the get-go frees capital that might go toward salaries and can provide a buffer for unanticipated expenditures. Therefore, it may become necessary to recruit new employees along with the company's growth.
But, always remember to proceed further if it makes financial sense.
#35 Austin Dowse, CEO, Aimvein
I am a medical doctor, specializing in neurology and blood vessels with over 10 years of experience and the CEO of Aimvein. I will spend the money on purchasing necessary tools to further incorporate our VR technology in our developments and learn how our competitors market their products.
With VR technology, customers will gain an understanding of not only the new product but also to build their own virtual reality experience. They will learn how the technology works on a deeper level, giving us a competitive advantage in the marketplace.
Whatever is left of the money will be used for advertising and marketing to start getting customers in our door ASAP. We've been raising awareness the past couple of months, but having more money to advertise with will help us raise awareness quicker!
#36 Helen Huang, Cofounder, Co.Lab
I'm one of the cofounders of Co.Lab, an ed-tech company that provides non-traditional technologists with the practical experience they need to break into the industry. There are a few ways that I would spend the $10,000 equity-free funding:
Realistically, we would hire a Software Developer in a contractor role to assist in building out our platform, which will enable us to further scale our student numbers. It is currently at around 60 students per month.

Additionally, we would allocate a small amount of budget to spend on influencer marketing to continue spreading the word about Co.Lab!

In a dream world scenario, we would pay ourselves!
For reference, we have been operational for around 9 months, with only 3 of those being in a full-time capacity (both founders quit their tech jobs, previously at Microsoft).
#37 Richard O'Brien, CEO, Hoamsy
We would focus on using this money in marketing, especially as we hope to expand Hoamsy into other cities. We would use this money for promotional ads and targeted ads across social media and Google to increase visibility.
In terms of our expansion goals, the money would also be incredibly invaluable to increasing visibility and growing brand awareness in the city that we choose to expand Hoamsy to.
If I won $10,000 equity-free funding, I would spend it on building an MVP, which is a minimal viable product. The purpose of building an MVP is to actually test and measure your idea to see if you really are solving a problem by engaging with your target market.
The MVP can give you so much data and will go a long way to helping you determine whether you should put more of your own or investors' money in. If your MVP is helping people solve a problem, and if it is painful enough, they would likely pay you to solve it.
So the MVP actually can help you determine your revenue models. One last thing I would like to add is that the best engineers are not your development team.
They are the users you engage in your MVP. The feedback you receive is invaluable and can help your product evolve.
#39 Ardilla Deneys, Owner, Pollima
I began my career building natural houses made from straw, clay, sand, and water. Upon graduation from studying interior design, I was unable to find furniture to use in architectural projects that weren't carbon-heavy and toxic. 
My life mission naturally developed to focusing on revolutionizing our ways of production and consumption. My vision is that Pollima will create such a shift that scientists will correlate changes in ice cores and tree rings with the dawn of carbon-negative manufacturing.
With the $10,000 of equity-free funding, I would pay for a steel mold to press hemp stalks into a wood alternative for a new type of chair. With only 10,000, we could set an example of how waste can be instrumental in building a sustainable future. And with that, we can also work within the circular economy to create beautiful products.
#40 Keith Phillips, CEO, realLINGUA
I'm guessing most people would put the $10,000 equity-free funding into their marketing budget or something similar. However, and I'm not just blowing smoke, I'd go the complete opposite direction entirely, at least for part of it.
My entire team (8 of us) have been working super hard to get to where we are and we're all taking equity compensation only. So I would use the money to do the following:
A portion of it would be dedicated to equal share bonuses for everyone on my team
The remaining portion would be split up and given to our 3 main departments (marketing, product, and engineering) to dedicate to the project of their choice
That's it! This would be the shot in the arm that we absolutely need right now.
#41 Saurabh Jindal, Founder, Talk Travel
If I won $10,000 equity-free funding, I would:
A) Allocate a greater chunk of it to marketing activities:
Focus more on content production and distribution

Test out a few paid advertising campaigns and finalize a strategy that yields the best results for us

Run a few social media viral campaigns – for eg, contests, to attract audiences and get them to use our product
B) Allocate a smaller portion on tech development and enhancement
Work on the impending features and offerings

Develop workflows that would help us in processing 6 months down the line as the startup scales 
#42 Luigi La Corte, Founder, Housewerk
My name is Luigi, I'm the founder of a new startup focused on helping residential contractors and professionals showing off their portfolios to potential clientele. I'm currently validating the idea with my target market.
I made a mock-up of the product (www.housewerk.ca), and have been finding users on Facebook, through friends, from my social circle, etc. If I won $10,000 in equity-free funding, I would likely do two things:
Conduct a marketing campaign online (likely Facebook)

I would run ads where I can expect to find my target user in real life (Home Depot, Lowe's, Rona, etc).
The goal of the two marketing campaigns would be to continue to test the hypothesis and to build my marketing funnel for future conversion.
#43 Lynda Fairly, Cofounder, Numlooker
My name is Lynda, and I have founded a company that fosters the online grey pages directory. It is specifically for a sophisticated and accurate crisscross search for individual or company information using cellphone and landline numbers.
Because equity crowdfunding means selling equity and not viable goods or services, equity crowdfunding can be better suited to businesses in the first stages. We'll be comfortable selling equity and you have a solid business idea, equity crowdfunding is a great way to get our business off the ground.
#44 Calista Amrell, President, Sa'akom Farms
As a company working to promote long-term economic growth in a developing economy, $10,000 would help us make tremendous progress towards the achievement of this goal. We are currently developing a new scale-up stage for our farm, moving from a 25sqm pilot farm to a 500 sqm Minimal Viable Product, or an MVP farm.
We have funded most of this expansion ourselves but require a remaining $20,000 to purchase the final set of hydroponic towers. We are excited to participate in the 7th annual national innovation competition created by the US Pan Asian American Chamber of Commerce (USPAACC).
We are thankful to USPAACC for providing us a platform to showcase our innovation and work. With the winnings from the What's Your Pitch Competition, we will be able to fulfill the scope of our current MVP farm.
In turn, the full employment of this stage of our facilities will both demonstrate the scalability of our operations and prove the validity of our business model, all while benefiting the impoverished farmers we employ.
Conclusion
The testimonials about equity-free funding from these ingenious entrepreneurs must have helped you understand how important such funding could be for your business. 
So if you have an idea that you just cannot stop thinking about, we'll see you in season 2 of Pitch.Tech with a brand new opportunity to win $10,000 in equity-free funding and other benefits.
Building your own startup? Build it on a .Tech domain!