SEO for startups can greatly benefit in terms of organic marketing longevity. And strong marketing is a necessity for the long-term survival of tech startups.
Every year, thousands of small businesses and startups are created. Of those that started in 2014, only 56% made it to 5 or more years of operation.
As you can see, tons of startups pop up, but not a lot of them make it through the tests of time.
Check out our exclusive interview with Loren Baker, Founder of Search Engine Journal where he gives some interesting SEO tips and talks about how startups can make the most of SEO to grow their business.
If you have a startup or are thinking of creating one soon, you may be worried after reading these statistics. However, there are definitely ways you can boost your business and ensure its success.
For example, you can use Google to amplify your startup's visibility and accessibility to your prospective clients.
Want to learn more? In this article, we'll cover:
What is SEO for startups?
50 SEO tools for startups
Why your startup website is not ranking on Google's Search Engine Rankings Page (SERP)?
How to get your startup to rank in SERPs?
What is keyword research for startups?
Why is keyword research important for SEO for startups?
How to do keyword research for startups?
What are long-tail keywords and why are they important for startup SEO?
Which are the best keyword research tools for startup SEO?
What are the most common SEO mistakes made by startups (and how to fix them)?
Let's begin!
What is SEO for Startups?
"SEO" stands for "search engine optimization." Basically, it's where you tweak the elements of your website so when prospects type in a certain keyword related to your industry, your website will pop up first on SERPs.
But it's not as simple as just picking a good keyword and using it all over your web copy. In fact, Google will penalize you for what is known as "keyword stuffing."
So, as you can see, there's a nuance to SEO for startups. Plus, it's not just applied to your website text; you can utilize SEO for other things such as your video titles, subtitles, meta-text, and more.
As a result, you need to get your SEO-for-startup strategy right or you risk not ranking very high on search engine results. Users rarely click past the first page, and even then, they probably don't go past the first 5 results. Considering startups need as much exposure as possible to succeed, it's vital you nail your startup SEO strategy.
This post is an excellent SEO startup guide to help you get started.
50 SEO Tools for Startups 
To begin with, let's look at some of the most popular SEO tools for startups available out there.
With this comprehensive list of SEO tools for startups, you are in a good position to get started with implementing the below-mentioned startup SEO techniques to see tangible results.
Why Your Startup Website is Not Ranking on Google's Search Engine Rankings Page (SERP)?
Some of the glaring issues that you are probably missing are given below:
1. Google Doesn't Know You Exist
It may be because your startup website is extremely new, and it takes time for Google to discover new web pages and consequently rank them. The simplest way to check if Google is aware of your existence is by running a search for "site:yourwebsite.com"
Even if there is a single result it means that Google knows that your website exists, and subsequently if there are no results Google is unaware that your startup website exists.
Additionally, if you do get a result Google may not know which page you're trying to rank and you can check the results by searching for "site:yourwebsite.com/page-you-want-to-rank/"
You will get exactly one result; and if you get none, it means Google is unaware that the page exists. To ensure that all relevant pages on your startup website are visible to Google, create a sitemap and submit it to Google Search Console.
This will help Google know which pages are important on your startup website and how can they be found, thus speeding up the discovery process for your pages.
Another obvious step that most startups forget is to notify Google that you are a business.
Begin by listing your startup on Google My Business which is a free service that lets you control how your business is displayed on Google.
2. Search Engines Are Blocked From Crawling Your Website Pages
Websites can restrict search engines from crawling their pages by blocking URLs in the robots.txt file which is a file that instructs search engines about where they can and can't go.
There might be a chance that some important URLs are mistakenly blocked on the robots.txt file of your startup website which results in your webpage not showing up in Google search results.
The way to find this out is by searching for yourwebsite.com/robots.txt. If you get a 404 error means that this file does not exist for your startup website and you should look at creating one.
In case you do see the file and see the code "Disallow: /" under any of the important URLs, it means that Google is blocked from crawling those URLs resulting in them not showing up in SERPs.
Disable any such rules from the URLs that you want Google to crawl for your startup website.
3. Your Website Lacks Domain Authority And Backlinks
Domain Authority of your startup website is a metric that decides how your webpage performs against other websites and predicts its ranking. There are two ways in which you can improve the domain authority of your startup website: by building more backlinks and adding more internal links.
Backlinks are links on other websites that point back to your website. Relevant links from credible websites will help your website to rank higher as backlinks are an important Google ranking factor.
Backlinks can be generated by leveraging your existing relationships but a better way to do it is by creating high-quality content that is informative, helpful, and relevant.
Building more backlinks is a long-term process and is tougher to achieve and takes a significant amount of time to show results. Adding internal links, on the other hand, is in your control and easier, to begin with.
There are various tools such as Ahrefs and SEMRush that can help you determine the backlinks to your website. A study conducted by Ahrefs also establishes the correlation between rankings and domain ratings.
4. Your Website Is Not Optimized For Search Intent
Search intent, or keyword intent, is essentially the objective of a person using a search engine – to go somewhere, to know something, to do something, etc.
Optimizing your startup website for search intent involves creating content on your web pages that answer the intended questions of a user.
Google analyzes and ranks the most relevant results for a query which leads to a higher ranking for your website. By creating website content that caters to the search intent of users in a way that it answers their queries or leads to the desired transactions will help to optimize for search intent.
An in-depth SEO audit analysis and Google Search Console data can help you identify content that Google recognizes as matching user intent and identifies opportunities to create optimized content.
A great way to optimize for search intent is to use long-tail keywords and create blogs and an FAQ section that will include phrases and keywords that people are searching for.
More on long-tail keywords later in the post.
5. Your Startup Website Hosts Duplicate Content
The same or similar webpages on your startup website may be available on different URLs hosting the same or similar content and this is known as duplicate content.
Google is not very keen to index such duplicate content as it leads to taking up unnecessary space on their index and websites with duplicate content are therefore ranked lower.
In case your website does host duplicate content, Google indexes the URL that you have set as canonical. In case you have not defined a URL as canonical, it attempts to identify the best version of the page to index leading to authority being split between two URLs hosting the same content.
This issue on your startup website can be rectified by redirecting or canonicalizing the duplicate URLs. Finding duplicate content on your website can be done by running a crawl using site audit tools.
6. Google Has Penalized Your Startup Website
Although rare, this is one of the reasons why your startup website may not be appearing in SERPs. Google penalizes websites in two ways – Manual and Algorithmic.
Manual Penalty is when a Google employee reviews your website and finds non-compliance issues with their Webmaster Guidelines and accordingly takes action to demote your website or remove it from the search results.
Algorithmic Penalty, which is essentially a filter, is when Google's algorithm identifies quality issues on your website and suppresses it.
Unless you've done something drastically wrong on your startup website, it is unlikely that your website has a manual penalty, and even so, Google alerts you of this via the "Manual penalties" tab in Search Console.
For algorithmic penalties, it is difficult to identify, and Google doesn't tell you if you've been penalized.
One way to identify is if you notice a sudden drop in organic traffic to your website and check for any Google algorithm updates that may have caused it.
An in-depth SEO audit can help you identify these and more reasons why your startup website may not be appearing on SERPs. It is good practice to conduct an SEO audit while launching your website such that necessary steps may be taken to fill in the gaps wherever they exist.
How to Get Your Startup to Rank in Google's Search Engine Results Pages (SERPs)
If your startup website does not appear high in the Search Engine Results Pages (SERPs) or does not appear at all, your customers will have a lot of trouble finding you. Here are 10 ways to help your startup website rank in SERPs: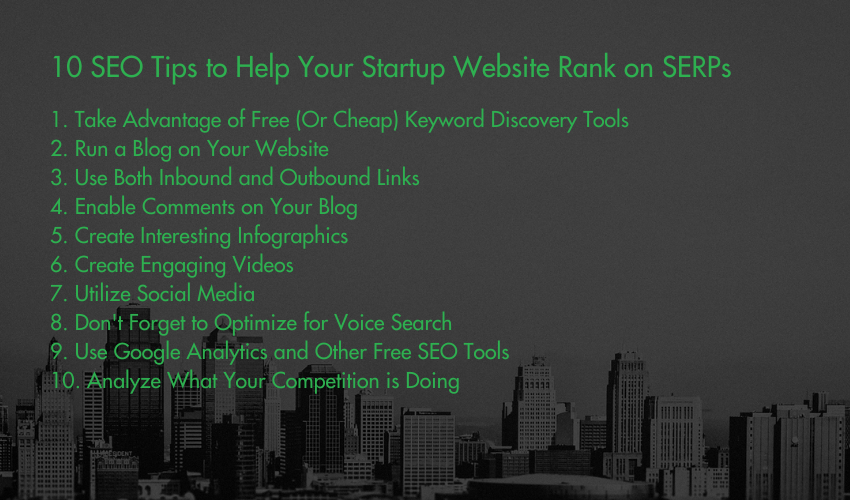 1. Take Advantage of Free (Or Cheap) Keyword Discovery Tools
Do you remember us mentioning in the previous section how keywords are important? Then you may be wondering how to go about choosing the right keywords.
First of all, put yourself in your customers' shoes. If you wanted to seek out your services, what would you type into the search bar of Google? That's a great place to start.
Then, do some keyword research on a free keyword discovery tool, which there are plenty of online. If you want, you can pay a reasonable fee for some other keyword discovery tools.
Just because the keyword you typed in ranks highly doesn't necessarily mean it's a good thing. If it has a high search volume, it'll be difficult to compete with bigger sites. Instead, you want to aim for keywords that have a low or medium search volume.
[NOTE: A detailed guide on keyword research and a list of 13 keyword research tools is included in this post]
2. Run a Blog on Your Website
Starting a blog on your website is a great way to get it ranking high on Google. Here, you can use long-tail keywords, which are basically phrases your customers search for.
By producing regular blog content, visitors can see that you keep up with providing customers with useful information. So not only does this help you rank better in SERPs, but it also positions you as a thought leader in your industry. This can help your startup become a trusted name.
Blogs have a great return on investment (ROI) because they draw in organic traffic with little to no costs. If you write all the blog articles yourself, you don't have to pay a copywriter. And even if you hire one, paying their salary will be a lower cost than most other marketing campaigns.
Plus, blogs are practically neverending campaigns. For example, ad campaigns end after a certain period of time. But blogs will always be there, so long as you pay for hosting your website.
SEO Hack: Optimize Your Content
The biggest misconception with writing articles on your blog is that you do not write what you want to share, you write what other people want to read!
This means that you have to get into the shoes of your ideal visitors and solve their problems from their language. This makes your content useful and shareable.
You also need to optimize the content with SEO hacks throughout the article.
The main keyword should be in:
The title of the article– the closer to the front, the better.
The meta-description– make it descriptive, short, and readable.
The URL– make it short and to the point.
A subheading (H2) – Only one is necessary.
In the first paragraph – preferably the first 100 words of your article
In Conclusion
Image Name and ALT tag
Naturally throughout the article (no stuffing!)
You will also want to add secondary keywords naturally throughout the article and the other headings.
Make sure that your content is easily readable, and not full of unnecessary fluff. People's minds are so busy these days (monkey minds) that they want information ASAP without wasting time.
Use Both Inbound and Outbound Links
In addition to using keywords strategically in your content, you'll also need to use inbound and outbound links. Linking to your own content means there's a higher chance that users will stay on your website and indirectly buy from you.
On the other hand, when you use outbound links, this will improve your reputation on SERPs. As a result, your website will climb the ranks, as you're providing useful and reputable information for your readers.
SEO Hack: Link to Websites With High Domain Authority
Every successful website started from the bottom and worked its way up the authority ladder, they did not just magically appear on the front page of SERP for no reason.
To have high domain authority, you have to be recognized by Google as a website that provides a lot of valuable content to visitors on your site. Google does not want to have people bouncing from website to website to finally get the information they want. This is misleading and can make their reliability as a search engine look horrible.
The best way to climb the domain authority ladder is to link to reputable websites, which will, in turn, link back to you.
The more backlinks you receive, the more that Google will believe that your content is worth reading, and the more reputable websites you link outwards to, the more legit you seem as well.
Moz has a great open site explorer tool that will help you to find websites with a domain authority rating of 40 or higher. Make sure to link outwards to websites that are relevant to your niche, and preferably with a statistic to back up your content.
After you have followed the above steps, reach out to the website and let them know that you appreciated their content and linked to it on your website. Share the link of your content, and ask if there is a chance that they will link back to you.
Enable Comments on Your Blog
Enabling comment sections can be a risky business; you never know if someone will leave nasty comments or be a troll. But it can be an SEO goldmine.
When you encourage visitors to drop a comment and they do, it opens the door for you to engage with them. Not only does this impress them, but it'll also drive your website up in SERPs.
Create Interesting Infographics
Infographics are a fantastic way to reel visitors in and see website traffic explode.
People nowadays don't have much spare time, and they're always on the go. Often, they don't have time to read lengthy blog posts. While they may have good intentions when they bookmark the page for later, they'll probably forget to go back to it.
By having infographics on your site, you create condensed and easy-to-digest visual data that users are sure to appreciate. As a result, more people will visit your website and link it as a source. Both of these things will improve your SEO rankings drastically.
Again, offering users other content besides text can be hugely beneficial. Today's consumers crave engagement and creativity, and you can give it to them through videos.
Like infographics, videos can pack an incredible amount of information into a short file. You can show off your startup's personality and attract the appropriate audience.
Also, with video marketing, you can still practice SEO. Use your target keywords to name your video title and use it in its description somewhere. You should also link to your website so viewers can go straight there after watching your informative video.
Part of your startup's SEO strategy is to make a variety of content, such as blog articles, infographics, and videos. But sometimes, these need an extra push to get in front of an organic audience.
In this case, you need to utilize social media. Not only are these accounts great for spreading the word about your brand and its content, but the more shares and views your content gets, the higher you'll move up in SERPs.
Plus, social media is a great place to interact with users and show how good your customer service can be.
Don't Forget to Optimize for Voice Search
Technology's growing by leaps and bounds, and unsurprisingly, voice searches are on the rise. Voice searches are slightly different from regular queries, so make sure you understand the nuances.
For instance, many people are searching for local businesses with "near me" in their searches. Also, people tend to use complete sentences in voice searches, so you'll want to optimize for both long-tail keywords and question phrases.
And since the majority of voice searches are done on mobile devices, you need to make sure your website has a responsive design so whichever device your customers are on, they can use your site easily.
SEO Hack: Make Your Website Mobile Responsive
In today's digital age, more than 60% of web searches are done via mobile devices now, including smartphones and tablets. If your website works great on a desktop, but horrible on a mobile device, you are going to destroy your SERP rankings.
The more mobile-friendly your website is, the more internet crawlers can find it and index it as well.
SEO Hack: On-Page Optimization
We have covered the importance of optimizing your blogs and content, but the rest of your website needs to be optimized as well! This is another rookie mistake that most people make, focusing so much on blogs, that they forget about their other pages!
Using a plugin like Yoast, go through your content on each page and optimize it to include the keywords in the titles, about section, contact section, services, and any other pages you may have.
SEO Hack: Hosting
The wrong hosting package could be detrimental to your traffic needs. There are options for each bracket of volume you will receive, for example, certain hosting packages dictate how much data can be transferred to your site to them.
This is great and affordable for a small website, but make sure you check in on your visitor volume as you will be restricting access to viewers as your website grows.
Use Google Analytics and Other Free SEO Tools
Once you've put your SEO strategy into action, you need to monitor it to make sure you're doing alright. Most startups think they need to pay someone to gain access to analytic information, but that's not true at all!
You can use free SEO tools such as Google Analytics to monitor which keywords are working and which aren't. You can also see specific details about your website, such as which landing pages are performing the best if you have any broken URLs, and more.
With some free SEO tools, you can even see how matching competitor keywords are performing. Having your eye on all this information means you can keep tweaking your SEO strategy until it's the best it can be.
SEO Hack: Optimize Your Website Speed
Since your website is probably new because of the recent launch of your startup, you may not know the speed of how fast it loads yet. This is a major mistake that many rookies make. One of the most important SEO hacks that you could learn is to optimize the speed of your website.
If your website is slow, this will increase your bounce rates, which will tell Google that people do not find your website interesting, or that it is misleading. This will, in turn, destroy your SERP results and bring you back to square one.
Go through your website and start eliminating unnecessary code, as well as reducing the size of large images, both of which help to reduce your website loading time.
Use tools such as Google's Page Speed to plug in your URL and see how it ranks. You can also invest in a Content Delivery Network which will duplicate your website with multiple servers around the world.
Analyze What Your Competition is Doing
If you're getting frustrated with your SEO strategy, and things don't seem to improve no matter what you do, perhaps it's time to get a better picture of what your competition's doing. What are they doing successfully and beating you out on?
For example, maybe they're covering more relevant topics in their blogs than you are. Take a look at what they're writing about, and take a page from them.
Or maybe they're ranking better for SERPs on a certain subject. Have you noticed all the top pages are listicles? Then make a listicle about that subject too.
SEO Hack: Evaluate Your Own SEO Efforts
All of your hard work with optimizing your search engine strategies will do nothing if you are not able to measure and record your progress. One of the best SEO hacks in the industry is regularly running audits on your analytics and tracking your progress.
Using tools like Google Analytics, you can discover all the details about your website traffic. Here you will find the age demographic of your visitors, their locations, your bounce rates, and more.
With these tips for SEO for startups, you should hopefully be able to rank much better than you were before. However, these are just the tip of the iceberg.
To really get to the top of SERPs and stay there, you need to constantly adapt your startup SEO strategies. It's a constantly evolving world, after all.
Make sure that in addition to employing these  SEO tips yourself, you also get in touch with some experts who can help you continually mould your startup's  SEO strategy so you're always at the top of your industry.
Keyword Research for SEO for Startups
Did you know that on the first page of Google, over 67% of clicks go to the first five organic results?
It's no secret that search engine optimization (better known as SEO) is crucial to any website's success. However, the world of SEO can be a bit overwhelming at times.
How do you get your website up into that coveted first-page ranking in Google, where over half of the clicks are happening?
The short answer is that it all begins with keyword research.
Keep reading to learn what SEO keyword research is, why it's important, and how to do keyword research!
What is Keyword Research for Startups?
Keyword research is the process of discovering which "keywords" (i.e., search terms) people are searching for in Google. Then you need to incorporate those keywords into your own website's content.
You can think of keyword research as the foundation of your website's SEO strategy. It gives you the necessary starting point to begin creating high-quality content for your website.
The keyword research process includes determining suitable keywords, finding similar keywords around a relevant topic, analyzing how your competitors rank based on relevant keywords, and then organizing all of that information into a digestible format. This might sound like a lot, but there are many tools and resources available to help simplify and streamline this process.
Before we dive into the nitty-gritty details of how to do keyword research, let's talk about why it matters.
Why is Keyword Research Important for Startups?
Keyword research should be a driving factor in your site's content strategy because keywords help to put purpose behind your content. Remember that all content created for your website should serve your audience by offering them relevant information on the problems they're trying to solve.
Keyword research is the perfect way to analyze what your potential site visitors are looking for. Once you know what they're searching for in Google, you can create content that is specifically targeted to answer their questions and meet their needs.
Don't stop with what they are searching for. Ask yourself questions like:
Why are they making these searches?
Who is searching for these items?
When do people search for these terms? (What time of year?)
Where are people conducting these searches?
How do people search for these things? (i.e., What are the exact words and phrases that they're using?)
As you find the answers to these questions through keyword research, you become more closely attuned to your audience. Thus, you become better capable of meeting their needs through your website's services and content.
SEO Hack: Quick Way to Optimize Your Keywords 
Perhaps one of the most essential SEO hacks is understanding keyword implementation, correctly.
Many rookies find any keyword that relates to their brand and stuffs it everywhere on their website. This is not only ineffective for SEO, but it will also flag you as a black hat marketer and penalize you from being seen on Google.
Using tools such as Keyword Finder, find a keyword that ranks between 0-30 in difficulty rating, as well as a search volume of 100 and more. These numbers will help you to have a chance to rank as a new online business.
Don't get caught up on one keyword, make sure you use a variety of keywords and similar phrases that will direct people to your website. This includes long-tailed keywords, which are one of the most underrated SEO hacks in the industry.
Long-tailed keywords are the specific sentence or phrase that visitors type into the Google search bar when searching for information. Google Adwords keyword planner is a great tool for locating long-tailed keywords. Use these Keywords as the H2 header in your articles and you are well on your way to climbing the SERP
How to do Keyword Research for Startups?
Ok, so you know what keyword research is and why it's important. Now you might be thinking, "Great, but how do I get started?" Let's break the process down into a few manageable steps!
Start by Brainstorming Relevant Topics
If you're wondering how to choose keywords to research, it's a good idea to start by brainstorming a list of general topics that are relevant to your niche and audience. What type of information do you think your audience will be interested in?
Don't narrow the topics down too much yet. That part will come after you've done some more keyword research. This step is just a starting point for figuring out what keywords your site audience might be searching for in Google and other search engines (such as YouTube).
Once you've got an idea of what kind of topics you might be able to create content about, it's time to dive into the research and figure out which keywords to incorporate into your content!
Find Appropriate Keywords
One of the simplest and easiest ways to start your keyword research is to simply begin typing a few words into the Google search bar that are related to your site niche! Pay attention to what comes up as the suggested endings to your search query. This simple strategy gives you an idea of what your ideal site visitors are also searching for.
Check the bottom of the Google search results, where it shows "Searches related to [keyword]." This is a simple yet powerful keyword tool that allows you to see what words people are using when they're searching for information connected to your topic. For example, a search for the keywords "tech startups" might show related searches such as "tech startups jobs," "tech startups ideas," or "tech startups to invest in."
Shorter keywords (known as head terms) like "tech startups" generally have a much higher search volume than long-tail keywords. However, "tech startups" is very general, which means that if you target this keyword, it will be harder to rank high in search results. It will also attract a more general audience.
Long-tail keywords like "tech startups to invest in" receive a lower search volume. However, by creating content that is targeted to long-tail keywords, you will be attracting a much more relevant audience. These site visitors are more likely to be interested in the services and content that your site provides.
Use Keyword Research Tools to Analyze Your Keywords
It's not enough to simply have a list of keywords. You also need to analyze those keywords to determine which would be the best ones to incorporate into your site's content strategy.
To do this most effectively, you'll need to learn how to utilize a few keyword tools.
The Google Keyword Planner is a perennial favorite (you'll need a Google AdWords account to use this tool). This keyword tool can show you search volume and traffic estimates for a given keyword. It works great in conjunction with Google Trends, which can show you how specific keywords are trending.
Search volume is important to know because you don't want to create content about keywords that are completely "out there". If not many people are searching for those terms, then you won't draw in much traffic to your site! However, you also don't necessarily want to target keywords that have a huge search volume — these keywords will be much more competitive. Aim for a sweet spot
Tools like Neil Patel's Ubersuggest app or the Moz Keyword Explorer can provide you with more insights, such as estimated keyword difficulty (i.e., how difficult will it be for a site to rank for a particular keyword).
When looking at keyword difficulty, consider your page authority and the amount of traffic you already have. This will affect your site's ability to rank for specific keywords. Sites with higher authority might want to target more difficult keywords, as they can realistically rank for those keywords.
On the other hand, newly-established sites with lower authority and lower traffic will want to target keywords with a lower difficulty. In general, try to aim for the "sweet spot" of low difficulty and high search volume. Of course, make sure all keywords are relevant to your audience and site's content.
As SEO keyword research has become such a foundation to the online business world, more and more keyword research tools are popping up every day. Take some time to shop around, try out a few free tools, and look into some trial versions of paid tools until you find the tools that best fit your needs.
(NOTE: A list of 13 keyword research tools is included towards the end of this article)
Analyze Your Competitors
Competition analysis might be the most overlooked but most important part of your keyword strategy. If you're not aware of what your competitors are doing, you'll miss important opportunities.
There are two main ways to analyze your competitors when you are doing keyword research. First, you can look at a specific keyword and see which competitive sites are showing up (ranking) in the top pages of Google for this term. You can use a keyword tool for this, or you can simply do a Google search for the keywords and see what sites show up.
The second way to analyze competitors is to look at a specific competitive site. Plug their domain name into a keyword tool like Ubersuggest and it will show you a list of the keywords that site is ranking for. This can be a good way of finding some "content gaps" where you could step up and add some valuable content to your site.
Use Spreadsheets to Stay Organized
This is a lot of information you're dealing with here, so it's important to sort and organize it all into a manageable and easily understandable format.
Your keyword spreadsheet should include a list of keywords, search volume, competitors who are ranking for those keywords, search difficulty, etc. Once you've compiled the spreadsheet, you can color-code and sort the material in order to see at a glance which keywords you need to be prioritizing.
Once you've narrowed down the keywords that your site needs to focus on, you've now arrived full-circle back to the topic brainstorming process. Now, however, you have the data that you need in order to choose highly specific topics to create content around. Be sure to include your focus keywords in your content calendar!
What are Long Tail Keywords and why are they important for Startup SEO?
According to Wordtracker, long-tail keywords are those three or four keyword phrases that are very, very specific to what you sell. And Brick Marketing suggests that long-tail keywords are a type of keyword phrase that has at least three, and sometimes as many as five words in the phrase.
To explain it better, long-tail keywords comprise of a phrase or a set of words that are specific to your core competency. These keywords are designed by keeping the search intent in mind.
If you were looking to shop for shoes, you would typically type 'buy shoes online' or more specifically 'buy formal shoes online'.
Although you want your website to rank high for the keyword 'shoes', you will drive a tremendous amount of traffic to your website by optimizing for long-tail keywords such as 'buy formal shoes online' as this is more specific.
How to Optimize for Long Tail Keywords?
The smartest way to ensure that your tech startup's website is optimized for long-tail keywords is to include a blog section and a comprehensive FAQ section.
Actively blogging about trending topics in your industry, or including thought leadership articles, or writing valuable listicles, etc. will help you strengthen your SEO game immensely.
For instance, if you are offering a SaaS-based automated AI marketing tool, then actively talk about topics around artificial intelligence, marketing, tech marketing, startup marketing, pros and cons of automation, etc.
Use tools such as Ahrefs or SEMrush to search for relevant long-tail keywords and then write blogs around them or include them in your FAQs.
Why Are Long Tail Keywords Important?
Long-tail keywords account for almost 70% of all web searches. Typically speaking, long-tail keywords are characterized by a low search volume, low competition, and high conversion rate.
This means that they are easy to rank for. With long-tail keywords, you can better target the search intent and convert specific searches into footfalls on your website.
Why Should You Use Long Tail Keywords?
Here are some of the most compelling reasons to use long-tail keywords in your startup's SEO strategy:
To Optimize for Voice Search
Using long-tail keywords and optimizing your website will not only help your tech startup to win at SEO, but it will also help you conquer the current trend of voice search.
A recent statistic suggested that a whopping 55% percent of millennials use voice search daily. This means they talk into their smartphones or smart home devices to get search results. Since voice search requires the user to talk their query out means they have to use relevant long-tail keywords.
'Find a smartphone repair center near me' is the sort of voice search most people would resort to. Being a tech business that offers cutting edge products, it would be wise to optimize your website for the latest tech trend of voice-based search.
The obvious and primary use of long-tail keywords is to ensure that your website enjoys a higher rank on search engines. This means outranking your competitors and strategically catering to specific search intents of users looking to find your business or your core competency.
By including relevant long-tail keywords in your blogs and overall website content, you can definitely rank higher than your competitors.
For instance, 'AR' or 'Augmented Reality' will surely have millions of search queries and they will also have a high keyword difficulty. However, 'Augmented Reality Apps' may have fewer search queries and lower keyword difficulty.
By using specific and highly relevant long-tail keywords means you can better optimize your website content.
If your tech business is developing an AR-based product such as a game or an app with an intention to sell or to get people to download your app, then you should consider tightening your SEO strategy by introducing long-tail keywords to the equation.
To Improve The Impact of Content Marketing
Google loves fresh content. New content peppered with target long-tail keywords will boost your SEO and catapult your content marketing to the next level. However, you need to be consistent with quality posts that add value to your visitors and contribute to your overall marketing objectives.
Furthermore, you need to use your target long-tail keywords within the URL, title tag, and body text. You can also use long-tail keywords in the alt text for images.
To Increase Conversion Rates
Did you know that the average conversion rate for long-tail keywords is 36%! Having said that, you can't simply expect to multiply your conversion rates through the roof by simply inserting relevant long-tail keywords.
Long-tail keywords act as a catalyst to boost your Conversion Rate Optimization index via a surge in organic search traffic. Also, it's far more economical to hunt for relevant long-tail keywords and includes them in your blog posts and FAQs rather than invest in a PPC ad campaign.
Now you know what SEO keyword research is and why it's important, and you've got a step-by-step process for how to perform keyword research. It's time to take what you've learned and implement your newfound knowledge into your site's SEO strategy! To help you, we have included a list of 13 keyword research tools you can use to get started.
What are the best Keyword Research Tools for Startups?
There are many keyword research tools out there. Some of them are free but require you to upgrade to a paid plan in order to unlock their full effectiveness. Many other tools are paid-only but will offer a brief trial period that is free in order to allow you to test the set-up and see if it is right for you.
In the following list, we have listed the free versions so you can use any of these:
#1 Keyword In
The Keyword In tool is a generator that combines variations from what you enter into its three columns.
You start off by entering seed or long-tail keywords into three different columns. The Keyword In tool then mixes and matches the keywords to create a list of potential phrases to use.
#2 Soovle
Soovle specializes in giving long-tail keywords.
This tool specializes in being customizable and choosing which major search engine you want to target. It draws its data from:
Amazon
Google
Yahoo
Bing
YouTube
Wikipedia
Soovle doesn't provide any in-depth information like search volume or ranking difficulty. However, if you need help finding long-tail keywords, this is the tool for you.
#3 AdWord and SEO Keyword Permutation Generator
By using the AdWord and SEO Keyword Permutation Generator tool, you gain access to limitless mix-and-matched keywords. If you're struggling to come up with any keywords at all for your niche, then this generator can be helpful.
The tool functions by having three boxes where you can enter keywords. Then you click "generate permutations," and the tool spins out dozens of variances for what you entered.
#4 Google Keyword Planner
To use this tool, you'll need to create an AdWords account, however, that doesn't mean that you will have to make and use an ad.
When you enter a keyword, Google Keyword Planner will give you a list of related keywords. Alongside this information, it will also give you metrics on what the competition is like for said keyword, and how many searches it accrues (both on a global and local level).
#5 AnswerThePublic
AnswerThePublic is a research tool that functions by taking search results from Google and Bing and creating a visual display of an auto-suggest search cloud. The tool organizes its search cloud into multiple different categories like what, why, and where.
AnswerThePublic will also give you a summary of questions entered into search engines related to the keyword you're researching. This can help give you a boost in answering a specific question and optimizing a post to capture the Featured Snippet position.
#6 Google Search Console
The Google Search Console tool is a must-have for anyone who owns a website.
While it isn't a traditional keyword research tool, it has a section called the Performance Report that makes finding keywords easy and fast.
Google Search Console works by connecting your website to it. It will then let you know what pages on your site accrue the most clicks. More importantly, it will tell you what exact keywords brought the site visitors.
To gain further insight, you can use the Opportunity Keywords feature. This feature tells you where you rank with Google for a specific keyword.
#7 Wordtracker Scout
If you're curious about what keywords your competition is using, then the Wordtracker Scout tool is what you want.
Wordtracker Scout works as a Chrome extension. You use it to visit a website, find a page you want to learn more about, and hit the "W" button. Wordtracker Scout will then generate a word cloud of keywords it detects.
#8 QuestionDB
The QuestionDB tool is a question-focused keyword generator. Its basic features are free, but if you want access to more in-depth information, you'll have to pay.
QuestionDB is similar in function to AnswerThePublic, without the annoying background of an impatient person staring you down. QuestionDB works by you entering in a broad seed keyword. The tool will then generate a long list of questions that you can use to help you create topic ideas.
#9 Ubersuggest
Ubersuggest is a popular platform among many new content marketers and bloggers. It is a free keyword tool that gives you a plethora of keyword ideas.
To use Ubersuggest, you simply enter a term, and the keyword research tool will then provide you with a list of suggestions. It can also give you the related keyword and long-tail keyword suggestions.
Ubersuggest parses your keyword suggestion results into three different categories:
domain overview
keyword ideas
SERP analysis
The domain overview displays a graph that shows the search volume for specific keywords in the last 12 months. You'll also find the difficulty score for your keyword in this section. The score will range between 1 and 100, with the higher end representing how hard it is to rank for that keyword.
The keyword ideas section gives you a list of additional keyword ideas. Ubersuggest pulls its keyword ideas from Google Ads and Suggest recommendations, so you can rest easy knowing the results are from a leading search engine.
The SERP analysis section will give you a list of the top 100 websites that are ranking for the specific keyword you entered. It'll also tell you in what countries these sites originate from.
#10 Keyword Sheeter
The Keyword Sheeter tool is another generator that scrapes Google to create thousands of autocomplete suggestions.
To use Keyword Sheeter, you enter in your seed keyword and then click the "Sheet keywords" button. If you struggle to come up with ideas for keywords, this tool is for you. It can create about 1,000 keyword ideas in a minute.
The drawback of this tool is that it's pretty simplistic. You won't get any pertinent data on search volumes or difficulty ranking.
#11 Google Trends
Google Trends will let you enter multiple keywords and then filter your search by location, search history, and category. This tool will then provide statistics on the web interest for the entered keywords. It will also tell you a possible cause behind the interest and where most of the traffic is originating from.
A bonus about Google Trends is that it generates interactive graphs that you can download or even embed into your website. Google Trends is an excellent tool to help you decide between two different keywords.
#12 Keyword Tool.io
This tool is simple and straightforward. If you're looking for a tool that will generate a list of long-tail keywords, then Keyword Tool.io is ideal for that purpose.
How Keyword Tool.io works is that it uses Google's autocomplete function to help it generate relevant keyword suggestions. This is another tool that offers basic functions for free, but if you want to see all the data, then you'll have to upgrade to the paid version.
#13 Keyword Surfer
Keyword Surfer functions as a free Chrome extension. It will give you access to the estimated global and regional monthly search volumes for any term or phrase you enter into Google's search field.
This extension will also show you the search volume for any auto-complete results that drop below the term or phrase you entered into the search field. If that wasn't enough, Keyword Surfer will also give you a list of ten other keywords that are similar or related to your seed keyword.
Choose an SEO Keyword Tool that works for your Startup SEO 
Keyword research can be as simple or as complex as you want it to be. The worst thing you can do for your business is to create content and simply hope for the best.
You need the right keywords to help guide your content strategy and increase your rankings in the SERPs. Make use of one or more of these free keyword tools listed in this guide, and the odds of success for your business will skyrocket.
What are the most common Startup SEO mistakes to avoid?
When it comes to winning at startup marketing and building a formidable brand, you cannot make SEO mistakes. In fact, a major chunk of your marketing team's time should be devoted to strengthening your website's SEO.
While paid advertising and dollar investments play a significant role in startup and business marketing, SEO ensures long-term marketing sustenance that is much needed in this highly competitive startup space.
Any SEO mistakes made will hamper your website's ability to rank high on search engine resultS pages or even result in your startup website failing to rank on SERPs at all.
10 Common SEO Mistakes Every Startup Should Avoid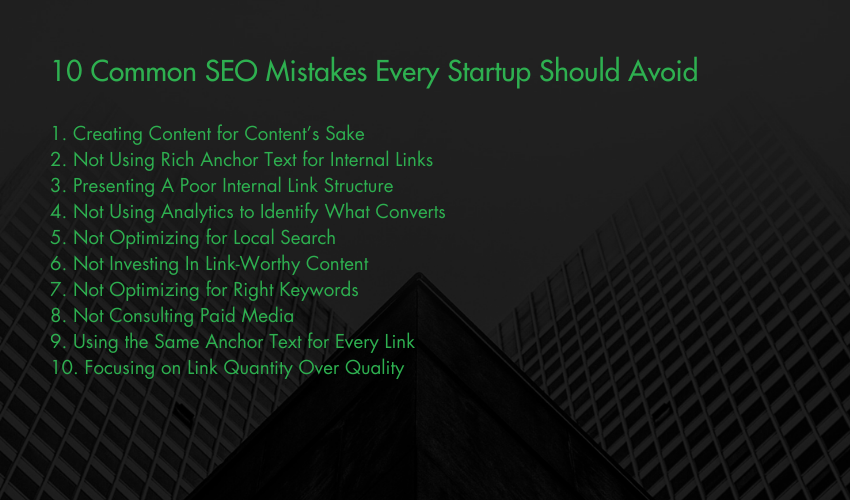 #1 Creating Content for Content's Sake
Best practices dictate that you need to consistently produce high-quality content to increase brand exposure and authority, and also increase your website's indexation rate.
However, sometimes we produce content just to have more of it. This leads to the creation of irrelevant, low-quality content and a waste of resources which is one of the most common SEO mistakes that people make.
The Fix 
Do not write content before completing strategic keyword research. The content needs to be relevant to the target keywords and must include associated keywords in H2 tags and the body of the article.
Using the right seed keyword and the right supporting long-tail keywords will convey the full context of your content to the search engines and meet user intent on various levels.
You must take your time to invest in long-form content that is evergreen and actionable. Optimized content takes time to reach page one results and it must remain unique and relevant to its industry when it does.
You can use tools such as SEMrush and Google Keyword Planner to search for the right keywords.
#2 Not Using Rich Anchor Text for Internal Links
You must have seen links in the body of a webpage for generic text like "this post" or "click here". From an SEO perspective, it's a complete waste. Using a call to action as your link no doubt increases your clicks, but it costs you the opportunity to tailor your anchor text also, which is one of the most important components of startup SEO.
The Fix
For instance, while writing a blog post, you can link your software development services page to the anchor text 'software development services'. Also, if you have an absolute need for a call to action, make sure to include at least a few relevant keywords in the link.
#3 Presenting A Poor Internal Link Structure
As a website grows in terms of the number of links for internal pages and blogs, there is a possibility of encountering basic internal linking errors. Mass duplicate content and 404-page errors cropping up are results of such linking errors.
Even though internal linking structures are highly valuable in UX and SEO strategy, they're usually overlooked by webmasters.
Five valuable functions they provide are:
Clear pathways to conversion pages
Spreading authority to webpages that are hidden deep in your site
Additional interactive or reading material for users
Organizing webpages by keyword-optimized anchor text
Communicating important webpages to the search engine crawlers
The Fix
This is one of those startup SEO mistakes which can be easily corrected. The idea is that a webpage shouldn't be more than a couple of clicks away from the homepage or a call-to-action landing page.
Simply study your website and check where your internal structure is lacking. Ask your development team to fix these errors and voila, your website will have a strong internal link structure.
#4 Not Using Analytics to Identify What Converts
Startup SEO isn't just about huge amounts of free traffic but also about conversion. It's highly probable that lower-traffic keywords and phrases convert better if they're more specific, and getting first page rankings for a lot of them can drive good sales.
The Fix
You can use an analytics package to set up conversion tracking for the keyword phrases you use, compare them against each other and see what's producing the best results.
Not only will it help you better optimized your site as a whole but also determine which efforts are worth focusing on and which ones could be discarded.
Google Analytics is a helpful tool to track and measure your SEO efforts and blog marketing tactics.
#5 Not Optimizing for Local Search
When it comes to startup SEO mistakes, this one is pretty common. Startups often forget to optimize their website for local searches. If your business focuses on customers within a particular city or region, it's essential to learn more about local search.
The Fix
You can start by using region-specific keywords in the page titles and meta descriptions. You can also mention an address and a local contact phone number on your pages, perhaps in the header or footer, to show up in the local results.
You can also consider listing yourself on local based sites and review networks for better visibility. Listing your startup on Google Businesses will surely help to rank for local searches and even voice search results.
#6 Not Investing In Link-Worthy Content
One of Google's three most essential ranking factors is the Quality and Quantity of unique referring domains to a webpage. Link building is a huge industry pull for agencies and the best way to do that is to naturally leverage outstanding content that people would genuinely want to link to.
People invest a lot in manual research and create tons of guest posts in a year. But if one piece of content is capable of acquiring all those links in one day of writing, why not invest in that?
The Fix
You should always invest in long-form content that can add value to the industry. You can also experiment with various forms of content like an interactive quiz, an infographic, a resource page, or an evergreen guide.
Value-driven long-form content will help you attract authentic backlinks from credible websites that will give search engines a positive indication of the quality of your content and your website. This will help your website rank high on search engine results.
#7 Not Optimizing for Right Keywords
The trick to winning at startup SEO is dependant on your choice of keywords. While optimizing for local searches is imperative, you also need to target relevant generic keywords that will help your website gain traction and visibility on a global scale.
When it comes to choosing keywords, some common SEO mistakes that startups make are:
Generic keywords attracting visitors with no interest in what you offer
Keywords that bring visitors who are interested in free information and not in purchasing
Broad keywords that face huge competition, for example, many SEO experts using it to defend their first-page ranking
The Fix
Even though generic keywords could bring you a lot of traffic, it's not necessarily going to be qualified or relevant traffic. But using specific phrases could lead to qualified traffic and quicker rankings.
For instance, in the beginning, a web designer shouldn't only optimize for keywords like 'web design'. They should opt for specific key phrases like 'web design services for New York realtors'.
As your website grows and gains authority, you could optimize for more competitive keywords.
#8 Not Consulting Paid Media
Not referring to paid media data is a common SEO mistake that most startups commit. While SEO and paid ads are two separate activities, there is a ton of useful data that can be used for SEO by studying paid media data.
While SEO focuses on acquiring and nurturing leads, paid media focuses on converting the acquired leads.
The Fix
There is a lot of overlapping data in terms of paid keywords that organic marketing can use as a hook to augment the impact of SEO activities. You can target certain paid keywords on your blogs for better traction and drive more traffic to your website. You can utilize your paid media keywords to find topics for your bottom-of-the-funnel content.
You need to promote them with the same keywords as the paid media department is doing. There's a lot of insight that SEO consultants can learn from Pay Per Click (PPC) keyword research and landing page performances.
Besides, Facebook and Twitter, both have their advertising platforms that offer robust audience analysis tools for SEO consultants to better understand their client's customers.
#9 Using the Same Anchor Text for Every Link
Optimizing anchor text is important, but you aren't supposed to use the same one for every link to a page. It might look unprofessional and make visitors feel like you're trying to trick them.
The Fix
You cannot and should not use the same call to action and the same anchor texts. You need to mix it up but using variations on the phrase. You can include the name of your company, or sometimes even a URL to make it look natural.
Always ensure to match the anchor text word for word with the URL you are linking to.
#10 Focusing on Link Quantity Over Quality
One of the most common SEO mistakes is that startup marketers focus on link quantity more than its quality. One link from a popular blog could do more for your search engine rankings than thousands of low-quality directory links.
The reason why search engines place such trust in quality links because they're harder to get, and they are a more reliable measure of the quality of a website.
The Fix
Create high-quality content that will improve your website's domain authority and attract quality backlinks. Only use links that are relevant to your industry and website, and avoid having a lot of outgoing links or links to gambling, adult, or pharmacy sites.
Final Thoughts
If you want to up your startup's SEO game to rank ahead on search engines, you need to identify the SEO mistakes you are making. All you need to do is make sure that your basics are in the right place, and avoid making SEO mistakes that are easy to fall prey to.
Don't have a website for your startup yet? Then get a .tech domain now.