Today, success on the internet is all about the numbers – cost per conversion, conversion rate, bounce rate, top pages, the total number of sessions, etc. Amidst all these jumble of metrics and numbers, we tend to forget about  Domain Authority.
While all the other metrics are imperative to your startup's SEO credibility, Domain Authority is often denied its position of being a paramount metric.
It is this metric that decides how your webpage would perform against other websites in the same segment.
What Is Domain Authority?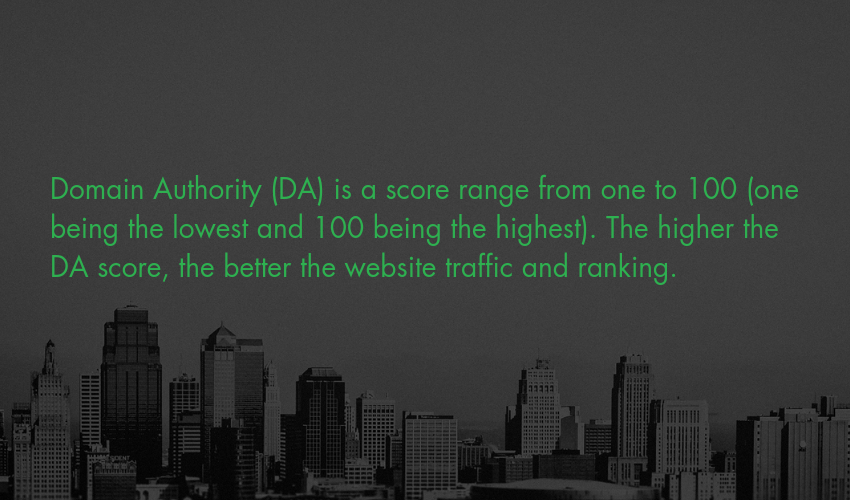 Domain Authority, a metric that predicts the ranking of a particular website on SERPs has been developed by Moz.
Domain Authority is however not a function of just one or two factors. It is calculated by evaluating a complex mix of over 40 factors.
Some of these factors include linking root domains, internal links, and a number of total links. This DA score is then used to track the "rank strength" of a website over time.
How To Measure Domain Authority
Now that you are aware of a DA score, the next step is to measure and understand the Domain Authority score for your website.
Moz, the creator of DA, has a free tool on his website called the Open Site Explorer (OSE) that will analyze your DA score.
Generally speaking, most aged websites have a Domain Authority Score in the range of 40 – 60.
By aged websites, we mean websites that have spent a considerable amount of time building domain authority, creating backlinks and creating genuine traffic for the website.
Younger websites have a DA score in the range of 20 to 40.
Now, the domain authority scale is "logarithmic".
By logarithmic, we mean that it is easier to try and increase the DA score from 20 to 40 in comparison to increasing it from 70 to 75. This increase and any upward march take conscious efforts.
These efforts include working towards increasing the DA score by keeping all the factors that affect Domain Authority in mind.
Factors Affecting Domain Authority
Domain Authority is a function of over 40 factors and cannot be defined in a specific way.   that the DA score is "based on data from the Mozscape web index".
To simplify, the most important factors that determine the Domain Authority score are:
MozRank – A metric to score the strength of the external links on your website.
MozTrust – A metric to measure the quality of the external links on your website.
Link profile – Unique backlinks that the website has earned.
So, do these factors of determining Domain Authority change? Yes!
According to Moz, "The algorithm used to calculate Domain Authority has changed over time, but relatively infrequently. The current algorithm has been in production for nearly five years without any major changes. We do occasionally make minor tweaks as needed. Robustness against changes in Google's algorithm and in the underlying Mozscape link index was a design principle when developing the algorithm".
Domain Authority vs. Page Authority
Domain Authority is the overall health test for your website. Page Authority, on the other hand, is the score of a particular web page.
Unlike the Domain Authority, Page Authority is relatively simpler to achieve and manage. Simply put, Page Authority can be achieved by external links or even by internal links.
Steps to increase Domain Authority
Step 1 – Choose a good domain name
If you are just building your website, choose a   that is relevant to your website. This will help you improve your Domain Authority. Some tricks for choosing a good domain name are:
Compare leading domain hosting companies (eg. GoDaddy, Network Solutions, Web.com)
Pick a short name
Pick a name that is memorable
Avoid picking a name with grammatical or linguistic errors
Avoid picking a name with special characters such as numbers, hyphens, misspellings
Domain names that explain the nature of the products to state the least are always a good idea. The domain name, Shadow.tech (a cybersecurity startup) pretty much does the work.
Personal domain names work great for influencer and celebrities alike. Consider the example of Edgar.tech, a popular tech enthusiast who uses a .tech domain to redirect traffic to his tech YouTube channel.
Step 2 – Improve your on-page content
On-page content is of prime importance while determining the domain authority score. Make sure to improve your on-page content, including your main content, image alt tags, and title tags.
Focus on curating content and overall content marketing to improve on-page content. Image alt tags should include your keyword and a short description of the picture.
Also, try and include keyword synonyms generously in the main content along with the keyword.
Step 3 – Create relevant content with internal links
Let your content speak for yourself. The better the content, the better are your chances of some external website with a high DA score linking to your website.
While doing this, do not draw your focus away from the role and importance of internal links.
Internal links will help direct visitors to other related articles on your website. This will improve the user experience.
Step 4 – Conduct a link audit
To maintain the Domain Authority Score, you will need to conduct a regular link audit. This will help ensure that the links used have either not gone bad or are not broken.
Bad links could result in plummeting Domain Authority score. Make sure to include and regularly update links from high-authority sites and pages still carry significant ranking power.
They drive both the Domain Authority and Page Authority.
Step 5 – Create a mobile-friendly website
It is the age of 'to-go'; people prefer accessing websites on smartphones or tablets than on laptops or computers.
If your website is not mobile-friendly, you are sure to lose your mobile search engine rankings.  This will hurt the DA score.
Step 6 – Promote your content via Social Media
Social media is the biggest contributor to rankings today. Make sure to share regular updates of your content on social media with links.
Doing this simple exercise will help increase traffic and improve DA Score.
You can also include social share buttons directly on your website. This will increase engagement and reach of the content.
In Conclusion
Domain authority allows you to review the overall performance of your website. It also helps you to drive in relevant traffic by linking your website with other websites having a strong DA score.
Building and maintaining a high DA score is however not a one-time process. On the contrary, it is a repetitive process requiring changes from time to time.
So start the process and work your way towards building a high Domain Authority score for your website. Undoubtedly, it is a lot of hard work and struggle in the early stages.
The real benefit will be reaped only in the later years when the website comes at #1 position on SERP.
Build your tech business on a .tech domain!