Acquiring coding skills is one aspect, and applying these to solve real-world problems is another. Most of the coders are proficient in coding, but that doesn't make them eligible to begin their careers.
A bootcamp addresses this situation by providing a platform where novice coders can find their mentors, indulge in high-impact learning, and apply their knowledge to build technology.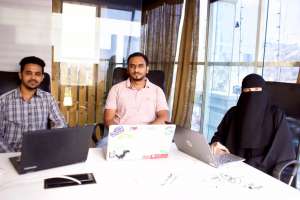 However, finding the right coding bootcamp is often an issue. The applicants have to consider factors such as choice of programming languages, bootcamp training period, etc. before enrolling in a bootcamp.
This is where Bootcamp.tech comes in. The tech-startup aims at bridging the gap between learners and coding bootcamps.
For exclusive insights, we spoke to the team of Bootcamp.tech to know how it works and why coders – and bootcamp operators – should take note of this search engine? 
1. What inspired you to start Bootcamps.tech?
Bootcamps.tech could've been just another tech start-up with a product idea that was already floating around in the market. But it wasn't that. The unfeigned story behind it is what makes it so special and distinctive.
Like most other unsatisfied and sparsely trained engineering undergrads, I was also eager and desperate to hone my technical skills. And one fine day, I got the best and the worst news at the same time.
On the one hand, I realized that there are places called 'Coding Bootcamps, ' which promised to deliver what I was looking for – programming, building projects, working with tech experts, and networking.
It was a complete package. These bootcamps provided intensive training programs that would help beginners become expert coders.
On the other hand, though, it dawned on me that there was a sea of such packages. To find the "right bootcamp" was no less than a hunt. It was overwhelming with all the options I was looking at. And I felt the urge to sort this royal mess.
At that very moment, the idea of Bootcamps.tech was born. The idea was to create a "one-stop destination" for finding the perfect coding bootcamp for anyone and everyone.
I've been lucky to have found Trillion Ventures at the right time, too. They heard me, agreed to incubate the idea, and got the perfect team together in no time. And that's how The Google of Coding Bootcamps came into existence.
Find cool tech startup names on .tech!
2. How does Bootcamps.tech help rookie programmers find the best bootcamps?
"I just want to code," that's a newbie's vibe.
If you're new to programming and unfamiliar with bootcamps, the tedious task of searching for the right bootcamp can be confusing and exhausting.
However, having too many options is not bad, either. The stiff competition in the industry will eventually force bootcamps to step up their game.
At Bootcamps.tech, our primary job is validating all the claims made by the bootcamps, and put it on display, helping them put their best foot forward. 
The most valuable player (MVP) is the "filter'" feature. To shortlist bootcamps, you can apply filters like timing, location, payment preference, etc.
Once you're satisfied with your search, you can enroll in a suitable bootcamp right then and there.
3. What are your future plans for Bootcamps.tech?
There's a bootcamp for every coder. Bootcamps.tech plans to help everyone discover that perfect bootcamp.
We aim to manage the complete application lifecycle, right from discovery until placement.
As of now, we are just a month into the launch and have already onboarded 35+ coding bootcamps from around the globe. The idea is to keep the list comprehensive and complete, with as many validated data points as possible.
While making life easy for the bootcampers, we also want to simplify the lives of several program managers at coding bootcamps.
4. What are the benefits of attending programming/coding bootcamps?
 (A) Bootcamps are your broodcamps. They will not only help you develop advanced skills but accelerate the whole learning process. 4 years could become 4 months, and that's not even an exaggeration.
(B) Bootcamps cater to the need of the hour by making sure that the students acquire crucial skills in programming and its real-world execution. And it's something that even students from traditional coding backgrounds don't have up their sleeves.
(C) An unparalleled experience. The kind of exposure one gets, the hands-on project building exercises, the opportunity to create your network in the tech world; all of this is something not to be missed by any kind of programmer – beginner or hardcore.
5. Why did you choose a .tech domain name? How is it helping you develop a unique online brand?
Since we help techies find the right bootcamp to advance in their tech careers, we call ourselves a tech-powered start-up. Trillion Ventures rightly suggested that .tech domain would be the perfect reflection of what we do and how we do it.
Building a tech startup? Build it on .tech!