When it comes to winning at startup marketing and building a formidable brand, you cannot make SEO mistakes. In fact, a major chunk of your marketing team's time should be devoted to strengthening your website's SEO.
While paid advertising and dollar investments play a significant role in startup and business marketing, SEO ensures long-term marketing sustenance that is much needed in this highly competitive startup space.
Any SEO mistakes made will hamper your website's ability to rank high on search engine resultS pages or even result in your startup website failing to rank on SERPs at all.
Find Cool Tech Company Name Ideas On .tech
What Is SEO?  
SEO or Search Engine Optimization is the process of getting traffic from organic, free, natural, or editorial search results on search engines. SEO is one of those strategies that can be implemented in a few weeks but takes time to master.
Also, it's very important to frequently touch base with SEO basics and ensure that all methodologies applied are correct. People tend to make many common SEO mistakes because of which, irrespective of their multiple efforts and heavy ad investments, they aren't able to get quality results.
We've curated a list of 10 most common SEO mistakes that you should avoid making in order to rank better.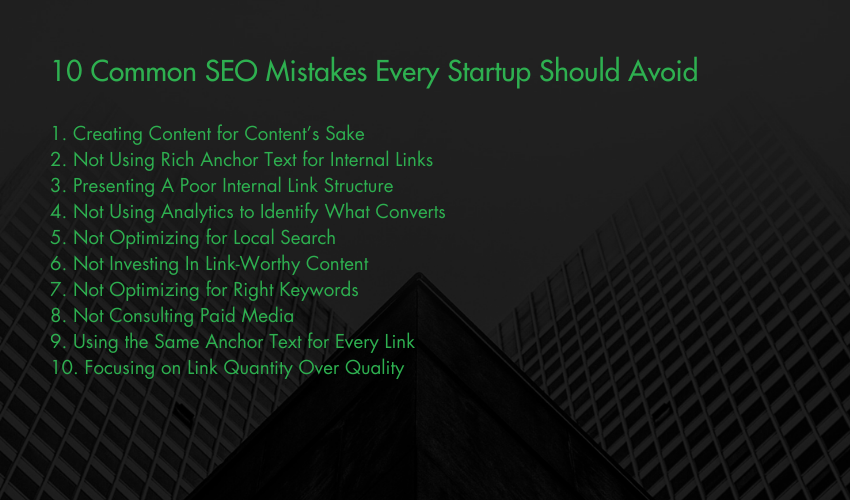 10 Common SEO Mistakes Every Startup Should Avoid
#1 Creating Content for Content's Sake
Best practices dictate that you need to consistently produce high-quality content to increase brand exposure and authority, and also increase your website's indexation rate.
However, sometimes we produce content just to have more of it. This leads to the creation of irrelevant, low-quality content and a waste of resources which is one of the most common SEO mistakes that people make.
The Fix 
Do not write content before completing strategic keyword research. The content needs to be relevant to the target keywords and must include associated keywords in H2 tags and the body of the article.
Using the right seed keyword and the right supporting long-tail keywords will convey the full context of your content to the search engines and meet user intent on various levels.
You must take your time to invest in long-form content that is evergreen and actionable. Optimized content takes time to reach page one results and it must remain unique and relevant to its industry when it does.
You can use tools such as SEMrush and Google Keyword Planner to search for the right keywords.
#2 Not Using Rich Anchor Text for Internal Links
You must have seen links in the body of a webpage for generic text like "this post" or "click here". From an SEO perspective, it's a complete waste. Using a call to action as your link no doubt increases your clicks, but it costs you the opportunity to tailor your anchor text also, which is one of the most important components of SEO.
The Fix
For instance, while writing a blog post, you can link your software development services page to the anchor text 'software development services'. Also, if you have an absolute need for a call to action, make sure to include at least a few relevant keywords in the link.
Find Cool Tech Company Name Ideas On .tech
#3 Presenting A Poor Internal Link Structure
As a website grows in terms of the number of links for internal pages and blogs, there is a possibility of encountering basic internal linking errors. Mass duplicate content and 404-page errors cropping up are results of such linking errors.
Even though internal linking structures are highly valuable in UX and SEO strategy, they're usually overlooked by webmasters.
Five valuable functions they provide are:
Clear pathways to conversion pages

Spreading authority to webpages that are hidden deep in your site

Additional interactive or reading material for users

Organizing webpages by keyword-optimized anchor text

Communicating important webpages to the

search engine crawlers
 The Fix
This is one of those SEO mistakes which can be easily corrected. The idea is that a webpage shouldn't be more than a couple of clicks away from the homepage or a call-to-action landing page.
Simply study your website and check where your internal structure is lacking. Ask your development team to fix these errors and voila, your website will have a strong internal link structure.
#4 Not Using Analytics to Identify What Converts
SEO isn't just about huge amounts of free traffic but also about conversion. It's highly probable that lower-traffic keywords and phrases convert better if they're more specific, and getting first page rankings for a lot of them can drive good sales.
The Fix
You can use an analytics package to set up conversion tracking for the keyword phrases you use, compare them against each other and see what's producing the best results.
Not only will it help you better optimized your site as a whole but also determine which efforts are worth focusing on and which ones could be discarded.
Google Analytics is a helpful tool to track and measure your SEO efforts and blog marketing tactics.
#5 Not Optimizing for Local Search
When it comes to SEO mistakes, this one is pretty common. Startups often forget to optimize their website for local searches. If your business focuses on customers within a particular city or region, it's essential to learn more about local search.
The Fix
You can start by using region-specific keywords in the page titles and meta descriptions. You can also mention an address and a local contact phone number on your pages, perhaps in the header or footer, to show up in the local results.
You can also consider listing yourself on local based sites and review networks for better visibility. Listing your startup on Google Businesses will surely help to rank for local searches and even voice search results. 
#6 Not Investing In Link-Worthy Content
One of Google's three most essential ranking factors is the Quality and Quantity of unique referring domains to a webpage. Link building is a huge industry pull for agencies and the best way to do that is to naturally leverage outstanding content that people would genuinely want to link to.
People invest a lot in manual research and create tons of guest posts in a year. But if one piece of content is capable of acquiring all those links in one day of writing, why not invest in that?
The Fix
You should always invest in long-form content that can add value to the industry. You can also experiment with various forms of content like an interactive quiz, an infographic, a resource page, or an evergreen guide.
Value-driven long-form content will help you attract authentic backlinks from credible websites that will give search engines a positive indication of the quality of your content and your website. This will help your website rank high on search engine results.
Find Cool Tech Company Name Ideas On .tech
#7 Not Optimizing for Right Keywords
The trick to winning at SEO is dependant on your choice of keywords. While optimizing for local searches is imperative, you also need to target relevant generic keywords that will help your website gain traction and visibility on a global scale.
When it comes to choosing keywords, some common SEO mistakes that startups make are:  
Generic keywords attracting visitors with no interest in what you offer

Keywords that bring visitors who are interested in free information and not in purchasing

Broad keywords that face huge competition, for example, many SEO experts using it to defend their first-page ranking
The Fix 
Even though generic keywords could bring you a lot of traffic, it's not necessarily going to be qualified or relevant traffic. But using specific phrases could lead to qualified traffic and quicker rankings.
For instance, in the beginning, a web designer shouldn't only optimize for keywords like 'web design'. They should opt for specific key phrases like 'web design services for New York realtors'.
As your website grows and gains authority, you could optimize for more competitive keywords.
#8 Not Consulting Paid Media
Not referring to paid media data is a common SEO mistake that most startups commit. While SEO and paid ads are two separate activities, there is a ton of useful data that can be used for SEO by studying paid media data.
While SEO focuses on acquiring and nurturing leads, paid media focuses on converting the acquired leads. If you're an SEO specialist, you need to know exactly what your client's advertising message is and what keywords they use.
The Fix
There is a lot of overlapping data in terms of paid keywords that organic marketing can use as a hook to augment the impact of SEO activities. You can target certain paid keywords on your blogs for better traction and drive more traffic to your website.
You need to promote them with the same keywords as the paid media department is doing. There's a lot of insight for that SEO consultants can learn from Pay Per Click (PPC) keyword research and landing page performances.
Besides, Facebook and Twitter, both have their advertising platforms which offer robust audience analysis tools for SEO consultants to better understand their client's customers.
#9 Using the Same Anchor Text for Every Link
Optimizing anchor text is important, but you aren't supposed to use the same one for every link to a page. It might look unprofessional and make visitors feel like you're trying to trick them.
The Fix
You cannot and should not use the same call to actions and the same anchor texts. You need to mix it up but using variations on the phrase. You can include the name of your company, or sometimes even a URL to make it look natural.
Always ensure to match the anchor text word for word with the URL you are linking to.
#10 Focusing on Link Quantity Over Quality
One of the most common SEO mistakes is that startup marketers focus on link quantity more than its quality. One link from a popular blog could do more for your search engine rankings than thousands of low-quality directory links.
The reason why search engines place such trust in quality links because they're harder to get, and they are a more reliable measure of the quality of a website.
The Fix
Create high-quality content that will improve your website's domain authority and attract quality backlinks. Only use links that are relevant to your industry and website, and avoid having a lot of outgoing links or links to gambling, adult, or pharmacy sites.
Final Thoughts
If you want to up your startup's SEO game to rank ahead on search engines, you need to identify the SEO mistakes you are making. All you need to do is make sure that your basics are in the right place, and avoid making SEO mistakes that are easy to fall prey to. 
Starting a tech startup? Build it on a .tech domain!