Startup challenges can be tough on those with the thickest of skins.
Millions of startups launch almost every year. Where there is a problem, there is a startup solution.
However, while most entrepreneurs are doing great at identifying and solving problems, they are also getting caught in the web of small to big startup challenges.
Of all the startups that sprout, few tend to survive the violent waves of change. Challenges are everywhere and startups, in particular, face some of the most difficult of the lot.
This post highlights some of the most common startup challenges today and how to face them.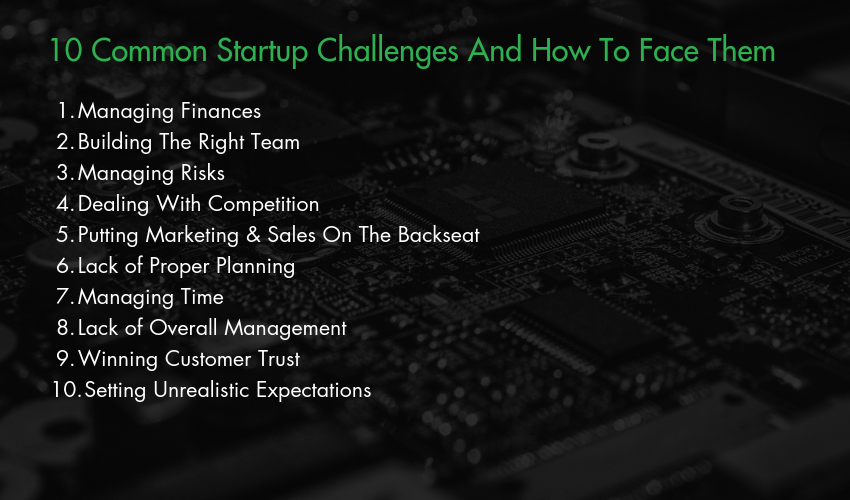 1. Managing Finances
One of the biggest startup challenges today revolve around financial management.
Despite raising funds and having a solid business plan in place, startups tend to goof up their finances.
It's a common fact that when the income increases, so do the expenditure.
And financial understanding goes beyond knowing about the profit and loss statement of the business.
While it may seem like you're breaking even on paper, that does not guarantee survival for the coming months.
The key to building a startup that thrives is to ensure that you understand the payables, receivables, and the net position at all times for you to plan.
Your profit and loss, balance sheet, and cash flow statements are the foundations for making business decisions and monitoring a business turnover.
2. Building The Right Team
Good talent doesn't come cheap. One of the most common startup challenges that most entrepreneurs face is building a startup team that can run the show.
However, such a team isn't easy to build.
These are people who are well-versed in their role and the industry and would be less likely to take a pay cut.
So, along with wearing multiple hats, turn to your network of family, friends, and acquaintances to help you find the right candidates who would be up for an adventure.
Another great option is to give your employees ownership of the company through Employee Stock Options.
3. Managing Risks 
A significant part of expanding and growing a business involves taking risks.
Playing on the safe side keeps you restricted from growing and it doesn't help in establishing whether your business idea is good or not.
However, accidents happen. Some of your best employees may resign, the building may catch fire, there could be a theft or machinery breakdown.
Acknowledge the risks associated with building a business and have insurance in place to stay secure.
Moreover, risks aren't restricted to external factors. Having an online business, for instance, has its own set of challenges. Imagine falling prey to brandjacking or typosquatting.
You can end up losing control of your website and all your customer information.
Therefore, it makes sense to collect your customer database from day one.
That way, if there is an accident, you can reach out and inform them about it.
4. Dealing With Competition
The startup world is quite fierce. Competition poses as one of the biggest startup challenges especially when it comes to survival.
And with a tech business, this competition gets tougher.
The silver lining to this cloud is startups are coming up with more innovative ideas to stay relevant and maintain brand recall.
However, one of the best ways to fight the competition is to not worry about it.
Focus on the work you do and let your customers and stakeholders decide which business they would like to support.
5. Putting Marketing & Sales On The Backseat
For your business to succeed, you need to get the word out. And there are several effective marketing strategies to help with that.
Often startups put this in the backseat, putting their faith in the word of mouth to do the trick.
In fact, a lot of new SaaS businesses believe that their sales will grow organically and do not spend enough resources on promotion.
Being a startup with a small budget, look for digital marketing tips that help you get started with social media marketing and PPC advertisements.
These platforms allow you to control the messaging that goes out to specific target audiences and ensures that the leads you get are relevant to your business.
It's money well spent.
6. Lack of Proper Planning
With proper planning, a lot of startup challenges can be avoided. Not only that, but it is also crucial that you cover all your bases.
Some important areas such as sales, staffing, development, funding, etc. should be a part of your initial business plan.
And there should be scope for contingencies if events take an unexpected turn.
Optimism is great, but it doesn't secure you in times of unpleasant surprises. The key is to get the details right, no matter how small.
7. Managing Time 
When it comes to building a startup, there is never enough time. There are a million things on the to-do list and 24 hours never seem enough to get everything done.
Therefore, the goal is to prioritize tasks. Start from the most important and eliminate those that don't add value in the long run.
Deal first with what's important today and minimize anything that comes in the way of running a successful business.
8. Lack of Overall Management 
Ineffective management comes in the way of overall success.
A team that worked well in the initial stages may find itself exposed as the startup expands or is tested by market conditions and poor sales.
The only way to face this challenge is to nip it in the bud. Open and frank communication can help you get your business back on track.
9. Winning Customer Trust
Customers are the real force behind a business' success.
Winning the trust of a customer is the most important startup challenges that businesses in the general face today.
A highly satisfied and loyal customer base can allow your startup to scale and make progress towards excellence.
A positive word of mouth from a happy customer on social media can give your startup an edge against all your competitors.
To win the customer's trust and loyalty, startups need to implement a customer-centric philosophy where every decision is taken keeping the customer in mind.
10. Setting Unrealistic Expectations
Startup challenges escalate when they set unrealistic expectations following another business' booming success.
Before setting goals, it is important to analyze where you are right now and what resources are available to you.
These should translate into setting realistic expectations that motivate the team to work towards.
When it comes to building a startup, sustainability is the name of the game and that requires consistent effort.
Having high but controlled expectations, keeping a view of the market factors, and the extent of growth potential can help you succeed in a competitive business world.
Conclusion
Startup challenges are common in the constantly growing and fierce business world. But it can all be avoided with careful planning and taking quick decisions in times of crisis.
Starting a tech business? Build it on a .tech domain!