With over four billion internet users globally, and more than 3.4 billion active social media users, there's no excuse to not invest in digital marketing for promoting your tech startup.
In fact, you'll reach a larger audience and build a stronger customer base than you ever could with traditional marketing methods.
However, when it comes to digital marketing, most tech entrepreneurs are unclear as to how to go about it.
Although there are several social media marketing tools to choose from, your digital marketing strategy needs to have a clear set of goals.
Typically speaking, your digital marketing strategy consists of an SEO powered content strategy, active social media marketing, online advertising, and a strong email marketing campaign.
To help you win at digital marketing and establish a solid online presence, we've compiled a list of handy tips.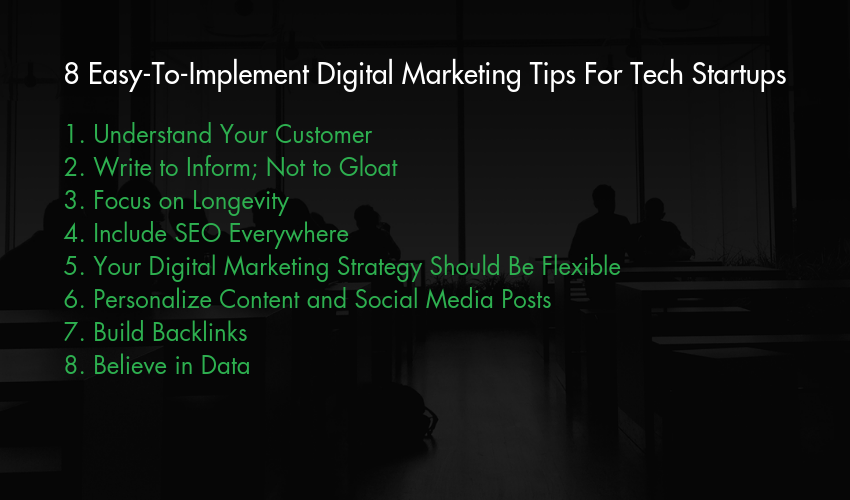 8 Easy-To-Implement Digital Marketing Tips For Tech Startups
1. Understand Your Customer
Kickstart your digital marketing campaign by first understanding who your customer is and which social media platform they spend most of their time.
You need to catch the pulse of your customer by delving understanding who they, what's their average age, what do they like, what do they talk about, what appeals to their sensibilities, and so on.
This study will help you to build a solid digital marketing strategy and enable your best ideas to come forth and take shape.
2. Write to Inform; Not to Gloat
Most tech businesses and brands end up writing extensively about their own products and services.
And while it's necessary to talk about your core competency and how you're solving a key pain point, publishing content only about your own products and gloating about it will alienate people, especially those who aren't near the buying stage yet.
Ideally speaking, you should learn more about your target audience, your industry niche, and the type of content and posts that are doing well.
Sprinkle this content strategy with the value your products have to offer, and you'll have a winning content strategy.
3. Focus on Longevity
Although digital marketing is largely undertaken to build a quick lead list, maximize website traffic, and boost sales, for tech startups looking to establish a solid digital footprint, it's imperative to focus on the long-term plan rather than short-term gains.
Employing short-sighted tactics in a bid to generate a buzz around your product or a snazzy new app, won't do the trick.
While you may find a momentary spike in impressions, interactivity, and engagement, it won't set you up for success in the long-term.
In a world where customer experience is of the most importance, tech marketers and entrepreneurs should focus on careful planning and creating a steady path to marketing success by adopting customer-centric campaigns.
In the modern marketing landscape, a considerable chunk of your marketing efforts should be dedicated to developing a bullet-proof digital marketing strategy. It's only logical, given that your consumers and peers are always online. Gone are the days when you needed a billboard ad or a front-page advert in leading magazines and newspapers.
4. Include SEO Everywhere
Search engine optimization is the foundation of successful marketing. Not only is it the basis of organic marketing, but it is also a determinant of long-term marketing success.
Most marketers and experts associate SEO only with long-form content or as part of blogging best practices.
However, you can use relevant target keywords across your social media posts, for your hashtags, product descriptions, and so on.
Incorporating an SEO strategy into your blog posts and overall content curation and marketing strategy is highly recommended.
Furthermore, incorporating long tail keywords into your topic selection and blog content is an effective way to drive long-term traffic.
Use SEO tools like Ahrefs or SEMRush to find out which keywords are relevant to your niche, which keywords are ranking high, and what SEO strategy and keywords are being used by industry leaders and your immediate competitors.
5. Your Digital Marketing Strategy Should Be Flexible
Digital marketing is a dynamic world and it's always changing. To keep up with the times your tech business should be flexible to ensure that you always remain relevant to your target audience.
For instance, if your target audience is gradually switching to newer social media platforms such as Instagram instead of Facebook, focus your efforts towards creating engaging Instagram posts.
However, this doesn't mean you stop being active on other platforms. Study your audience's social media preferences.
6. Personalize Content and Social Media Posts
Did you know that more than 40% of customers switch brands dues to poor or lack of online personalization? Which is why a key digital marketing tip is to offer personalized content.
Doing this will help your tech brand differentiate itself from competitors and create a unique brand and customer experience.
Personalized emails and personalized social media responses are effective tactics to build strong relations with your customer base.
7. Build Backlinks
Organic marketing and SEO are integral components of digital marketing.
Towards this, you should actively shift your SEO strategy and make it more topic-centric as opposed to only keyword-centric.
Ideally, the more seed keywords and long tail keywords you target towards a particular topic or niche, the more expertise you'll demonstrate.
However, purely getting aggressive with keywords won't be enough to build expertise and to drive traffic.
You need to optimize your content strategy needs to build backlinks.
As a major ranking factor for Google, gaining backlinks is one of the best ways to build credibility and authenticity for your website.
Additionally, be sure to share your content across as all your social media channels.
Sharing your content actively will enable it to reach more people and build backlinks.
8. Believe in Data
As a tech entrepreneur, you already know the value of data in all your business and technical decisions.
Similarly, when it comes to digital marketing, you need to employ analytical tools to study vital information about the performance of your campaigns.
Use Google Analytics to track the performance of your organic marketing efforts and Google AdWords to study how your online ads are performing.
Based on which ads are working, which content topics are gaining traction, which platform is delivering better results, and so on, make your digital marketing decisions.
Final Thoughts
Building a tech business is challenging but promoting it and building a brand for it isn't all that hard.
Simply harness the power of digital marketing with the tips we've mentioned above and watch your tech business transform into a powerhouse!
Starting a tech business? Build it on a .tech domain!