Starting a tech blog is something you must absolutely consider doing.
Why?
Because in today's fast-paced and innovative world of technology, we need high-quality content and information to keep us abreast of what's happening in the world of tech. 
That aside, starting a tech blog is a great way to support your online marketing campaign. Still not convinced? Read on!
The Upside To Starting A Tech Blog
A tech blog is one of the many ways customers and tech experts seek to quench their curiosity and resolve their queries. And it also remains the most sought-after channel of consuming information related to technology.  
While starting a tech blog serves several benefits, it should be a significant part of your overall content marketing strategy. Having a dedicated blog also works as a great avenue to establish authority in your niche.
You can use your tech blog as a medium to express your thoughts, ideas, or opinions and share the same with the world.
Not to mention, frequently publishing original high-quality content that includes relevant keywords will do wonders for your website's SEO.
So, if you are wondering how you should go about starting a tech blog, we've got you covered.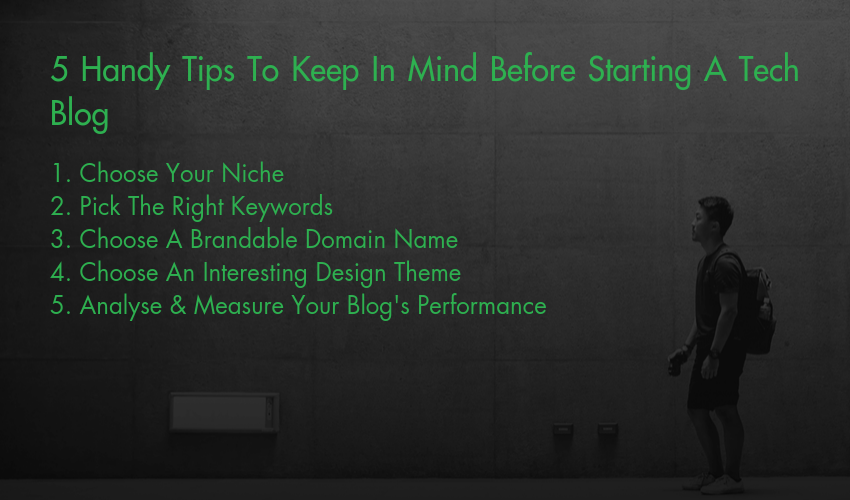 5 Handy Tips To Keep In Mind Before Starting A Tech Blog
1. Choose Your Niche
While tech is a niche in itself, you may want to choose a specific sub-segment within the broader topic of tech. This is especially applicable when you are starting a tech blog of your own.
The selection of this niche depends more on your area of expertise and interest than what is seemingly popular with the audiences. For businesses, it's best to begin writing about the niche where they serve.
For instance, a tech business that offers Augmented Reality solutions can start blogging about 'Trends in the AR space', 'Benefits of AR in the healthcare sector', 'How AR is different from VR', and so on.
By selecting a niche and establishing your credibility on the subject, you can become an authority or a thought-leader in that space. Furthermore, may look at broadening your horizons within the tech bucket for your tech blog.
You can either choose one topic as your area of expertise or start with a well-defined method of creating content for your tech blog such as reviews, topic clusters, case studies, listicles, etc.
What is critical is to stick to what you're comfortable with, are an expert in or may want to become an expert in.
If you are writing a tech blog for your company, choose topics related to your company's area of expertise which will build your company's credibility. 
2. Pick The Right Keywords
Use of keywords in your tech blog will not only help get your blog reach the top of the SEO chain (eventually) but as a beginner, it will help you identify the topics that audiences of a tech blog seek the most.
This exercise will help you stay relevant in your niche and help people to find your content and your website with ease on search engines. 
By using tools such as SEMrush and Google Keyword Planner, you can search for trending and relevant keywords. Your tech blog is a great avenue to use long-tail keywords that are relevant to your industry niche. 
While your website should be optimized to rank for a few target keywords, your blog can be used to write about topics that include relevant phrases or long-tail keywords.
For instance, your Augmented Reality tech blog should include topics with keywords such as 'starting an AR business' or 'benefits of augmented reality', while your website can solely be optimized to rank for keywords such as 'AR' or 'augmented reality'.
You can make use of keyword search tools available in the market for free when you're starting with your tech blog and eventually invest in a detailed keyword analysis tool.
You can even use AnswerThePublic.com to search for trending questions and topics and address those as part of your tech blog strategy.
3. Choose A Brandable Domain Name
Domain names can name or break your success as a blogger, as it is the first thing your audience will notice about your tech blog.
Additionally, this is something you won't (and shouldn't) change once your blog is active and successful. 
We strongly believe (or hope) you may want to avoid names that you might regret later. Long, clunky names that are hard to spell and even harder to remember are a big no.
Your domain name should be short, easy to remember, easy to spell, easy to pronounce, and ideally brandable. The best way to check if your domain name meets these criteria is to put it through the radio test.
Another factor to consider is that the name should be more holistic to cover a broader range of topics that may be featured on your tech blog and not an exact match domain which tends to look spammy and mostly, sketchy.
Ideally, you should pick a relevant domain extension like .tech to host your tech blog. Using a .tech domain is one of the smartest ways of announcing that you are in tech!
SInce .tech is a relatively new entrant in the world of domain names, finding memorable, short and meaningful names on it is easy.
This coupled with the relevancy of the domain means you can pick a truly brandable domain name for your tech blog.
4. Choose An Interesting Design Theme
Selecting your niche and a good (domain and brand) name for your blog should lead you to selecting an interesting and good-looking theme for your tech blog.
This step may be addressed in part by your choice of a blogging platform, as there are several templates readily available on these platforms.  
Many of these templates can be customized to suit your needs, however, we suggest that if your expertise lies more in creating content and not so much in the design, you should stick to the themes available. 
Not only that, the themes and designs available on the blogging platforms are usually created keeping site performance and user experiences in mind, which you may not want to tamper with for your tech blog.
Few things to keep in mind when picking a design or designing your tech blog:
Ensure there's enough whitespace 

Use high-quality images

The blog page or website should load fast 

The fonts should be legible
The color palettes you use should be in sync with your brand guidelines
Include catchy CTA (call to action) buttons
5. Analyze & Measure Your Blog's Performance  
Starting a tech blog and publishing SEO-rich, informative content is only half the battle won. The next important step is to track the performance of your blogs.
You need to check if your articles are generating traffic to your blog page or website. Make sure you are tracking and analyzing the content being generated on your blog as well as your competitors.
Analyze this not only from the standpoint of keywords but also from the purview of effectively inculcating and utilizing article links and backlinks.
You can invest in tools such as Google Analytics that will help to track how well each and every blog post is performing.
Final Thoughts
Creating and publishing content is ironically the simplest part of maintaining your tech blog once you have got the hang of creating interesting content. 
What takes additional effort is generating traffic for your blog and keeping the audiences engaged and seeking for more. Use tools such as SEMrush to study your own website or blog page and that of your competitors'. 
While blogging regularly, timely and accurately is essentially a crucial step towards creating a successful tech blog, ensuring that your content reaches wider audiences is essential too.
Pro-tip: Utilize Micro-blogging to promote your blog. Social media platforms such as Twitter are often crucial in redirecting traffic to your blog.
It is an effective way to reach out to audiences specific to almost every niche and engaging with them will help you create a follower base of your own.
You should also aim to enlist your blog on news aggregator websites for tech blogs.
These will also help you connect with the tech blogging fraternity which you can effectively utilize to build good relationships and provide relevant references on as well as create backlinks for your tech blog.
We've listed out some additional blogging best practices that you can follow which will help you enhance your blogging skills. Do check them out!
Starting a tech blog? Build it on a .tech domain!