You've launched a startup and your business is picking up via word of mouth and your industry peers have started taking notice. However, your startup website does not appear high in the Search Engine Results Pages (SERPs) or does not appear at all and as a result, people are having trouble finding your startup online.
There are several reasons why your startup website is not appearing on SERPs and most of them are easy to fix.
For instance, you may have not been able to give as much attention to growing your online presence as you have been on building your MVP. 
Find Cool Tech Company Names On .tech!
Another very important reason why startup websites fail to rank high on SERPs is that Search Engine Optimization (SEO) often takes a backseat as it isn't on the priority list.
6 Reasons Why Your Startup Website Is Not Appearing on SERPs
We help you analyze some crucial reasons why your startup website may not be appearing on SERPs and how you can fix them.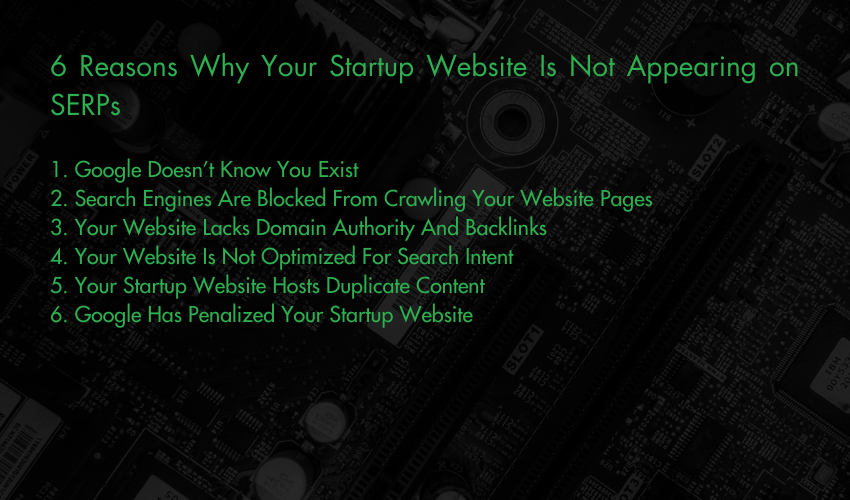 1. Google Doesn't Know You Exist
It may be because your startup website is extremely new, and it takes time for Google to discover new web pages and consequently rank them. The simplest way to check if Google is aware of your existence is by running a search for "site:yourwebsite.com"
Even if there is a single result it means that Google knows that your website exists, and subsequently if there are no results Google is unaware that your startup website exists.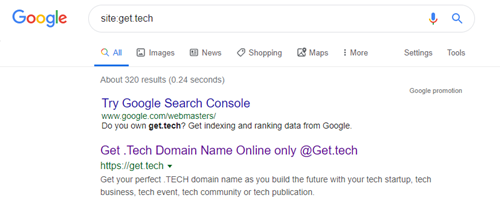 Additionally, if you do get a result Google may not know which page you're trying to rank and you can check the results by searching for "site:yourwebsite.com/page-you-want-to-rank/"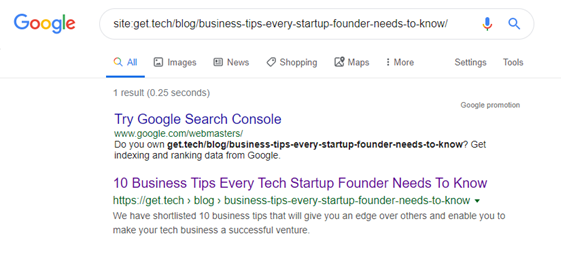 You will get exactly one result; and if you get none, it means Google is unaware that the page exists. To ensure that all relevant pages on your startup website are visible to Google, create a sitemap and submit it to Google Search Console.
This will help Google know which pages are important on your startup website and how can they be found, thus speeding up the discovery process for your pages.
Another obvious step that most startups forget is to notify Google that you are a business.
Begin by listing your startup on Google My Business which is a free service that lets you control how your business is displayed on Google.  
2. Search Engines Are Blocked From Crawling Your Website Pages
Websites can restrict search engines from crawling their pages by blocking URLs in the robots.txt file which is a file that instructs search engines about where they can and can't go.
There might be a chance that some important URLs are mistakenly blocked on the robots.txt file of your startup website which results in your webpage not showing up in Google search results.
The way to find this out is by searching for yourwebsite.com/robots.txt. If you get a 404 error means that this file does not exist for your startup website and you should look at creating one.
In case you do see the file and see the code "Disallow: /" under any of the important URLs, it means that Google is blocked from crawling those URLs resulting in them not showing up in SERPs.
Disable any such rules from the URLs that you want Google to crawl for your startup website.
Find Cool Tech Company Names On .tech!
3. Your Website Lacks Domain Authority And Backlinks
Domain Authority of your startup website is a metric that decides how your webpage performs against other websites and predicts its ranking. There are two ways in which you can improve the domain authority of your startup website: by building more backlinks and adding more internal links.
Backlinks are links on other websites that point back to your website. Relevant links from credible websites will help your website to rank higher as backlinks are an important Google ranking factor.
Backlinks can be generated by leveraging your existing relationships but a better way to do it is by creating high-quality content that is informative, helpful and relevant.
Building more backlinks is a long-term process and is tougher to achieve and takes a significant amount of time to show results. Adding internal links, on the other hand, is in your control and easier, to begin with.
There are various tools such as Ahrefs and SEMRush that can help you determine the backlinks to your website. A study conducted by Ahrefs also establishes the correlation between rankings and domain ratings.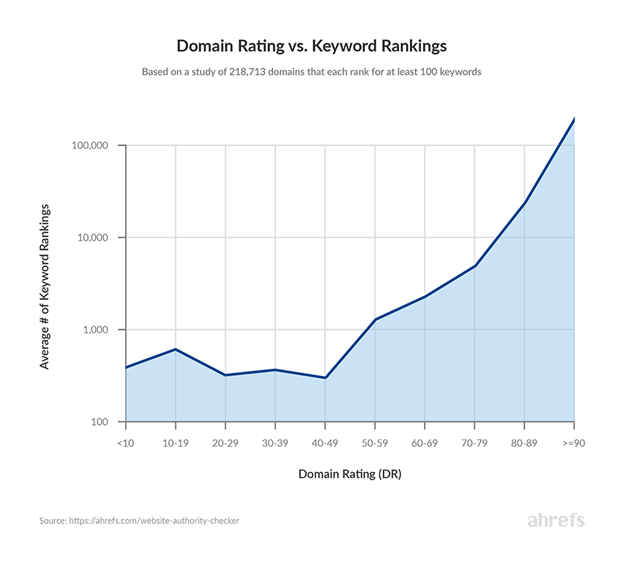 4. Your Website Is Not Optimized For Search Intent
Search intent, or keyword intent, is essentially the objective of a person using a search engine – to go somewhere, to know something, to do something, etc.
Optimizing your startup website for search intent involves creating content on your web pages that answer the intended questions of a user.
Google analyzes and ranks the most relevant results for a query which leads to a higher ranking for your website. By creating website content that caters to the search intent of users in a way that it answers their queries or leads to the desired transactions will help to optimize for search intent. 
An in-depth SEO audit analysis and Google Search Console data can help you identify content that Google recognizes as matching user intent and identifies opportunities to create optimized content.
A great way to optimize for search intent is to use long-tail keywords and create blogs and an FAQ section that will include phrases and keywords that people are searching for.
5. Your Startup Website Hosts Duplicate Content
The same or similar webpages on your startup website may be available on different URLs hosting the same or similar content and this is known as duplicate content.
Google is not very keen to index such duplicate content as it leads to taking up unnecessary space on their index and websites with duplicate content are therefore ranked lower.
In case your website does host duplicate content, Google indexes the URL that you have set as canonical. In case you have not defined a URL as canonical, it attempts to identify the best version of the page to index leading to authority being split between two URLs hosting the same content.
This issue on your startup website can be rectified by redirecting or canonicalizing the duplicate URLs. Finding duplicate content on your website can be done by running a crawl using site audit tools.
Find Cool Tech Company Names On .tech!
6. Google Has Penalized Your Startup Website
Although rare, this is one of the reasons why your startup website may not be appearing in SERPs. Google penalizes websites in two ways – Manual and Algorithmic.
Manual Penalty is when a Google employee reviews your website and finds non-compliance issues of their Webmaster Guidelines and accordingly takes action to demote your website or remove it from the search results.
Algorithmic Penalty, which is essentially a filter, is when Google's algorithm identifies quality issues on your website and suppresses it.
Unless you've done something drastically wrong on your startup website, it is unlikely that your website has a manual penalty, and even so, Google alerts you of this via the "Manual penalties" tab in Search Console.
For algorithmic penalties, it is difficult to identify, and Google doesn't tell you if you've been penalized.
One way to identify is if you notice a sudden drop in organic traffic to your website and check for any Google algorithm updates that may have caused it.
Final Thoughts
An in-depth SEO audit can help you identify these and more reasons why your startup website may not be appearing on SERPs. It is good practice to conduct an SEO audit while launching your website such that necessary steps may be taken to fill in the gaps wherever they exist.
Building A Startup Website? Build It On .tech!