Whether you're starting a tech business or planning to expand your current tech startup, you need a business plan. Having a well-thought out and well-crafted business plan is vital for the success of your tech business.
What is a Business Plan?
A business plan is a strategic map that clearly lays out what resources you have, your current expertise, and goals.
A business plan will also highlight where your business will be in the future and the roadmap to get there.
In many ways, your business plan functions as a blueprint for your business.
It not only guides you and other key stakeholders as you grow your business, but it also lends a sense of clear direction to investors, lenders, and potential partners as to where your business is headed.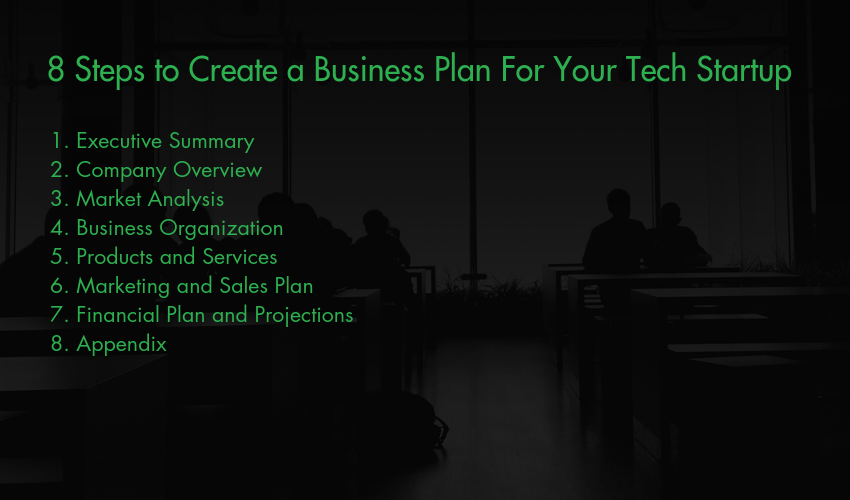 8 Steps to Create a Business Plan For Your Tech Startup 
1. Executive Summary
The first step of writing a business plan for your tech startup is to create an executive summary.
The executive summary doesn't need to be long and tedious; Around two to three pages should suffice.
Although a short document, the executive summary one of the most important elements of your business plan.
Your executive summary should be concise and clear as it should be successful in communicating everything about your business.
Some investors might only ask for your executive summary — so be sure to craft it well and pepper it with all the right bits of information. you'll want to ensure it can stand on its own.
Stick to the following:
Mission Statement: In one crisp paragraph, explain the mission of your business and what you want to accomplish.
General Company Information: Next, include general information like when your business was formed, the name of the other founders, their roles, the number of employees, office locations, and so on.
Visual Highlights: Include graphs and charts pertaining to any key milestones of the business or any growth you've seen since starting the business.
Products and Services: Without getting overly passionate or verbose, briefly describe your product, the technology that powers it, and your target customer base.
Financial Information: If you're looking for startup fundraising, include your funding goals. You can also include any information on previous loans or about banks or lenders you've worked with before.
Future plans: Don't forget to include where you plan on taking your business in the future.
Pro tip: Write your executive summary after you've completed creating your business plan.
This way you'll have all your facts in place and all your information and details sorted so you will be better equipped to summarize them.
2. Company Overview
Many entrepreneurs confuse company overview with the executive summary. However, there is a stark difference between the two.
The company overview is a more detailed top-level view into the structure of your business and what you do.
Here's how you can go about drafting your company overview:
Begin your company overview section by describing what your business specializes in and the technology behind it. This part of the company overview is intended to give readers and investors a general idea of your business.
Next, proceed to explain the nature of the industry and marketplace.
Lay out the legal structure of your business and provide the ownership structure.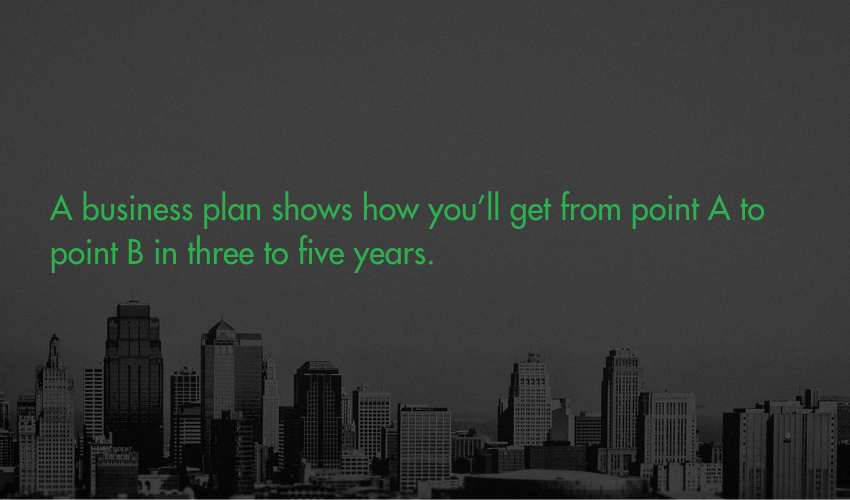 3. Market Analysis
The next step along the process of creating your business plan is to perform in-depth research and analysis of your niche, target market, and primary competitors.
This is the first part of your business plan where you dive into the details.
Your market analysis will give readers and investors enough proof about the level of understanding you have about the dynamics of your industry.
Your market analysis should include the following sections:
Industry Description: Start by including a detailed view of your industry. How big is it? How much has it grown in the past few years? What are its growth predictions from industry experts? Who are your competitors? How have they performed? And so on.
Target Market Details: Dive into the details of your target market. And include your target market's characteristics and target market size and growth.
Your Market Share Potential: Chart out what your market share could look like along with how much market share you expect to gain.
Market Pricing: Include an estimated cost of your products and how you will distribute it.
Challenges: Don't shy away from including any challenges that you may across. This could be legal issues to shifting technologies to capital issues to lack of talented or skilled human resources.
Competitor Research: Study your competitors by analyzing their strengths, market share, weaknesses, challenges they pose to you, and so on.
4. Business Organization
This next section of your business plan provides insights and information on your tech business's management structure clearly defining and explaining what everyone does.
You will also have to go a step further to include everyone's business background and past experiences.
Here's what you need to break down:
Organizational Structure: Start this section by creating an organizational chart that depicts how your business is structured.
Ownership Structure: Although you'll repeat this information in your company overview, you have the liberty to go in-depth allowing you to talk about the ownership structure of your company, who owns how much, and so on.
Background of Owners: Categorically explain the background of your team. This includes information on directors, senior management members, and managers.
Talent Requirement: Clearly make a list of all hiring needs.
5. Products and Services
This section of your business plan is all about laying out the details and plans for positioning your product, the utility it provides, the technology behind it, and so on.
For instance, if you are offering Internet of Things (IoT) based solutions or Artificial Intelligence powered services, then give details about how these products work and how you wish to promote and sell it.
Here's exactly what this section should include:
General Description: Highlight the USP of your product or service and the value it provides to potential customers.
Status of products: Paint an honest picture of the status of your product. Is your product in the idea stage? Is it already selling? Or is it ready to go to market?
Product goals: If you are still in the ideation phase, map out a journey that talks about how you plan to launch the product and bring it to life. Include details on the research and development activities required. You can also include new versions or new products or any new features you wish to include in the future.
Intellectual property: As a tech business, it is imperative to have proprietary intellectual property. Make mention of this and any other patent or trademark that you own or are in the process of owning.
Sourcing and fulfillment: If you are dependent on third-party vendors to fulfill or your product or service creation, mention it here.
This section is crucial for your business plan as it defines everything about your products and services.
It will work as a bible for product managers and for you in the development stages and go to market phase.
6. Marketing and Sales Plan
Once you've explained everything about your product, it's time to delve into explaining how you are going to go about marketing and selling your product or service.
When it comes to marketing, this is what this section should look like:
Positioning: This first part of your marketing plan should talk about how you're positioning your business and products. What price bracket are you targeting? Are you offering any free service? What guarantees and warranties are you offering? Answering these questions and more will help you determine where you are positioning your products and services.
Promotion: This part involves explaining marketing channels and plans you have for advertising your product, PR strategies, SEO plans, content marketing practices, social media marketing, etc.
Next, your sales plan:
Salesforce: How do you plan to sell your product? Do you need a sales force? How big a team do you need? Who will train your sales team? These parameters need to be addressed in your sales plan.
Selling strategy: Give an overview of how you will sell your product or service. Define the process you will follow as a technology business. Will you start with cold-calling potential customers? Or attending events? Or appointing channel partners? Clearly describe what your sales funnel should look like.
7. Financial Plan and Projections
This is a supremely important section of your business plan.
Investors and VCs will want to look at your financial plans and projections before parting with their money.
Ideally, this section uses financial data from past performances or forecasts.
Include the following as part of your financial plan:
Income statements
Cash flow statements
Balance sheets
Additionally, if applicable, include the accounts of receivable statements, accounts of payable statements, and details or documents of debts.
Ideally, your financial projections should be supported either by past performances or future projections and estimations.
Include statements of projected income, cash flow forecasts, forecasted balance statements, capital expenditure budgets, and miscellaneous expenses.
Your business plan should include projections for the first year of business but should include a vision for the coming 3 to 5 years.
8. Appendix
The appendix should be included towards the end of your business plan. This section includes all additional information that you didn't include in sections above of your business plan.
Any data, statistics, strategic points, charts, footnotes, or further explanations that you think are necessary to be included as part of your business plan but has been skipped should be included here.
As an entrepreneur or founder, you can also consider including your own resume and resumes of other founders or senior management team members.
Ideally, the appendix should begin with a table of contents that categorically breaks down your business plan into relevant, followed by the additional information that corresponds to each section.
Final Thoughts
Although creating a business plan seems daunting and arduous, when you break it down into a step by step process, it gets easy to create one.
And with these 8 steps, you can create a killer business plan for your tech business that will help you catapult to success and leave investors mesmerized.
Starting a tech business? Build it on a .tech domain!