By Hugo Morris
Did you know that CRM tools can help to take your email outreach program to a whole new level?
Email marketing offers one of the most effective ways to promote your tech brand and to find new customers.
According to data collected by Statista, an average of 281 billion emails were sent every day in 2018.
However, it's worth noting that only about 20% of those emails were opened.
These mind-blowing figures help to show just how much consumers are bombarded with all types of messages – relevant and irrelevant, and from all corners.
Just like any other professional marketer will tell you, the success or failure of your email outreach efforts largely depends on how you approach the whole process.
For example, if you want to see more of your marketing emails getting opened, it's important to ensure that they are relevant, engaging, and personalized.
But how do you know the messages you are sending meet these criteria?
By leveraging the power of automation tools like Customer Relationship Management (CRM) software, you can get insights and information that will help you to craft a supremely effective email outreach campaign.
With CRM tools, you can easily create effective outreach emails that deliver quality leads and help you convert them into loyal customers.
4 Ways CRM Tools Can Help To Boost Email Outreach Results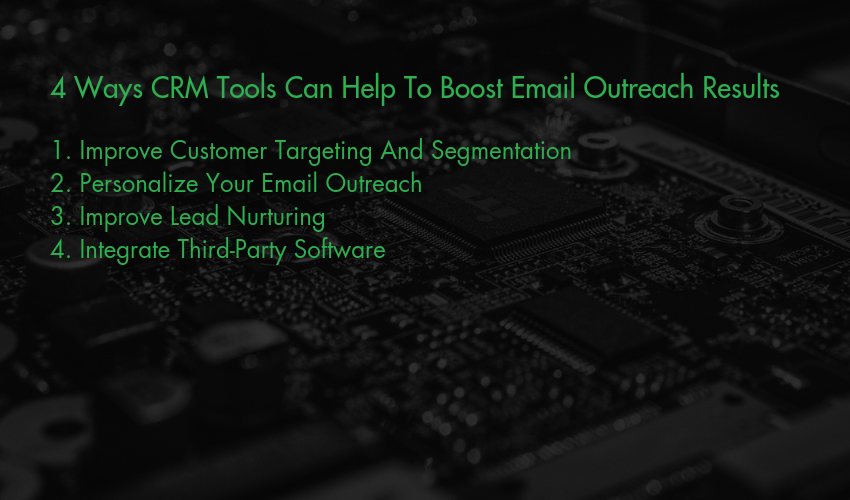 1. Improve Customer Targeting And Segmentation
One of the most demanding tasks you possibly face as a tech business owner is having to sift through prospects and customers data in an attempt to learn more about them.
This is critical if you're to send targeted messages and offers that appeal to them.
A reliable CRM tool should be able to analyze your contact list and provide suggestions on how to approach potentially profitable leads.
By examining customer behavior, preferences, and other personal information, this tool makes it easier for you to take informed actions when planning your email outreach.
Additionally, you can use your CRM system to segment customers based on specific criteria before sending out emails.
This includes aspects like age, gender, location, industry, purchase history, personal interests, responses, and social media activity.
To put it simply, CRM helps you target prospects and customers who would be more receptive – a process that could be incredibly difficult to accomplish manually especially when dealing with mass data.
2. Personalize Your Email Outreach
Relevance and personalization are key elements of today's highly individualized marketing landscape.
This is because consumers' demands, in a business world that's driven by technology and data, are always changing.
CRM systems collect and provide you with crucial information that can be used to tailor the message in a way that suits respective customers.
This way CRM makes it becomes easier by offering relevant recommendations and even shaping your communication in a way that resonates with the target audience.
The benefits of delivering personalized emails include higher response rates, increased revenue, and stronger brand perception.
3. Improve Lead Nurturing
Let's face it, the goal for every business owner, technology or otherwise, is to increase website traffic and have more people engage and interact with their brand and products.
The ulterior motive for this is to increase conversions and scale the business to new heights.
Interestingly, more than 60 percent of marketers reported that lead and traffic generation were their biggest challenges in 2018.
If you are struggling to convert your traffic into promising leads and paying customers, then you may want to consider adding a CRM solution to your toolbox to enhance your lead nurturing process.
As we mentioned earlier, one of the main uses of this tech is to collect as much information about your leads and potential customers as possible.
Using this information, you can identify the key pain points of your customers and in turn, provide fitting solutions in the form of your products and services.
You can also enhance lead nurturing using follow-up emails with engaging content that pushes leads up your sales pipeline.
4. Integrate Third-Party Software
The majority of modern CRM softwares integrate seamlessly with popular email marketing automation tools – some that you're probably already using.
This is good news especially if you're worried about losing historical data or if you're not ready to let go of your favorite tool just yet.
Being able to sync data collected from both the CRM tech and other third-party tools offers added convenience and the possibility of increased functions that you wouldn't enjoy when using the tools individually.
Another advantage of CRM integrations is that you can automate virtually any task. Today, there are software add-ons for mass emailing, email tracking, analytics and reporting, among other functionalities.
Final Thoughts
The biggest benefit of implementing CRM solutions in your email outreach is to boost engagement and personalize interactions with your customers and prospects.
The right CRM tech can also take your campaign a notch higher by improving audience targeting, segmenting, and nurturing for increased conversions.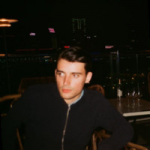 Hugo Morris is the Content Outreach manager at ProfitEngine. 
Starting a tech business? Build it on a .tech domain!