The new year is already here and startups everywhere are back to work full time. Every new year brings a wide array of startup challenges, and 2020 is no exception. Having said that, 2020 is pegged to be quite the year for new startup marketing trends to take center stage.
So, if you feel overwhelmed by the craziness of 2020, it may help to know you're not alone. However, life goes on and businesses must focus on developing better growth strategies that will help increase profitability and create balance.
As such, we talked to a few startup owners and isolated a few startup marketing trends that can be helpful in this new and confusing year.
Find Cool Startup Name Ideas On .tech!
Marketing Trends For Startups To Follow In 2020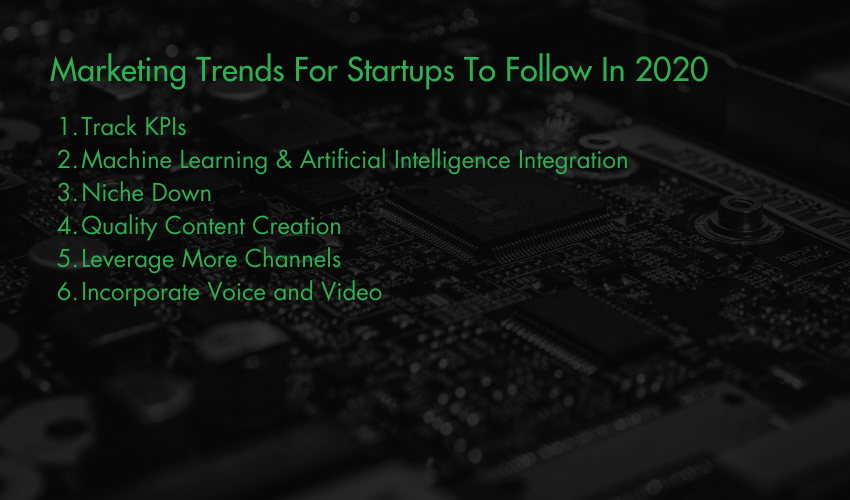 Track KPIs
Each startup has its own Key Performance Indicators, but whatever they are, you must have them clearly defined.
For instance, if you own or manage a tech startup with products available online (apps, sites, platforms, and so on) you should track the number of active users on a monthly and yearly basis. On the other hand, a brick and mortar business needs to monitor the number of customers.
However, customers and/or users don't just show up at your doorstep – they need to be wooed via clever marketing strategies. As such, you must find a way to keep track of the Customer Acquisition Cost, to make sure your marketing costs don't overcome the results.
Rameez Ghayas Usmani from PureVPN told us "Customer Acquisition Cost (CAC) is the most crucial metric in the early stages of growing business. Customers are everything in business in order to make money, but you will need to invest resources into marketing to acquire them."
Machine Learning & Artificial Intelligence Integration
Due to Artificial Intelligence algorithms and Business Intelligence platforms, marketers now have access to unprecedented amounts of data. However, with new regulations in place (to protect user sensitive information) it can be tricky to understand which data are safe to use and why.
This can be increasingly difficult for a startup looking to stand out from the crowd. Luckily, they can use various machine learning strategies to sort through viable data and gain insight into the market, their competitors, current performances, and the efficiency of their resource allocation.
According to a survey performed by Microsoft, businesses that decided to give AI a chance in 2019 already registered an improvement in productivity and performance.
AI and ML can be used to speed up routine and tedious tasks such as replying to emails or creating an automated newsletter system based on customers' preferences and features. Of course, this is just an example as there are many aspects of business life that can be improved by new technologies.
Niche Down
Denis Lunev, the Founder at DepositFix talked to us about niching down: "Niching down allows us to focus on narrowing down our focus, our product features, and our outreach, as well as creating content that is targeting a specific niche."
Everyone involved in the business process knows the importance of niching down. In short, this means finding a niche you know and love, and building your business around it.
For instance, people who have experience in working with new technologies in the jewelry industry can build a consulting business focused on such customers.
The main advantage of choosing a niche and sticking to it is that it sets the startup apart and increases the chances of finding customers with specific needs.
Quality Content Creation
Quality content is still the best way to put your startup on the map without investing a ton of money in paid ads from the start. In fact, when done right and geared towards the right audience, content creation can be the best strategy to boost sales,
Tonya Davis, the Marketing Manager at thoughtlab.com thinks that "the best strategy a startup can take towards marketing would be content creation. Given that startups generally don't have the money to invest in paid advertising, they need to focus their resources on things that will yield the highest long-term gain. Content creation is a great way to help establish your business as an authority, not only within your industry but on Google as well."
Leverage More Channels
When we asked about startup marketing trends in 2020, Kelly J. Waffle, Head of Digital Strategy at Hinge told us to "explore considering new technology, leveraging more channels (video, webinars, chatbots, etc.), and diving deeper into metrics and analytics. Picture the impact that answering this question has on prospects and customers. It can dramatically change the way a website is designed and written. The answer can revamp the way and order that messages (emails, ebooks, white papers, videos, guides, etc.) are presented."
And she is right. We live in an era where both businesses and individuals have access to a wide range of platforms. Whether you do it in writing, via videos, using images, or as a podcast, you can express your thoughts, ideas, preferences, and more.
The secret to success is to find the right combination of channels that will increase your audience and their commitment towards your content. This is one of the most promising marketing trends for startups this year.
Find Cool Startup Name Ideas On .tech!
Incorporate Voice and Video
Does your site support video content or voice commands? According to Paige Arnof-Fenn, Founder & CEO of Mavens & Moguls, a modern mobile page, in 2020, should be prepared to accommodate new requirements from users.
She told us: "I started a global branding and marketing firm 18 years ago and the key strategy to incorporate into your plans is around video and voice. Mobile UX determines your ranking so with more people watching videos than TV now, adding video to your site and using the right keywords for video descriptions and headlines will ensure you do better in searches too. Also, websites must be optimized for voice search now. Voice user interface allows users to interact with websites through voice commands so it adds usability and functionality to your site making it accessible to all users including those with limitations and disabilities."
So, if you truly want to stand out, it's best to start with your web presence. By polishing your website, landing pages, or apps, you show openness towards innovation and care towards your customers' needs.
Overall, this is a low-investment strategy that is set to break the marketing trends in 2020 and can bring lots of benefits for small and mid-sized companies.
Final Thoughts 
Startups are a clear depiction of the fact that a good idea is not enough to be successful. You also need to know how to implement it and how to find the people who will be interested in paying for it.
This is why every company (regardless of size) should have marketing specialists and strategies. It takes time, patience, and lots of practice to understand your product/service, the market (or niche), and build an audience.
Luckily, due to new technologies and the huge amount of data pouring in databases every day, startups and entrepreneurs now have a strong foundation in terms of building marketing strategies.
Still, there is no easy way to a highly-productive business. Even the marketing trends mentioned in this article must be adapted to your specific needs before they can undergo a test trial.
Some may provide amazing results, while others may not be a good fit for your startup. And, of course, there are other marketing trends to research and keep in mind.
Overall, a startup must be always ready to adapt and change based on the reaction received from the market or its audience. Luckily, due to the involvement of AI and ML in the business world, we now have real-time results, which can reduce costs and minimize the risk of failure.
Author: Erika Rykun
Bio: Erika is a content manager and copywriter who believes in the power of networking and white hat SEO. In her free time, she enjoys reading and running.
Building a tech startup? Build it on a .tech domain!