The startup world today is a highly competitive space. The only way your startup can break the mold and blossom into a formidable brand is to rely on effective startup marketing techniques. Towards this, there are several low budget marketing strategies that you can adopt instead of burning a hole in your startup funds.
We've compiled a guide with 10 low budget marketing strategies that your startup should invest in. 
10 Low Budget Marketing Strategies For Startups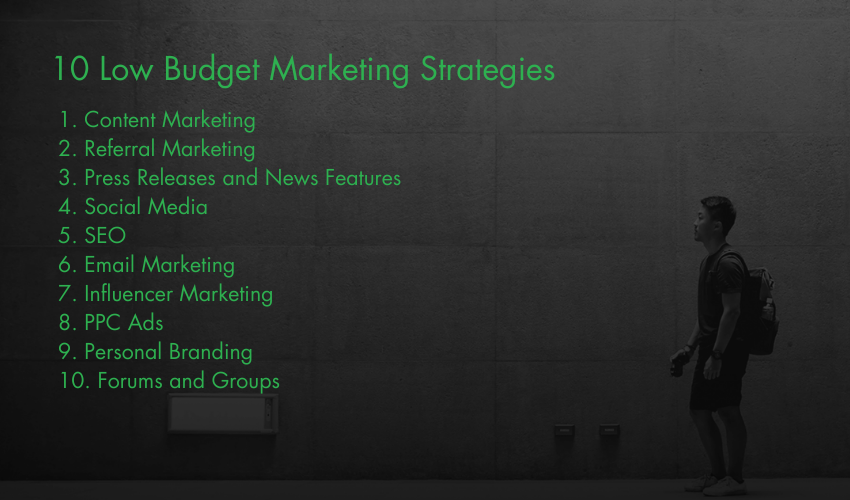 #1 Content Marketing
Content Marketing is one of the most effective low budget marketing strategies, as it can be executed without any significant investment. Starting a tech blog is one of the simplest forms of content marketing. 
With the help of blogs, you can engage a lot of readers on the web, and inform them about your products or your industry. Besides that, you can use infographics, podcasts, photos, and videos to inform and entertain your audience.
High-quality content not only helps spread brand awareness but also builds your brand's reputation, drives traffic to your website, and enhances the effectiveness of your social media marketing strategies.
Find Cool Tech Company Name Ideas On .tech!
#2 Referral Marketing
Referral marketing is a simple strategy where you get your customers to promote your products or services simply through word of mouth. Despite tech publication reviews or ads, a majority of people still trust personal recommendations over anything else when trying out new products.
By creating reward schemes for your existing customers or offering them a discount for their future purchases, you can encourage them to spread the word about your products or services and help you get new customers.
The best part about referral marketing is that it doesn't cost much, and whatever little money you spend on it, you can easily get that back through new customers.
#3 Press Releases and News Features
People read the news daily, and if you have something newsworthy, most of the news outlets will happily report it for you.
Press releases can be an inexpensive way to get your brand published in major publications if you can do the hard work of hunting down and emailing journalists.
Besides, if you want PR professionals to get your brand featured, you can find a lot of them for nominal prices as well. With proper planning, it can turn out to be one of the most effective low budget marketing strategies.
#4 Social Media
Social Media is not just a networking platform but a great avenue to promote your tech startup as well. LinkedIn is a business networking platform, but apart from that, you can also create your brand's social media handle on other platforms like Instagram, Facebook, and Twitter.
You can create posts with pictures and videos about your products or services. You can even create entertaining posts related to your business or industry, that can attract an audience.
An effective way to connect with relevant members of your audience is to start a tech YouTube channel.
Social Media Marketing is one of those low budget marketing strategies that can build an audience, create brand awareness, generate sales, and even help your business grow.
An audience that is interested in your content, could also be interested in your products and eventually turn into your customer base.
#5 SEO
If you're a startup, you'll need to ensure that your website and brand name shows up in search results on search engines whenever someone searches about a product or service similar to yours.
Only then will you be able to achieve the required level of brand awareness for your business. For that, you need to make your SEO (Search Engine Optimization) game strong.
By searching for and using the right keywords, you can get your website and your blogs to rank on SERPs (search engine results pages).  Ideally, you should identify a seed keyword and relevant long-tail keywords for better organic optimization. 
Not only can you use keywords in your blogs, but also in your social media posts, as social media in itself is a mini search engine.
People look for products or services on their social media platforms, and even if they're looking for content relevant to your business, using the right SEO techniques could show you up in their searches.
Just be sure to avoid making common SEO mistakes that most startups make as it could reduce the effect of your efforts.
#6 Email Marketing
Email Marketing is the process of sending emails to your potential customers to increase your sales. People spend at least a couple of hours reading their emails daily, regardless of where they are.
Using email for marketing is considered highly effective because it creates a reliable communication channel between your business and your customers.
Email marketing is one of the most efficient low budget marketing strategies since there are multiple email newsletter tools available for free or minimal prices online.
Find Cool Tech Company Name Ideas On .tech!
#7 Influencer Marketing
Social media influencers have a large number of followers who tend to follow them. You can collaborate with relevant influencers to promote your product or service on their social media handles.
While most collaborations can be expensive, there are several low budget marketing strategies that can be implemented to make influencer marketing successful.
You can gift your products to influencers in exchange for a post, offer discounts or codes or giveaways for your products to their followers.
Sometimes a positive review or even one supporting word from them is enough to attract an untapped customer base.
#8 PPC Ads
PPC or Pay Per Click ads are usually considered to be expensive as targeting high traffic keywords is costly. However, some platforms and niches are budget-friendly and affordable for startups.
For instance, Facebook and Instagram allow you to post certain ads for as little as $1. PPC ads can be clubbed along with other low budget marketing strategies to give great results.
#9 Personal Branding
Personal branding is similar to corporate branding, with the exception that it applies to you as an individual.
If you are the frontrunner of your startup, you can promote yourself and your expertise across your social media platforms and even on your blogs, to earn new followers and a separate source of traffic.
Since people tend to trust people more than corporations, you can use this powerful method to attract new leads or syndicate your content, without paying a dime.
#10 Forums and Groups
Social media groups and public forums offer a great opportunity for marketing. You can use your expertise to answer someone's question on Quora or any other social media group specific to your business or industry.
You can also catch wind of any local event and use it to promote your business. Get involved with your communities, local neighborhood, and the broader industry, to turn it in your favor. 
Final Thoughts
When it comes to marketing, you might find yourself in a tough spot if your startup is new and if you are on a tight. But don't cut down on marketing to save money.
Instead, use these creative and low budget marketing strategies which can not only grow your business but also create the required customer base for you to generate revenue from. 
Starting a tech business? Build it on a .tech domain!