When it comes to crafting a startup marketing strategy, integrated marketing is most often given the least priority. And truth be told, integrated marketing is an essential component of startup marketing.  
What Is Integrated Marketing?
According to SmartInsights.com Integrated marketing is a strategic approach to integrating communications and interactive experiences targeting defined audiences and individuals which coordinates all aspects of marketing of a brand including paid media, earned media and owned media.
The essence of integrated marketing lies in the fact that it involves coordinating messages across different channels and the results arising from this are much better than when taking a comparatively less integrated approach that lacks coordination. 
Find Cool Tech Company Names On tech!
Why Integrated Marketing?
Consider this.  You come across a new startup brand on Instagram and visit its website. But when you do so, you see that the message or campaign on the website is different from what you saw on their Instagram handle.
Not only will you have a hard time understanding the gist of the brand but also question its authenticity.
Many startups neglect integrated marketing communications and the result is usually an inconsistent and unorganized message that doesn't create the right user experience.
Integrated marketing helps in eliminating these disparities and differences irrespective of how or when a customer interacts with the brand.
To sum things, here's what makes integrated marketing impactful:
Reaching a wider audience than a single marketing channel

Greater chance of being visible on multiple channels, keeping your brand top-of-mind and pushing visitors towards conversion

Trust building with a consistent message on multiple channels
How To Build An Integrated Marketing Campaign?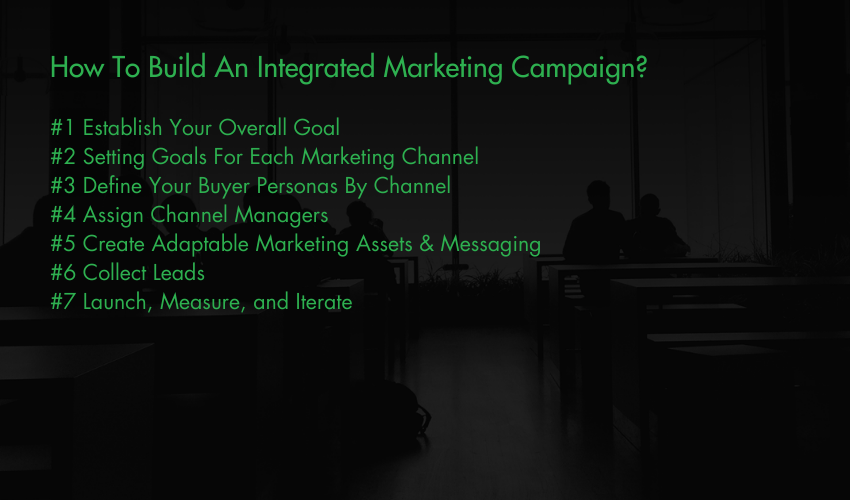 #1 Establish Your Overall Goal
Before considering what channels to make a part of your integrated marketing campaign, you need to consider the goal of the entire campaign. Whether you've launched a new product or service, you need to know what you want to achieve. 
Your goals should be related to a few Key Performance Indicators (KPIs) like Traffic, Engagement, Top (and falling) content, Impact, Sentiment, Lead generation, and Sales.
A multi-channel campaign should consider the bigger picture like how the campaign impacts business revenue and sales opportunities.
#2 Setting Goals For Each Marketing Channel
Once you have established your overarching goal, you will have a better idea of what channels can help you achieve it.
The various types of marketing channels are:
Direct marketing

Email marketing

Advertising

PR

Sales promotions

Personal selling

Packaging

Events and sponsorships
To reach a wider audience and effectively spread your campaign message, your integrated marketing campaign should include a diverse collection of marketing channels. You can keep experimenting with them and decide for yourself what's working for you and what's not.
#3 Define Your Buyer Personas By Channel
Every marketing channel is targeted towards its own specific buyer persona. You should avoid defining a broad persona for your campaign and must define your audience by channel.
The aim is to understand exactly who you're communicating with on each medium and how to tailor those specific assets to be successful.
#4 Assign Channel Managers
Depending on how big your marketing team is, you can assign different groups of people or individual specialists to lead every different channel. While running a multi-channel marketing campaign, you need to determine who will specifically be in charge of ensuring their channel is aligned with the overall campaign.
This method is successful for two reasons. Firstly, every marketing individual has his or her own set of skills and specialization and that way you can make sure every channel is being handled by an expert in that very marketing function.
Secondly, burdening one person in charge of all channels might have a negative impact and cause the campaign to suffer.
Find Cool Tech Company Names On tech!
#5 Create Adaptable Marketing Assets & Messaging
By now, you have a campaign goal, target audience(s), and a bunch of marketing channels. Now it's time to make your campaign active with content.
The best way to do this is to create adaptable content which can be edited and repurposed to fit into different marketing channels at the same time.
Integrated marketing is mainly about a consistent brand experience. So you need to make sure that your campaign assets reflect that, irrespective of what channel your audience is visiting.
#6 Collect Leads
Even if you don't intend for your campaign to collect leads, you should be prepared to receive them. Even if you're campaigning just to raise awareness of your brand, it's possible that your visitors convert into leads, and ultimately into customers.
Analyze the ways in which you could collect leads. Newsletters, providing information to download a content offer, creating their account on your website, are some effective ways. 
Then decide the next step of nurturing them once they convert. Automated workflow, connecting them with the sales team are few such steps. Be sure to utilize the opportunity and make the most of it.
#7 Launch, Measure, and Iterate
Great job if you've successfully launched your campaign. But it's not the be-all and the end-all of it. Once you've done that you've just moved into the next phase.
Use those KPIs and start tracking the subsequent metrics every week, month, and quarter. Whatever you learn, you can apply in your future campaigns and fill the gaps.
Integrated Marketing Best Practices
#1 Perfect Strategy Alignment
To successfully implement your integrated marketing approach, you need to make sure that all of your marketing managers are on the same page. Efficient communication between them will ensure that all your integrated marketing assets give a consistent message and look unified.
#2 Smooth Channel Transition
Most of the times, your visitor gets redirected from one channel to another, because of their inquisitiveness and curiosity about learning more about your brand or its campaign.
In this case, if the transition isn't smooth and the visitor doesn't get what they expected from it, they might just drop off immediately. Make sure that every channel is complementing another and helping each other convert.
#3 Curb Overlaps 
While working on so many marketing channels, it's possible to start focusing on them individually and lose sight of the whole perspective.
However, the essence of the integrated marketing campaign is of having a unified and synergetic marketing plan, where the different channels not only co-exist but also co-complement.
 Here are some examples of small overlaps:
Adding links of your website, social media handles or

YouTube channel

to your email signature

Adding links of your blog posts, offers or website to your social media bios and posts

Incorporating social sharing buttons to your blogs and websites

Optimizing your standalone landing pages for long-tail keywords

 and SEO
Final Thoughts
Today, consumers encounter brands on various social media platforms and across offline avenues. There are also so many startups out there, with more than one startup dealing with similar ideas.
This makes it really important for startups and businesses today to market their brand in a way that results in maximum conversions. To do this, the integrated marketing approach is more needed today than ever before.
The above-mentioned tips and strategies will help you to optimize your marketing campaigns and make it a success. 
Starting a tech business? Build it on a .tech domain!