Did you know that email marketing still dominates the world of startup marketing? Yes, this age-old marketing platform is one of the most effective startup marketing channels and its because of this that marketing moguls suggest relying on email newsletter tools to harness the true potential of email marketing. 
What Is Email Marketing?
Email marketing is the process of sending emails to your potential customers with the goal of increasing sales. It's a highly effective strategy as it provides a reliable form of communication between your business and your customers.
Find Cool Tech Company Name Ideas On .tech!
What Is An Email Newsletter?
According to CampaignMonitor: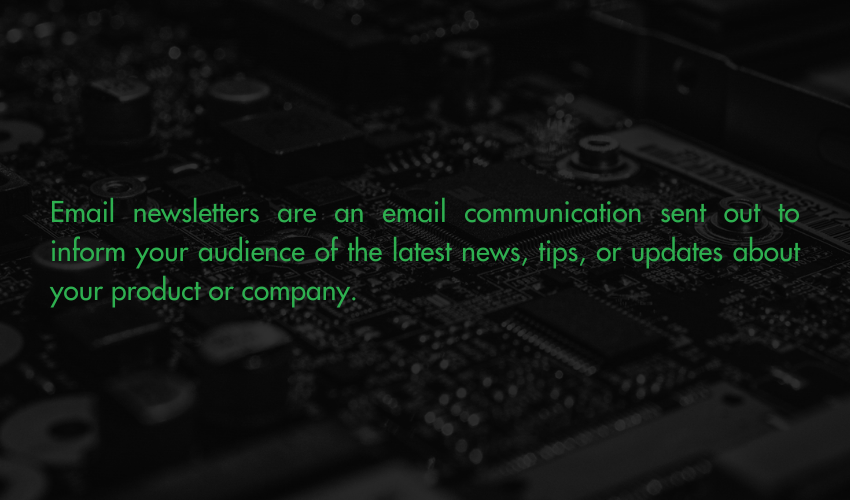 Why Rely On Email Newsletter Tools?
Email newsletters keep your subscribers updated with relevant information, driving more leads. They also give marketers the ability to generate email signups through form submissions.
To swiftly grow your email list and get actual results from email marketing, you need powerful email newsletter tools that help you in running result-driven email campaigns effectively.
Email newsletter tools play a critical role in making your newsletters effective and compelling elements of your integrated marketing strategy. The tools enable you to design attractive newsletter emails, deliver the emails to your subscribers, apply vital features like A/B testing and also monitor and analyze their performance.
However, all email newsletter tools aren't equivalent when you consider their features, availability, pricing, and the level of the customer journey they can cover.
Below, we've rounded up some of the top email newsletter tools and outlined their respective strengths so that you can understand them better and choose the one that matches your startup's goals the best.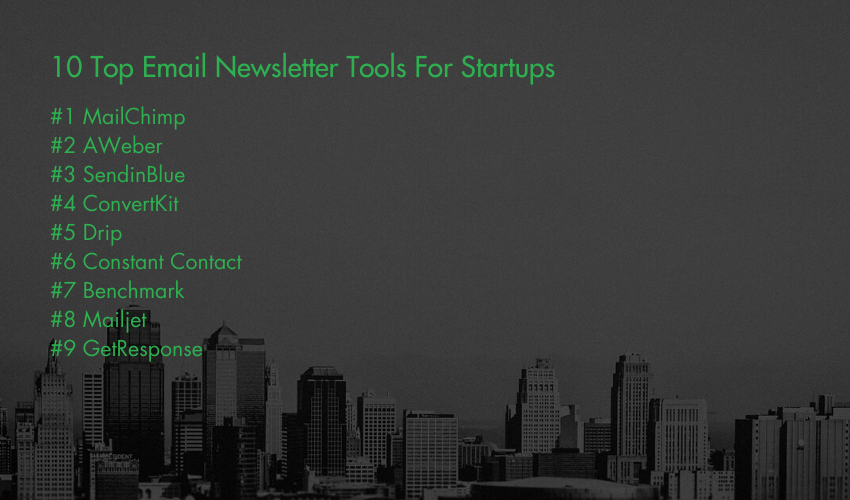 10 Top Email Newsletter Tools For Startups
#1 MailChimp
One of the most popular email newsletter tools, MailChimp offers affordable email marketing plans including free plans for beginners. It's an easy and user-friendly tool that doesn't require any technical skills to create effective email marketing campaigns.
Their huge template selection and availability of multiple features make creating and running a visually appealing campaign a seamless task. 
MailChimp is ideal for startups looking to dive into email marketing but isn't the best choice for scaling teams as it lacks segmenting features and powerful automation.
Nevertheless, it's a valuable tool, especially because its free plan allows you to send 12,000 free emails every month. It also has a drag and drop builder that allows you to rework the designs.
#2 AWeber
One of the oldest email marketing tools, AWeber is a complete email marketing package to help you boost your revenue through email marketing.
It allows you to add attractive signup forms to your social accounts and website, and collect email addresses. It's Smart Designer' allows you to create impressive templates in about seconds.
Its drag and drop editor offers more than 700 mobile-responsive templates and the option of applying tags to trigger automated campaigns.
Some of the other features it offers are automation tools, list segmentation, detailed reporting, and more than 6,000 royalty-free stock images for you to include in your emails.
Even though it doesn't come with a free version, you can try it for free for a period of 30 days.
#3 SendinBlue
An email newsletter plus SMS marketing software, SendinBlue is a straightforward platform that is suitable for both startups and seasoned tech brands.
It has a rich library of templates that can be customized using its drag and drop tools. Its A/B testing options for subject lines can help you in improving your email open rates and conversions.
SendinBlue allows you to personalize the design of your newsletters and choose form fields for subscription forms.
Its robust automation pipeline lets you send different emails based on the specific actions taken by your contacts. 
#4 ConvertKit
Yet another robust email marketing software, ConvertKit is best suited for creators like YouTubers, professional bloggers, and podcasters.
It offers easy to use options such as adding forms to your site to collect email list, grouping your subscribers as per their interests, activity, and sending the right newsletters at the right time.
Its visual automation tool lets you create marketing funnels, even if you aren't tech-savvy. Even though automated, CnnverKit's emails feel personal and they help to increase conversions.
The price range begins from $29 monthly, but you can try it out for 14 days for free.
#5 Drip
A power email marketing service, Drip is best suited for eCommerce websites and digital marketers. Since it's not for beginners you need to be an experienced email marketer to use it.
Drip provides a limited email template library, as its purpose is to allow experienced professionals to design their newsletter themselves.
It's ECRM (Electronic Customer Relationship Management) assists in running personalized campaigns that work with the information gathered from contact purchases and check out information, like abandoned cart details.
With Drip, you can use reporting features, insightful analytics, native reports, custom conversion tracking, dashboards, export data sets.
Find Cool Tech Company Name Ideas On .tech!
#6 Constant Contact
Considered to be one of the most user-friendly and powerful email newsletter tools, Constant Contact offers you hundreds of attractive email templates and an easy to use drag and drop editor for designing your email newsletters.
You can use their email builder to create specific newsletters matching your brand, and edit them to make sure it fulfills the purpose. While using this tool, you can also view the results of your email marketing in real-time.
You can identify the people opening, clicking, and sharing your email, and plan your email marketing strategy accordingly.
#7 Benchmark
Benchmark offers you the ability to create email newsletters easily via drag and drop options, allowing non-technical marketers to create beautiful newsletters.
It also has the 'Benchmark template library' which provides a good selection of newsletter templates. If your audience is spread across a host of geographies, this is the perfect tool as it's available in nine unique languages.
Benchmark emphasizes its highly efficient international customer support as a USP, with offices in 15 countries including Japan and China.
#8 Mailjet
Mailjet is one of the fastest email newsletter tools and is also developer-friendly along with a powerful API solution to allow engineers to build on their email platform.
On Mailjet, you can create dynamic content that is personalized for every recipient based on information like name and location. Its collaborative tools make it really easy for teams to build email newsletters together and also review them before sending them.
#9 GetResponse
Besides basic features, GetResponse also offers professional enterprise features like creating landing pages and webinars. Hosting landing pages on it enables you to capture email subscribers for your email newsletters.
It allows you to create well-designed newsletters with its drag and drop email editor, campaign creator, segment contacts tool and A/B testing tool. 
#10 Mail Up
MailUp offers features similar to the other tools like well-designed templates, drag and drop editor, and an HTML editor. However, what sets it apart is its feature of speed-based dynamic pricing.
If your business has a fixed number of contacts and you don't mind sending your newsletters slower than usual, you can save a significant amount of money by using this tool and get the maximum value out of it.
This is best suited for startups on a budget and for those who prefer saving on cost. 
Final Thoughts
All the above-mentioned email newsletters tools have their own pros and cons, and you can consider factors like budget, skills, and feature requirements while deciding.
For instance, Constant Contact could be a good choice for a new startup, Drip would be perfect for a seasoned startup looking for automation and increasing conversions, or if you prefer saving cost by sparing time, MailUp could be the one for you.
Make an informed decision!
Starting a tech business? Build it on a .tech domain!