Startup and technology have always been synonyms with each other. It's almost like the gospel truth; a tech startup cannot succeed if it has a non-technical founder.
And there is absolutely no reason for us to not believe in this statement. After all, Jeff Bezos has a double bachelor's degree in Science, Google founders earned a Ph.D. Degree and Bill Gates was a programming genius from the tender age of 13.
Then again, we forget that Sean Rad (founder of Tinder), Brian Chesky (founder of Airbnb), and Michael Dell (founder of Dell) do not have a technical background.
Confused?
Wondering what is the reason that they succeeded? How is it that they were able to conceive and turn these tech startups into giant business houses?
The answer: The insatiable obsession and belief in the idea and the hunger to succeed.
Believe it or not, being a non-tech founder is no excuse to not launch your startup. Rather your goal should be to concentrate on your strengths, identify the problem, work out a solution and get work done. Building the app or website yourself was never a prerequisite.
With this article, we want to share a step by step guide to help every non-technical founder to step up and build their dream tech startup.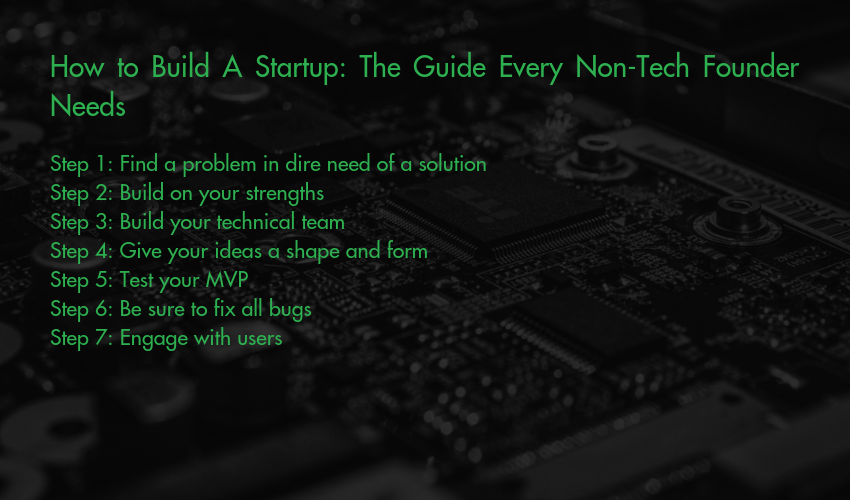 How to Build A Startup: The Guide Every Non-Tech Founder Needs
Step 1: Find a problem in dire need of a solution
Identifying the problem is the trickiest part. However, the problem does not have to be a big one to be addressed.
In the words of Paul Graham, "The way to get startup ideas is not to try to think of startup ideas. It's to look for problems, preferably problems you have yourself".
The problem could be something as simple and mundane that we struggle with every day. Something that you know people at large would be happy to have a solution to or maybe an easier and faster way to address it.
Step 2: Build on your strengths 
Concentrate on honing your skills rather than being a baby about being a non-technical founder. Creative ideas, passion, ability to hustle and dedication are way more important than just being able to code.
Skills such as leadership, product management, team management, marketing, product design, and others are equally important.
In the words of Mark Zuckerberg, "Ideas do not come out fully formed. They only become clear as long as you work on them. You just have to get started". Start and believe in the skill set you have and can acquire as you go along the way".
Hence, pick your strengths and concentrate on honing them. Everything else can be learned by reading or networking or employing the right people for the job and getting the job done with their help.
Step 3: Build your technical team
Building a technical team is inevitable; in fact, sooner the better. Weigh the pros and cons of hiring a team of in-house engineers or long term freelancers.
Use your network to find the best fit for your tech startup. Remember, as the startup grows, technical issues will grow with it. Hence, it is always advisable to be prepared to tackle these issues with a strong and competent team.
Step 4: Give your ideas a shape and form
The only thing that makes an idea is great is when it is implemented. Define what you want to build using the PRD document.
A PRD document sets the purpose, describes the features in detail and sets a completion criteria with a tentative deadline. Give your ideas a shape to aid better presentation before co-founders and investors.
As a next step, you should on-board a tech co-founder to help you build a prototype or Minimum Viable Product (MVP) by overlooking and leading your technical team.
Building a prototype or MVP will help you understand the concepts better, enable you to receive feedback and even work on improving the final product.
Step 5: Test your MVP
Once you have got people to build you an MVP, get your marketing skills into play to reach out to relevant people and influencers who can help you perfect your product. 
Persuade them to test the MVP and provide feedback. Feedback from these experienced people will help you save thousands of dollars resulting from a failed and rushed launch of the final product.
You can also test your product among your close circle of family, friends, and colleagues to get a better understanding of where your product lacks and where it shines.
Step 6: Be sure to fix all bugs 
Do not wait until the very end to fix errors and bugs. Keep testing the MVP at every phase to ensure that the product being developed is in line with your expectations.
Any and every glitch or non-performance instances should be remedied immediately. Repeat the process over again until every step is flawless and perfectly matches the requirements of the final product.
Step 7: Engage with users
After a milestone is achieved in the development of the product, start engaging with your potential users and actively promoting your product on social media channels.
Talk about the product and the vision of the startup. Share your story; achievements, failures, & learning and build some excitement around the product.
Setting up a landing page where people might sign up to use the beta version of the product and feedback would go a long way in improving the final version.
Final Thoughts
In the words of Brian Chesky, "When you start a company, it's more an art than a science because it's totally unknown. Instead of solving high-profile problems, try to solve something that's deeply personal to you. Ideally, if you're an ordinary person and you've just solved your problem, you might have solved the problem for millions of people".
To put it another way, do not underestimate your capability. Several other non-technical founders are running successful tech startups.
Remember to evaluate your MVP at regular intervals to determine progress and garner feedback. Next, concentrate on attracting users and building a competent team.
As a non-technical founder, go ahead and continue contributing to other entrepreneurial skills that you have. Aim at achieving a perfect mix of technical and non-technical skills to make the most of the resources at your disposal.
Starting a tech startup? Build it on a .tech domain!