Starting a tech business is no easy feat. Going by data, 90% of startups fail, but many of those failures could be prevented.
More than 500,000 businesses launch every single month. Most of them fail because they don't have enough cash, they didn't hire the right team, or there was no market for their business, to begin with.
Luckily for individuals interested in starting a tech business, there's plenty of room in the market for a plethora of new technologies and ideas.
You don't have to be a tech genius to create something of value and intrigue. All you need is to follow the right steps and make smart choices along the way.
Do you want to learn how to start a tech business? Here's a guide that breaks down the steps for you!
A Complete Guide To Starting A Tech Business
1. Take Time to Think About Your Decision
First and foremost, you have to take the time to consider your decision carefully. It's easy to get excited about ventures that allow you to fantasize about future possibilities.
It's important, however, to make sure you want to and are ready to begin your adventure. It's also crucial to make sure you've got the right idea, which leads us to the next step.
2. Build Your MVP
So many products fail because of poor-market fit. That's why building your MVP or a Minimum Viable Product is possibly the most critical stage of starting a tech company.
What Does MVP Mean?
Let's break down the meaning of MVP before we get into building it. MVP translates to a minimum viable product. It's the basic version of your product, and it should possess all the features for the problem which you're trying to solve.
Ask yourself questions, such as:
What's the idea of the product?

Who are its customers?

Why would they want it?

Why are you building it?
These questions will help define your user goals and product features. If you're developing a product that stems from inspiration from your own problem or pain, you're on the right track. Just remember that you need other people to share in that same problem or need.
If you're unsure as to whether or not it has enough market value, you can bring other people on to help refine its value proposition. The value proposition brings us to the next step.
Validate Your MVP
There are a few different paths you can take to validate your MVP. If your product solves a problem, it's valid. If it improves people's lives, there's validity in that too. These factors come into play in determining the actual value of your product.
Apart from those factors, ask yourself these questions:
Are investors willing to invest?

Are potential customers willing to pay?

Do you see yourself being able to profit in a few years?

Is the market already saturated? 

What does your competition (if any) look like?
Before we get to the next step in your tech company building adventure, let's go over some common mistakes to avoid while you're building your MVP.
Mistakes to Avoid When Building Your MVP
When you start small, you can move fast. The idea behind validating your MVP is that it only needs to be validated by one market niche. You don't need it to serve multiple audiences, as long as there's a strong niche for it.
1. The advice here then is to make sure you don't overcook your idea. You just need a small yet targeted segment to get the cash you need to expand and take your MVP to a bigger market eventually.
2. Another mistake to avoid while building your MVP is choosing the wrong market segment. As important as it is to build an MVP with a market fit, it's just as essential to know who to sell to. Get an engaged community of early adopters who can provide feedback. That time and insight provide valuable enablers for growing your MVP.
3. If your MVP doesn't stick, don't be stubborn. Don't refuse to pivot if your MVP doesn't stick. It doesn't mean that your idea isn't sound, but rather, that you might be marketing to the wrong customers or forgetting features that'll persuade those customers to want to buy your product.
2. Take a Look at Your Competition
While it's ok to be confident, you must also be smart and open-minded. Have you ever heard that saying that encourages you to "keep your enemies close?"
We're not saying make friends with the competition, but rather learn from them. Don't just write them off as negative entities. Figure out who your competition is.
If they exist, that means you've got an industry for your product. Their existence further validates the MVP you've built.
The market competition and size means there's a demand for what you want to sell. That being said, you want to make sure the market isn't too saturated either.
Competition analysis should never get overlooked. It's important to understand your audience and to find your startup's identity, amongst many other things.
Look at what your competition has done or not done in since they've been in business, and figure out what has worked or hasn't worked. You can learn from their mistakes.
3. Use a Business Workflow and Always Have a Plan
From the day that you begin jotting down ideas and developing your MVP, you're essentially beginning to run a business.
It's important to know and understand how to do just that. You've got to stay on track and organize your workflow to manage the business. Define tasks and make sure you and anyone else involved is on track.
Understand that if you're still on your own, you'll eventually need help. Don't try to do it all yourself. One of the many reasons why businesses fail is because the right team isn't in place.
Always have a plan to execute the step you're on, and have another plan should that plan fail.
4. Pre-Sell Your MVP
If you want to avoid running out of cash, it's a good idea to get a group of customers as soon as possible. You don't have to have a completed product to start selling it right away.
Plus, potential customers love the idea of having a stake in the success of a product or opting to help co-develop. If people are interested, you'll get even more validation for your product.
There are quite a few different pre-selling strategies you can try.
Pre-Selling MVP Strategies
1. A Single-Feature MVP focuses on nailing down one user goal. Once there's a need for that one feature, you can start building an early adoption of your product.
2. Concierge MVP entails doing the software's work manually. You can do so by working closely with customers to understand how to improve along the way. There's plenty of technologies available to automate that manual work.
3. Piecemeal MVP enables you to keep costs down by combining products and services to come up with a special offer.
4. Wizard of Oz MVP is an MVP that will validate the results of your app and whether or not customers are willing to pay for it. This is one of the most effective and fastest ways of testing hypotheses. And because it's performed manually, you can quickly modify your MVP and test a large number of hypotheses.
5. Crowdfunded MVP could end up providing all the funding you need in order to go about starting your tech company. There are plenty of stories of successful startups that began with a video or example of a prototype. Video marketing for startups is always a good idea. Plus, crowdfunding helps to generate buzz and get lots of feedback from a variety of potential customers.
5. Get the Best Talent
Many startups fail because of bad management or not having the right team in place. Searching for the right talent can be quite a challenge and you can turn to tech staffing firms to either outsource work or to build an in-house team. 
It's important to hire people with the right set of skills, and especially those who share the same passion and vision.
Find Cool Tech Company Name Ideas On .tech!
How to Start a Tech Company Without a Tech Background
Starting a tech company seldom has anything to do with whether or not you're a tech nerd, or if you lack some of the technical knowledge required to move forward with your product.
As long as you fill in those weak spots with talented team members, you have nothing to worry about.
You don't have to spend a lot of money to find that talent either, but you will probably have to give up some equity. Keep in mind that if there's a need for future funding, you might have to give away additional equity. Don't act in desperation by giving away too much in the beginning.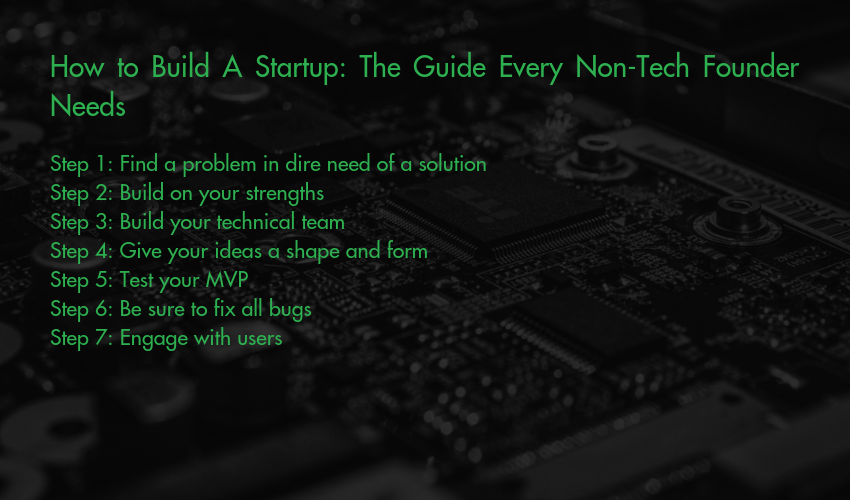 Step 1: Find a problem in dire need of a solution
Identifying the problem is the trickiest part. However, the problem does not have to be a big one to be addressed.
In the words of Paul Graham, "The way to get startup ideas is not to try to think of startup ideas. It's to look for problems, preferably problems you have yourself".
The problem could be something as simple and mundane that we struggle with every day. Something that you know people at large would be happy to have a solution to or maybe an easier and faster way to address it.
Step 2: Build on your strengths 
Concentrate on honing your skills rather than being a baby about being a non-technical founder. Creative ideas, passion, ability to hustle and dedication are way more important than just being able to code.
Skills such as leadership, product management, team management, marketing, product design, and others are equally important.
In the words of Mark Zuckerberg, "Ideas do not come out fully formed. They only become clear as long as you work on them. You just have to get started". Start and believe in the skill set you have and can acquire as you go along the way".
Hence, pick your strengths and concentrate on honing them. Everything else can be learned by reading or networking or employing the right people for the job and getting the job done with their help.
Step 3: Build your technical team
Building a technical team is inevitable; in fact, sooner the better. Weigh the pros and cons of hiring a team of in-house engineers or long term freelancers.
Use your network to find the best fit for your tech startup. Remember, as the startup grows, technical issues will grow with it. Hence, it is always advisable to be prepared to tackle these issues with a strong and competent team.
Step 4: Give your ideas a shape and form
The only thing that makes an idea is great is when it is implemented. Define what you want to build using the PRD document.
A PRD document sets the purpose, describes the features in detail and sets a completion criteria with a tentative deadline. Give your ideas a shape to aid better presentation before co-founders and investors.
As a next step, you should on-board a tech co-founder to help you build a prototype or Minimum Viable Product (MVP) by overlooking and leading your technical team.
Building a prototype or MVP will help you understand the concepts better, enable you to receive feedback and even work on improving the final product.
Step 5: Test your MVP
Once you have got people to build you an MVP, get your marketing skills into play to reach out to relevant people and influencers who can help you perfect your product. 
Persuade them to test the MVP and provide feedback. Feedback from these experienced people will help you save thousands of dollars resulting from a failed and rushed launch of the final product.
You can also test your product among your close circle of family, friends, and colleagues to get a better understanding of where your product lacks and where it shines.
Step 6: Be sure to fix all bugs 
Do not wait until the very end to fix errors and bugs. Keep testing the MVP at every phase to ensure that the product being developed is in line with your expectations.
Any and every glitch or non-performance instances should be remedied immediately. Repeat the process over again until every step is flawless and perfectly matches the requirements of the final product.
Step 7: Engage with users
After a milestone is achieved in the development of the product, start engaging with your potential users and actively promoting your product on social media channels.
Talk about the product and the vision of the startup. Share your story; achievements, failures, & learning and build some excitement around the product.
Setting up a landing page where people might sign up to use the beta version of the product and feedback would go a long way in improving the final version.
BONUS: There are many resources available out there, such as NoCode.TECH, to help non-tech founders start a tech company.
NoCode.TECH offers a curated directory of resources, tools and hacks for non-techs.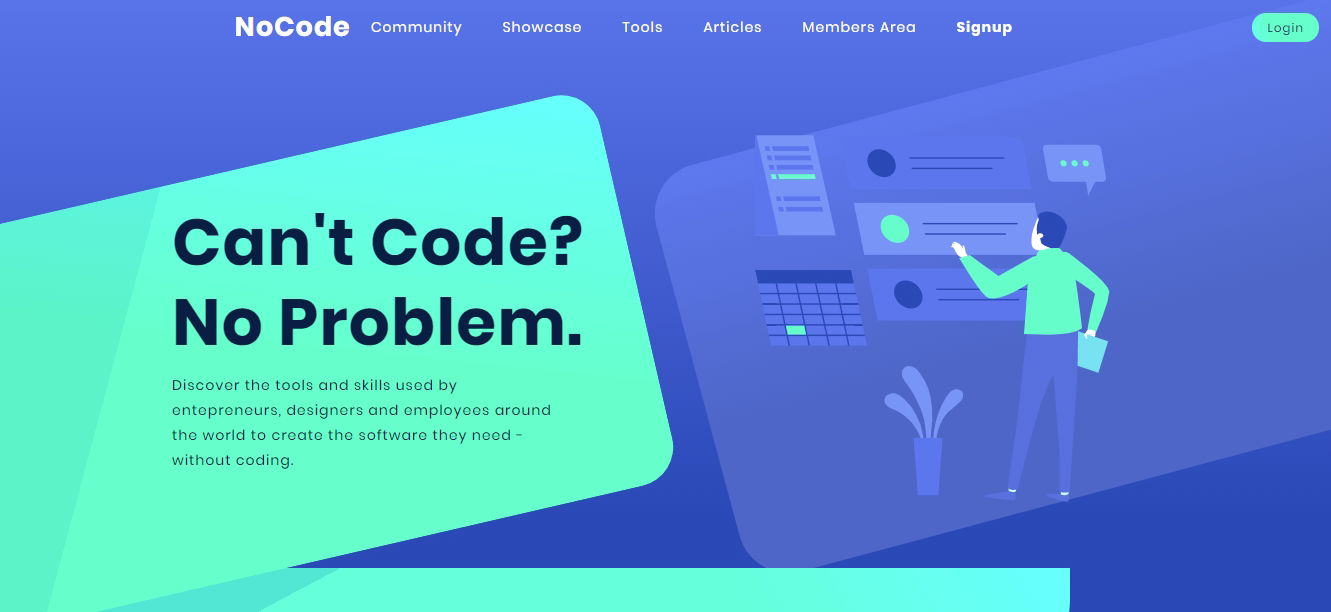 How Much Does It Cost to Start a Tech Company?
Most small businesses cost somewhere between $2,000 and $5,000 to start, and running out of cash is one of the main reasons why many of them fail.
How much money it costs really depends on your product and who you've got on your side. There are plenty of stories of people starting a tech company in college, and those individuals started with hardly any cash.
If you have an idea that will sell and a team that's willing to work for equity, you could technically start a tech company with nothing at all.
Which Are The Best Cities to Start a Tech Company?
Everyone knows that San Francisco is the startup haven, but as one of the most expensive cities in the world and a very saturated market, there are plenty of less expensive, more ideal cities to begin your startup venture.
Austin, for example, has witnessed 3-year revenue growth of 259%. It's home to plenty of entrepreneurs and new jobs. Facebook, Amazon, and Apple all have spots in the area. Plus, the city has a continuously growing creative food business.
New York City's 3-year growth is a little bit lower, at 197%. What's interesting is that the city of New York has more tech workers than San Francisco's Bay area.
Chicago's freezing cold temperatures don't stop it from being an excellent city for starting a tech company. It has a growing, healthy and diverse business culture, and it's not nearly as expensive as NYC, Los Angeles, or San Francisco, to live.
Here are some other cities that are great for starting a tech company:
Houston

Los Angeles

Dallas

Atlanta

Denver

San Diego

San Francisco
Starting a Tech Company in College
As a tech student, one benefit of starting a tech company in college is the access to so many hungry and talented individuals who are willing to work for next to nothing.
Rather than focusing on revenue, direct your focus to growth. Build your email list from the very first day, and instead of worrying about capital, worry about traction. Begin marketing your startup early. There are plenty of low budget strategies for doing so.
You still have to validate your idea and make sure you find the right market. Most importantly, make sure either you or one of your partners knows how to code and code well.
If you can't execute effectively, you'll fail. You must build out the functionality of a prototype, and keep at it relentlessly until you find the perfect product-market fit. 
Lastly, take advantage of your ability to learn from the best. You're in college, and thus, most people aren't going to view you as the competition. So visit the competition or those successful people in similar fields. Take the opportunity to ask questions (as is expected of college students) and learn from the best.
Starting a Tech Business is an Exciting Journey
Do you have an idea that you can't shake? Don't shake it! When it comes to starting a tech company, you don't have to know how to code or be a tech genius.
All you need is the right idea, to validate that idea, get the right team, and start marketing your product. Just remember to have a plan for cash flow. Getting people to invest before your product hits the market is an excellent way to ensure you won't run out of cash at the worst time.
[BONUS] 10-Step Checklist for Starting a Tech Business
Most programmers, enthusiasts, student entrepreneurs, and die-hard geeks, have one looming question on their minds: "How do I go about starting a tech business?"
When we say, "starting a tech business", we mean, "becoming the next Apple or Google or Facebook".
But how do you come up with an idea? What's the magic formula? Is there a secret sauce?
To be honest, there isn't.
So, to help you with starting a tech business, we've listed a comprehensive 10 step-checklist. Read on!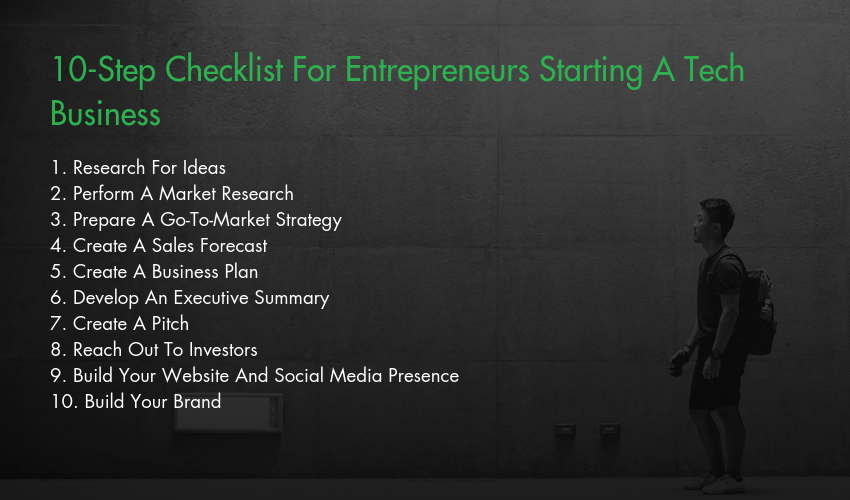 1. Research For Ideas
When it comes to starting a tech company, having a stellar idea is half the battle won.
While mobile apps and high-tech solutions are the way for most tech startups, you need to invest quality time into understanding what it is that you can do to provide value to people's lives.
The premise of any business is to solve problems and address issues in an innovative and viable manner.
Which is why tech startups are pegged as problem-solving entities.
Look for common pain points that most people have and any gaps that need to be filled.
For instance, India-based Zomato is a restaurant finding app that helps people find places to eat, access to menus, order food, make reservations, and so on.
The founders saw a gap between people's demand for finding places to eat their inability to find new places simple.
The app created a bridge to address this issue. Similarly, you need to dig deep and look for areas where your expertise can fill a void.
Find Cool Tech Company Name Ideas On .tech!
2. Perform A Market Research
Once you have your "hoorah" moment, take your research to the next level by pitching your idea to your family, friends, people from your professional circle, peers, professors, etc.
Doing this will help you get a first-hand understanding of how effective (or ineffective) your idea is.
It will also help you to get valuable feedback and insights which you can incorporate or consider including as part of your offering.
3. Prepare A Go-To-Market Strategy
If your idea is well accepted and you are fully convinced, it's time to start planning your next move.
This primarily entails giving life to your tech startup by creating a go-to-market strategy.
Your go-to-market plan should cover how you are going to market your product, raise funds, use PR, sales channels and others.
Craft a comprehensive plan, and make sure it can be easily included as part of your business plan.
The first step towards starting a tech business is to get your go-to-market strategy right.
Everything from your target audience study, funds allocation, budget distribution, projected sales, breakeven point, profit margins, etc. need to be outlined and understood.
4. Create A Sales Forecast
Before starting a tech business, it's very important to create a detailed first-year sales forecast based on the people and potential customers you spoke to while conducting your market research.
Use this information to extrapolate it over five years based on how many people you think you can sell to and your product's potential dollar volume.
Strike a sweet spot when planning your sales forecast. Don't be overly conservative or bullishly optimistic.
5. Create A Business Plan
Like any business, you need to create a business plan outline before starting a tech business.
This plan will determine your plan of action and work as the Bible for your business.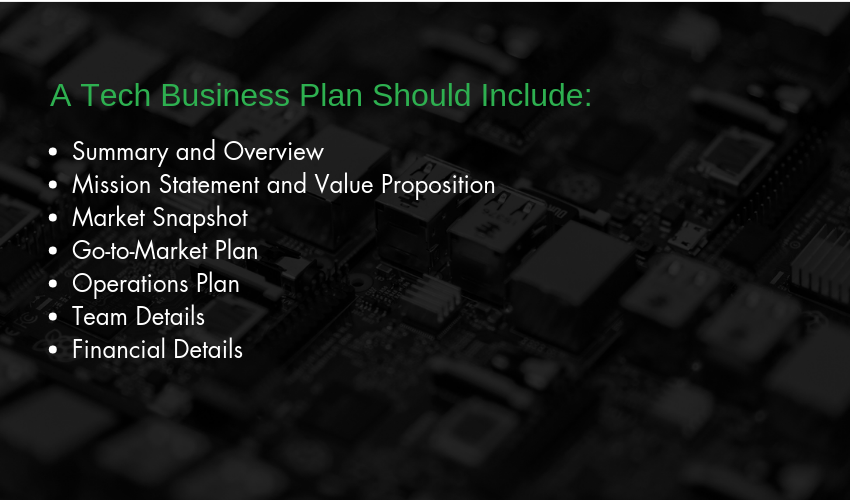 Include an overview of what your tech business is about, what your offering, where you plan to go, what the business stands for, and so on.
Mission Statement and Value Proposition 
Clearly state the mission, vision, and value proposition of your business. A mission and vision will help your business keep its integrity in the long run.
Your value proposition will give stakeholders a clear idea of what your tech business stands for.
A market snapshot is a market update and trend analysis overview.
It provides relevant data pertaining to your core competency, active listings, inventory, and other first-hand information that is unique to your business.
This can also include any and all product advantages.
Your market snapshot should also state any patents or intellectual property held or to be held along with credible timelines.
Details about who your target audience is, what is the market share of your product, where you will be selling your product, who you are competing with, and where you stand in terms of other players can also be part of your market snapshot
As mentioned above, your go-to-market plan should include all the necessary information about starting your tech business and launching it in the market.
Your tech business plan should cover a detailed report about how you plan to go about performing your daily operations in terms of product management, personnel management, budget allocation, etc.
Even if it's just you, it is essential to have a structure in place for hiring people and making them part of your team.
Clearly identify the categories of management personnel required, their duties, the number of overall positions and people required, human resource management, deadlines to find people, etc.
As a business that is just starting out, your tech business plan should highlight how you plan to raise funds, profits you intend to make, marketing costs, overheads, salaries, etc.
Find Cool Tech Company Name Ideas On .tech!
6. Develop An Executive Summary
Once your detailed business plan is ready, you should create an executive summary that includes quick points that cover the main actionable points from your business plan.
This document must cover all the critical points, but it should be no more than two pages.
7. Create A Pitch
Starting a tech business involves presenting at startup events and conferences, reaching out to investors for startup fundraising, and networking with influencers and mentors.
To do this, you need to create a detailed company pitch that will give investors and everyone else a context about what you do, who you are, your value proposition, your estimated valuation, forecasted sales reports, etc.
Create a comprehensive Microsoft PowerPoint presentation using both the business plan and executive summary as guides.
Use data, statistics, and pictures to convey key information and concepts whenever necessary.
The idea here is to make each slide consumable and keep the other party interested and engaged.
8. Reach Out To Investors
Unless you are planning to bootstrap your tech business, you should consider raising funds as everyone else does – by talking to angel investors, VCs, banks, startup accelerators, and everyone you know in your network.
If you consider raising funds from angel investors, you may have to part with a portion of your tech business's equity.
A smart way to go about startup fundraising is to go down the crowdfunding route.
You can reach out to these investors directly or by participating at events such as Web Summit where investors willingly network with business owners.
Ideally, we suggest approaching no more than three investors. Give them a strong cover letter that consists of your executive summary and company pitch.
This will clearly highlight your company's key value proposition.
9. Build Your Website And Social Media Presence
Once everything is set, you should invest in building a snazzy website that smartly covers everything you offer.
Typically speaking, your tech business's website should be mobile responsive, easy to navigate about, in continuation with your brand guidelines, and SEO friendly.
Furthermore, you should pick a relevant and meaningful domain name that will help you build a better tech brand.
A name that is long, clunky, and awkward is not just hard to remember, but it fails to build trust.
For instance, www.shadow.tech is a brandable alternative to www.shadowcloudcomputingtech.com.
Another imperative step before starting a tech business is to ensure that the startup name of your choice is available on social media.
A common moniker across your Facebook page, Twitter handle, Instagram account, YouTube channel, and web address will result in higher brand recall.
10. Build Your Brand
Although brand development takes years, you can start by creating definitive brand guidelines which include a set color pallet, a logo, fonts, brand tone and voice, design themes, and so on.
In addition to the point above, invest in a slick online presence with your website and social media.
Invest time towards inbound marketing early on so you can reap its benefits during the growth phase of your startup.
Furthermore, before starting a tech business, you should create a corporate identity package with letterhead designs and business cards.
It's worth mentioning that having a great personal brand helps incrementally when promoting your startup. Your personal brand can add a human touch to your startup which will create an affinity for it in the long run.
With heavy competition in the tech startup space, good branding can really do wonders for your shiny new tech business.
Bonus: Pick The Right Domain Name
To build a formidable tech business, you need to ensure that the brand name you choose remains consistent on your social media, website, and other marketing channels.
To do this, you should consider opting for a name on a relevant new domain extension like .tech. Since the word 'tech' is a globally understood acronym for 'technology', the .tech domain makes for a perfect fit for technology businesses.
By picking a creative brand name on a new domain extension like .tech, you can pique the interest of anyone who comes across your website. From seasoned businesses to cutting-edge startups, .tech is home to numerous members of the technology fraternity.
CES, the world's largest consumer electronics show, uses www.CES.tech. As does Viacom (www.viacom.tech) and Intel (www.insight.tech). Some other examples include www.shadow.tech, www.aurora.tech, www.stronger.tech, www.brilliant.tech. These are all successful startups that are using a .tech domain to denote their space on the internet.
As an additional resource to help you on your journey, we have put together entrepreneurial advice from 67 business owners. Take a look at it here:
67 Business Owners Share Entrepreneurial Advice to their Younger Self
Final Thoughts
While starting a tech business is challenging, the tips we've mentioned above will surely help you plan your startup endeavors.
Although there's a lot more to consider when starting a tech business, you should avoid making mistakes that will kill your tech startup.
Instead, focus on taking care of the aforementioned points will help your tech business take shape the right way.
Starting a tech business? Build it on a .tech domain!
Originally published: 16th May 2019
Updated: 1st March 2020