Most programmers, enthusiasts, student entrepreneurs, and die-hard geeks, have one looming question on their minds: "How do I go about starting a tech business?"
When we say, "starting a tech business", we mean, "becoming the next Apple or Google or Facebook".
But how do you come up with an idea? What's the magic formula? Is there a secret sauce?
To be honest, there isn't.
So, to help you with starting a tech business, we've listed a comprehensive 10 step-checklist. Read on!
.tech Domain's 10-Step Checklist For Entrepreneurs Starting a Tech Business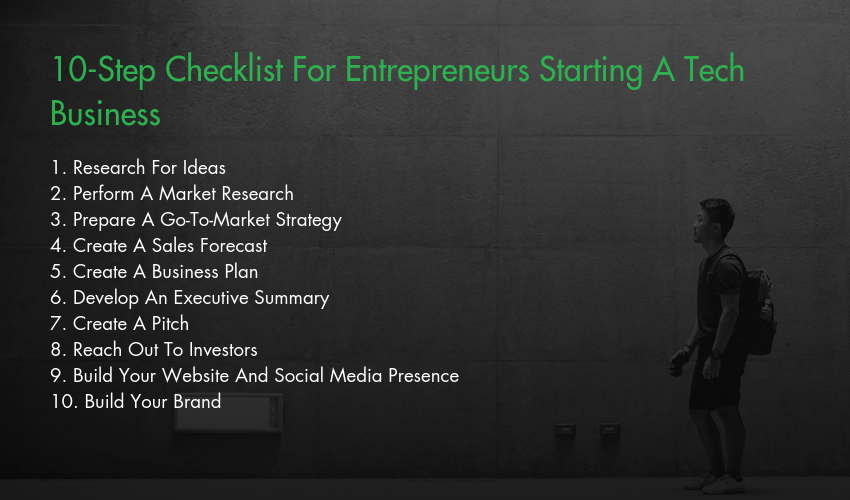 1. Research For Ideas
When it comes to starting a tech company, having a stellar idea is half the battle won.
While mobile apps and high-tech solutions are the way for most tech startups, you need to invest quality time into understanding what it is that you can do to provide value to people's lives.
The premise of any business is to solve problems and address issues in an innovative and viable manner.
Which is why tech startups are pegged as problem-solving entities.
Look for common pain points that most people have and any gaps that need to be filled.
For instance, India-based Zomato is a restaurant finding app that helps people find places to eat, access to menus, order food, make reservations, and so on.
The founders saw a gap between people's demand for finding places to eat their inability to find new places simple.
The app created a bridge to address this issue. Similarly, you need to dig deep and look for areas where your expertise can fill a void.
Find Cool Tech Company Name Ideas On .tech!
2. Perform A Market Research
Once you have your "hoorah" moment, take your research to the next level by pitching your idea to your family, friends, people from your professional circle, peers, professors, etc.
Doing this will help you get a first-hand understanding of how effective (or ineffective) your idea is.
It will also help you to get valuable feedback and insights which you can incorporate or consider including as part of your offering.
3. Prepare A Go-To-Market Strategy
If your idea is well accepted and you are fully convinced, it's time to start planning your next move.
This primarily entails giving life to your tech startup by creating a go-to-market strategy.
Your go-to-market plan should cover how you are going to market your product, raise funds, use PR, sales channels and others.
Craft a comprehensive plan, and make sure it can be easily included as part of your business plan.
The first step towards starting a tech business is to get your go-to-market strategy right.
Everything from your target audience study, funds allocation, budget distribution, projected sales, breakeven point, profit margins, etc. need to be outlined and understood.
4. Create A Sales Forecast
Before starting a tech business, it's very important to create a detailed first-year sales forecast based on the people and potential customers you spoke to while conducting your market research.
Use this information to extrapolate it over five years based on how many people you think you can sell to and your product's potential dollar volume.
Strike a sweet spot when planning your sales forecast. Don't be overly conservative or bullishly optimistic.
5. Create A Business Plan
Like any business, you need to create a business plan outline before starting a tech business.
This plan will determine your plan of action and work as the Bible for your business.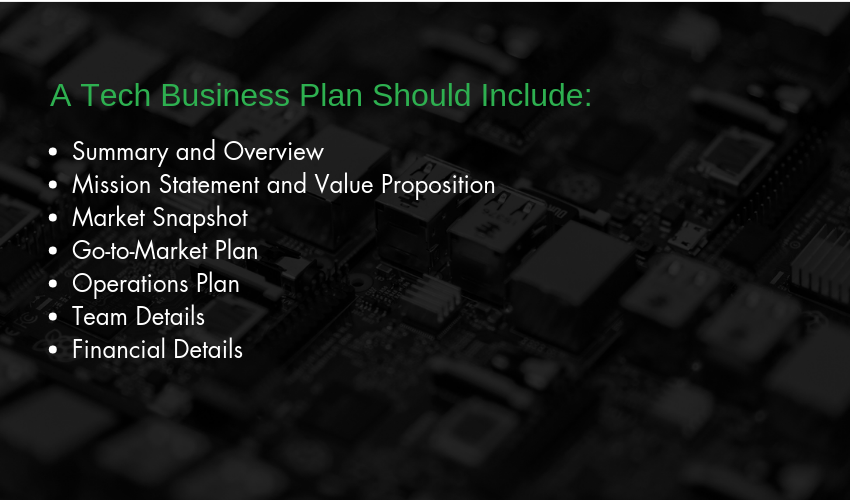 Include an overview of what your tech business is about, what your offering, where you plan to go, what the business stands for, and so on.
Mission Statement and Value Proposition 
Clearly state the mission, vision, and value proposition of your business. A mission and vision will help your business keep its integrity in the long run.
Your value proposition will give stakeholders a clear idea of what your tech business stands for.
A market snapshot is a market update and trend analysis overview.
It provides relevant data pertaining to your core competency, active listings, inventory, and other first-hand information that is unique to your business.
This can also include any and all product advantages.
Your market snapshot should also state any patents or intellectual property held or to be held along with credible timelines.
Details about who your target audience is, what is the market share of your product, where you will be selling your product, who you are competing with, and where you stand in terms of other players can also be part of your market snapshot
As mentioned above, your go-to-market plan should include all the necessary information about starting your tech business and launching it in the market.
Your tech business plan should cover a detailed report about how you plan to go about performing your daily operations in terms of product management, personnel management, budget allocation, etc.
Even if it's just you, it is essential to have a structure in place for hiring people and making them part of your team.
Clearly identify the categories of management personnel required, their duties, the number of overall positions and people required, human resource management, deadlines to find people, etc.
As a business that is just starting out, your tech business plan should highlight how you plan to raise funds, profits you intend to make, marketing costs, overheads, salaries, etc.
Find Cool Tech Company Name Ideas On .tech!
6. Develop An Executive Summary
Once your detailed business plan is ready, you should create an executive summary that includes quick points that cover the main actionable points from your business plan.
This document must cover all the critical points, but it should be no more than two pages.
Every entrepreneur, newbie or serial, can use valuable entrepreneurial advice when it comes to running their business or learning from other's mistakes. Towards this, we spoke with 67 business owners, professionals, and entrepreneurs and requested them to share one key piece of entrepreneurial advice to their younger self. Read on!
7. Create A Pitch
Starting a tech business involves presenting at startup events and conferences, reaching out to investors for startup fundraising, and networking with influencers and mentors.
To do this, you need to create a detailed company pitch that will give investors and everyone else a context about what you do, who you are, your value proposition, your estimated valuation, forecasted sales reports, etc.
Create a comprehensive Microsoft PowerPoint presentation using both the business plan and executive summary as guides.
Use data, statistics, and pictures to convey key information and concepts whenever necessary.
The idea here is to make each slide consumable and keep the other party interested and engaged.
8. Reach Out To Investors
Unless you are planning to bootstrap your tech business, you should consider raising funds as everyone else does – by talking to angel investors, VCs, banks, startup accelerators, and everyone you know in your network.
If you consider raising funds from angel investors, you may have to part with a portion of your tech business's equity.
A smart way to go about startup fundraising is to go down the crowdfunding route.
You can reach out to these investors directly or by participating at events such as Web Summit where investors willingly network with business owners.
Ideally, we suggest approaching no more than three investors. Give them a strong cover letter that consists of your executive summary and company pitch.
This will clearly highlight your company's key value proposition.
9. Build Your Website And Social Media Presence
Once everything is set, you should invest in building a snazzy website that smartly covers everything you offer.
Typically speaking, your tech business's website should be mobile responsive, easy to navigate about, in continuation with your brand guidelines, and SEO friendly.
Furthermore, you should pick a relevant and meaningful domain name that will help you build a better tech brand.
A name that is long, clunky, and awkward is not just hard to remember, but it fails to build trust.
For instance, www.shadow.tech is a brandable alternative to www.shadowcloudcomputingtech.com.
Another imperative step before starting a tech business is to ensure that the startup name of your choice is available on social media.
A common moniker across your Facebook page, Twitter handle, Instagram account, YouTube channel, and web address will result in higher brand recall.
10. Build Your Brand
Although brand development takes years, you can start by creating definitive brand guidelines which include a set color pallet, a logo, fonts, brand tone and voice, design themes, and so on.
In addition to the point above, invest in a slick online presence with your website and social media.
Furthermore, before starting a tech business, you should create a corporate identity package with letterhead designs and business cards.
With heavy competition in the tech startup space, good branding can really do wonders for your shiny new tech business.
Bonus: Pick The Right Domain Name
To build a formidable tech business, you need to ensure that the brand name you choose remains consistent on your social media, website, and other marketing channels.
To do this, you should consider opting for a name on a relevant new domain extension like .tech. Since the word 'tech' is a globally understood acronym for 'technology', the .tech domain makes for a perfect fit for technology businesses.
By picking a creative brand name on a new domain extension like .tech, you can pique the interest of anyone who comes across your website. From seasoned businesses to cutting-edge startups, .tech is home to numerous members of the technology fraternity.
CES, the world's largest consumer electronics show, uses CES.tech. As does Viacom (Viacom.tech). Shadow.tech, Aurora.tech, Stronger.tech, Brilliant.tech, Insight.tech, Lightly.tech, to name a few, are successful startups that are using a .tech domain to denote their space on the internet.
Final Thoughts
While starting a tech business is challenging, the tips we've mentioned above will surely help you plan your startup endeavors.
Although there's a lot more to consider when starting a tech business, you should avoid making mistakes that will kill your tech startup.
Instead, focus on taking care of the aforementioned points will help your tech business take shape the right way.
Starting a tech business? Build it on a .tech domain!