We live in a digital world largely dominated by social media.  While social media and the digital world has its vast merits, lethal demerits are reason enough for brands and businesses to opt for online reputation management tactics.
In fact, research shows that 85% of the consumers trust online reviews as much as personal recommendations.
68% of the consumers are willing to pay up to 15% more for the same product or service if they are assured they will have a better experience.
And almost 90% of people confirm that online reviews impact their buying decisions. That's huge, right?
Now that you know the power of online reviews and the effect it can have on your tech business, you will be in a better position to acknowledge the importance of investing in reputation management tactics.
But before we get into online reputation management strategies and tools, let's take a step back to understand what online reputation is.
What is Online Reputation Management?
Online Reputation Management or ORM is often misunderstood as just monitoring your social media, or something related to maintaining public relations. In reality, ORM is so much more.
According to Techopedia, Online Reputation Management is defined as: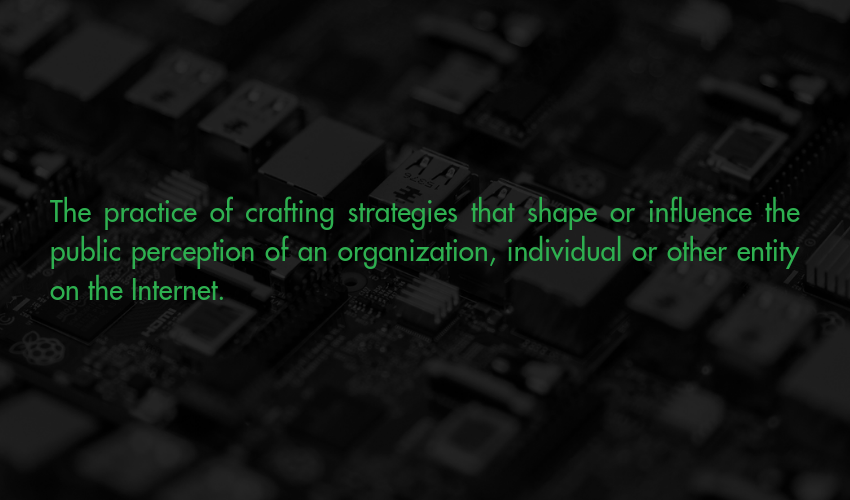 Does Online Reputation Impact Your Business?
Studies reveal that 49% of consumers look for at least a 4-star rating before choosing a business.
Surprisingly, every 1-star rating in Yelp translates to a 5 to 9% increase in revenue.
However, in most cases, negative comments or bad customer experiences may hurt your business and lead to heavy losses.
What do you do in such a scenario?
Keep quiet or address those negative comments?
There's no rule of thumb for such a situation but not addressing the negative reviews is not the best solution.
Nestle chose to ignore the constant criticism about their environmental practices which only aggravated its haters.
They lashed out and posted altered Nestle logos all over the web. The outcome – Nestle had to take down its public page.
Online Reputation Management Strategies 
Andrew Griffin, editor, and reporter at The Independent has rightly remarked, "Reputation is an outcome; but it is also a valuable, strategic asset".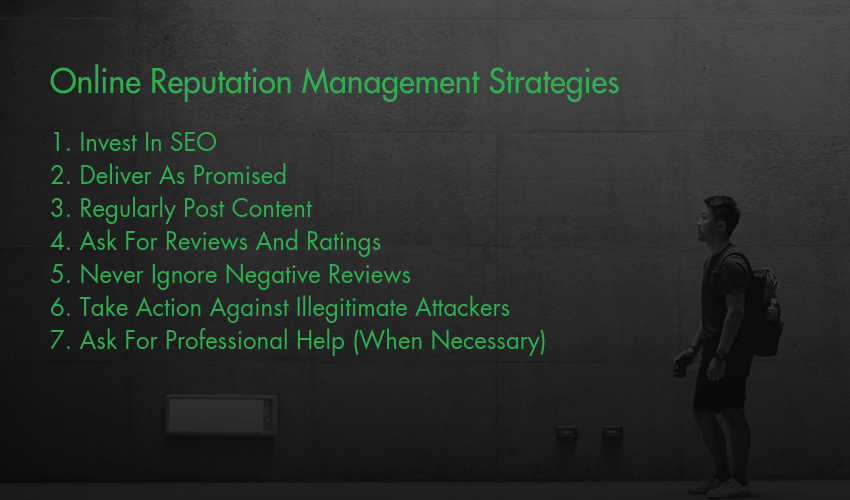 So with this learning, let's get you acquainted with seven strategies that will aid online reputation management for your tech business.
1. Invest In SEO
Focus on your SEO. Optimizing your website for SEO helps increase search engines to rate your site better. Understand that SEO optimization takes time. and you need to work on it to build your rank bit by bit, each day, every day.
2. Deliver As Promised
Delivering 'what you promised, 'when you promised' is possibly the best strategy for reputation management.
Take pride in your products & brand and make it echo with your business. On random occasions when you fail to deliver as promised, try to balance the negative consequences by empathizing with the customer, explaining your situation and making up by offering a discount or a refund.
3. Regularly Post Content
Search engines rank your business better if you post regular content. Quality content in any form helps increase communication with customers.
Content also doubles up as an authority building activity and an advertisement avenue.
Customers will not only buy from you but also scour through your content for that expert advice thus improving your online reputation drastically.
4. Ask For Reviews And Ratings
The very birth of reviews resonates with dissatisfaction and negative comments. Satisfied consumers rarely post reviews.
As a practice, encourage your customers to post positive reviews that highlight their experience with your brand or product.
For their ease, send in an e-mail with a direct link to the online rating form.
5. Never Ignore Negative Reviews
Treat every review, positive or negative with the same demeanor. Read, reflect and reply professionally.
Do not be aggressive while addressing negative reviews. Instead, apologize for the inconvenience caused and explain what you can do to make their experience better.
After all, your customers are human too and are willing to understand a genuine mistake.
They will even appreciate the measures that you have taken to make up for them.
6. Take Action Against Illegitimate Attackers
Sometimes, being 'Miss Goody Two Shoes' only lands you into bigger problems.
There is no dearth of malicious people who attack you and your business on purpose with the sole motive of ruining your online reputation.
In such a case it is the time to stand up and fight! Take measures against them and even sue them if need be.
If you do not stop them today, they will come back again to haunt you.
7. Ask For Professional Help (When Necessary)
Online reputation management can get tricky sometimes. Faced with such a scenario, hire ORM companies to excel in this field.
These companies are the pioneers in the field and know how to handle almost every kind of situation.
Online Reputation Management Tools
Now that we are well versed with online reputation management strategies, let us move ahead and familiarize ourselves with a couple of online reputation management tools.
1. Google Alerts
Google Alerts is the simplest and most efficient tool for getting e-mail notifications of your mentions. Set the alert for your name or your business name with a frequency preference for e-mail alerts.
2. Social Mention
Social Mention is a tool that monitors over 80 social sites over a common platform. This tool even monitors sites like Facebook, Twitter, and YouTube.
Based on the mention of your name, the tool measures, monitors, and displays your brand reputation under sub-categories like strength, sentiment, passion and reach.
The upside of this tool is that grades sentiment into positive, negative, and neutral.
3. Brand Grader
Brand Grader is the simplest of all tools for online reputation management. All you have to do is input your brand name along with an e-mail account.
The tool generates a quick report based on parameters like your biggest web influencers, top sources, sentiment detection, mention overview, mention locations, and social following.
4. SimilarWeb
SimilarWeb provides is a comprehensive guide for any business and gives you an insight into the whole business.
The tool takes that extra step and even provides you with information about your competitors' sites.
You can easily compare and measure your business with your competitors. It even gives you insights into the industry you belong to, as well as provides an indication of the ranking of your brand within the community.
5. Reputology
Reputology doubles up as a review monitoring and management platform.
The tool allows you to track reviews related to your business and even respond to those reviews.
This tool comes handy for local businesses that rely on online reviews on sites like Yelp, and TripAdvisor.
Reputology even sends you automated e-mail notifications of new reviews and gives you access to direct replies from the platform.
Reputology is likely a step ahead in this array of online reputation management tools with its feature of 'decision tree'.
Decision tree is a guide that helps you handle negative reviews. It even lets you track your team's performance on follow-up and response to customers.
In Conclusion
To wrap it all up, ensure:
Your online presence and related information is up-to-date and consistent
Adhere to strict standards of clear and crisp communication
Try to nurture a positive user experience, end-to-end
Pay equal attention to both negative and positive feedback
Respond to negative feedback with actionable solutions
With the above-mentioned strategies and tools, online reputation management will no more be a daunting task.
Online reviews can be well managed and responded to, all at the click of a button via a single dashboard.
So go ahead and manage your online reputation today for Warren Buffet has rightly stated, "It takes 20 years to build a reputation and five minutes to ruin it. If you think about that, you'll do things differently".
Starting a tech business? Build it on a .tech domain!