After finding the right name for your startup, the choice of your pricing model shapes the future of your brand, defines your business and marketing strategy.
Thus, it is a decision that should be made with full attention and seriousness.
When it comes to SaaS startups, freemium and free trial are the two most popular models typically used. Yet, did you know that there are dozens of other options, just as good as those two? 
If you are at the crossroads and can't decide what would be the right pricing model for your startup, we are glad to share some of our observations and first-hand experience with you.
Here is a roundup of the possible SaaS pricing models you can choose from (as well as some of their specifics to consider).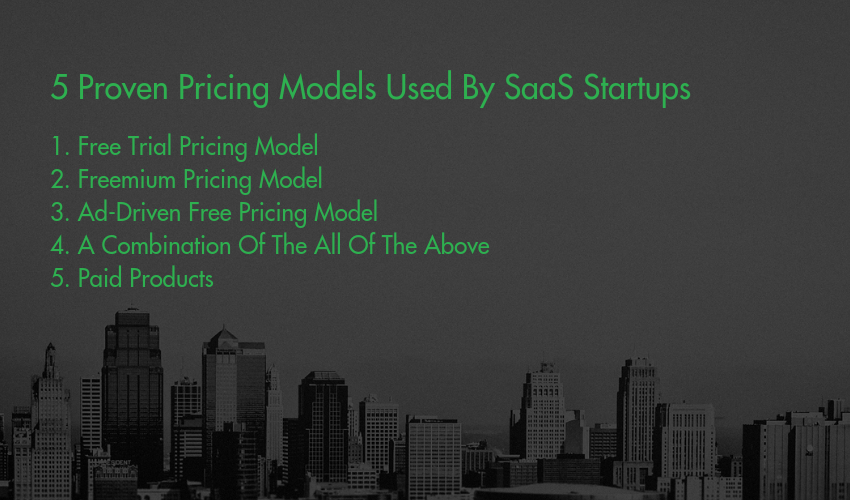 5 Proven Pricing Models Used By SaaS Startups
1. Free Trial Pricing Model
We've all seen those luring buttons inviting us to try the product or service for free. But what is really meant by the free trial offer?
In this financial model, a customer gets to use the full version of your product for free, but only for a limited period of time (usually 7-30 days). And it makes good sense: People love free stuff.
Moreover, it is much easier to make a purchase once they get the taste of what they are paying for.
On the other hand, if your free trial users don't convert into paying customers, it's OK too.
You don't need to spend your resources and time on non-paying customers.
Plus, you already have their emails, so you can further target them in your marketing and convert them later.
There are many examples of SaaS products that offer free trials such as multimedia streaming services, including Netflix and Apple Music, marketing tools, e.g. Intercom, products by Adobe and Atlassian.
2. Freemium Pricing Model
Unlike the free trial approach, the freemium model offers only a limited set of product features for free. The offering also has no time limits. 
How do you make money with freemium, you ask?
You basically sell product upgrades, i.e. full version of the product or additional premium features to the existing users.
Similar to the free trial approach, the freemium pricing model is quite popular among SaaS startups.
You are probably using dozens of freemium products every day without even knowing it.
There are thousands of products that rely on a freemium model:
Cloud storage solutions, e.g. Google Drive, iCloud or Dropbox

Business tools, e.g. Trello, Asana, Slack, InVision 

Marketing products, e.g. Buffer, Hubspot, MailChimp, etc.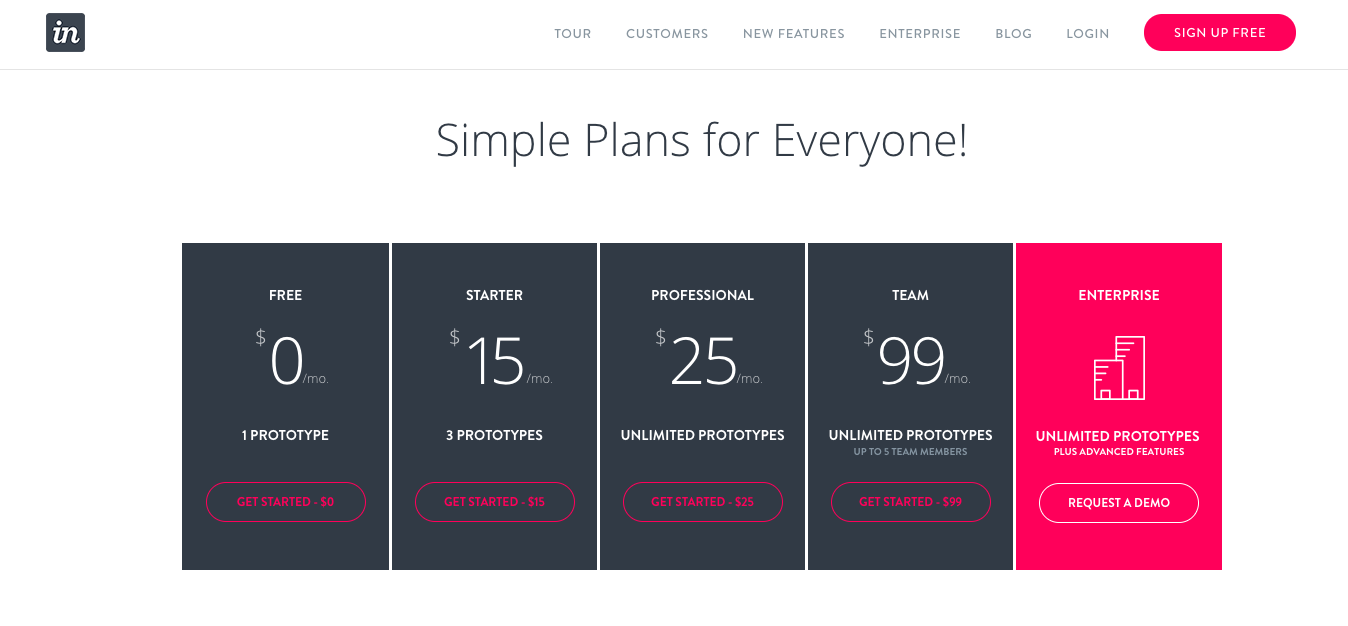 The wide adoption of the freemium model seems well-deserved. It is relatively easy to attract new users with a free of charge product, even with limited functionality.
Doing this also gets you access to a valuable source of feedback and can enable you to utilize word of mouth advertising to attract even more customers.
While user feedback and advertising are undoubtedly valuable, they don't generate any tangible revenue.
So, how do you get your freemium users to pay in the long run?
With only 1-2% of freemium users converting to paying customers, most SaaS startups focus on increasing the number of free users to remain profitable. 
If your base price is $20, you will need 500 paying customers in order to get back at least $1,000 of the amount you invested. With a 2% conversion rate, you need to acquire 25,000 free users first. 
Yet, the $1,000 you get back will barely cover the hosting and storage expenses, let alone the initial development investment and ongoing customer support.
Another pitfall that SaaS startups often face with the freemium pricing model is finding a balance between quality and quantity.
With so many customers on board, even the non-paying ones, it becomes harder to maintain a high quality of customer service. 
In this case, it is important to remember where your revenue comes from.
Focus on your taking care of your customers first and always prioritize their feedback.
Depending on the type of upgrade offered by the paid subscription, the freemium model can have several variations:
Free with in-app purchases
Just like the traditional freemium model, this option allows the users to access the product for free while still offering paid add-ons.
This is the most popular monetization strategies adopted by online games. Yet, SaaS startups can also use it to earn money. 
For example, many messengers like WeChat and Viber sell custom stickers, while being completely free to download and use.
Other products use the in-app currency to both monetize the product and add gamification elements to it.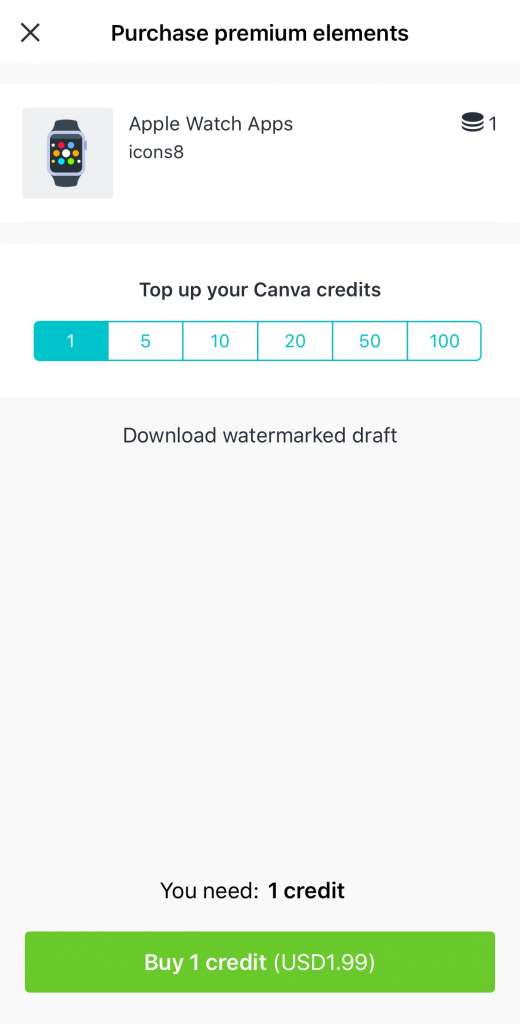 For example, Canva offers premium elements that can be purchased with in-app credits.
Instead of selling in-app credit or extra stuff with a free to use app, some SaaS products offer premium services for a small fee.
These additional features add an extra layer of customization, priority support, etc.
Yet, this model is far less popular because it is usually hard to scale and it works well only with enterprise-level software. 
Plus, you cannot build your product once and monetize it later, as with the rest of the pricing models.
In this case, the development efforts will be ongoing. You will need to develop new features and customize the existing ones for each customer.
All in all, the freemium pricing model works best when:
The product is able to gain traction with a broad audience and attract a large number of users.
It can build loyalty within its audience and make users convert in return for great service. 
3. Ad-Driven Free Pricing Model 
Similar to the free trial and freemium strategies, it allows the users to access the product for free.
Yet, instead of limiting its functionality or time to access the free version, it uses paid ads to monetize the app.
There are multiple examples of such products: Take for example Duolingo, Shazam, Waze. The most used types of ads are video, pop-ups, or banners.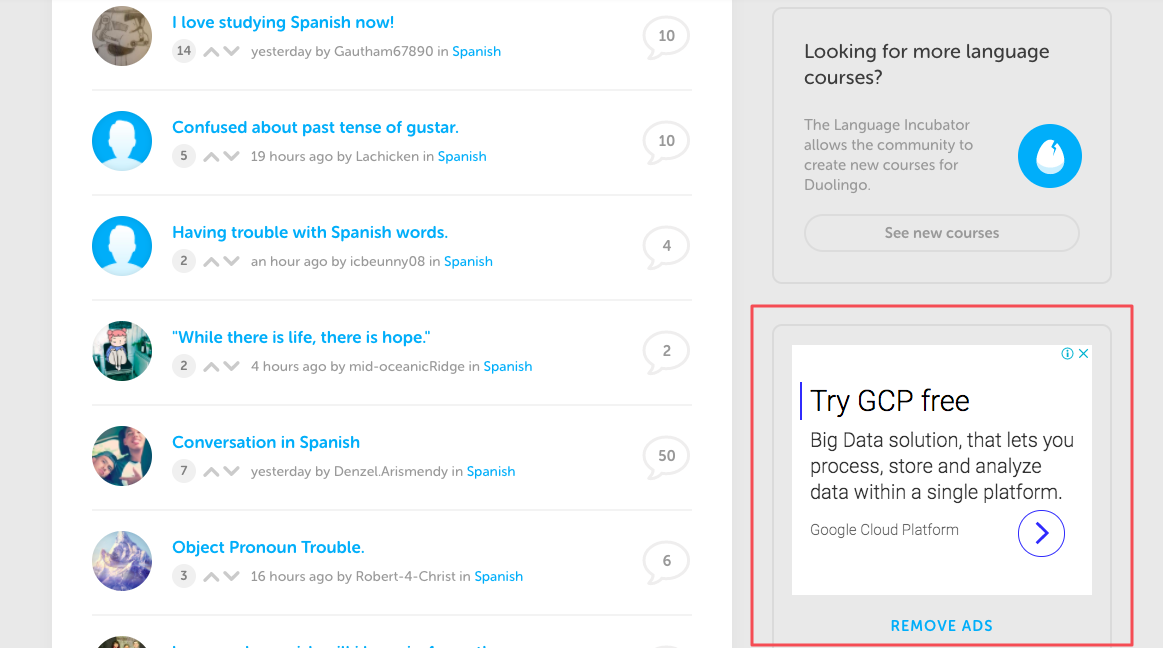 One thing you should take into account for this strategy to work is that you will need to provide stable traffic inflow. Thus, you need to work really hard to promote it and keep the users coming back.
The key to using this model is to not overcrowd your product with ads. They can easily get on the users' nerves and result in higher churn.
Think customer experience first and make sure that the ads don't harm the overall UX and are relevant to your audience's interests.
4. A Combination Of The All Of The Above
Most of the approaches listed above can be used within a single pricing strategy. A free trial can complement the freemium model.
In-app purchases and upgrades can be used in free products to get rid of ads (e.g. YouTube Red).
For example, Skype offers both paid services (in-app credit for used for calls) and shows ads (which you can't seem to get rid of, even when using paid features).
5. Paid Products
Probably the most straightforward strategy, "pay to get started", does just that. 
It forces the user to pay for the product first in order to access and use it.
The model was traditionally used for licensed software that you actually download or purchase and install on your computer.
Thus, it is rarely applied in the world of SaaS startups. 
Some examples include photo editing tools in the likes of Facetune and Afterlight (although there are freemium versions of the apps with in-app purchases available), productivity apps like Airmail, marketing products like Ahrefs offers a paid trial: 7 days for $7.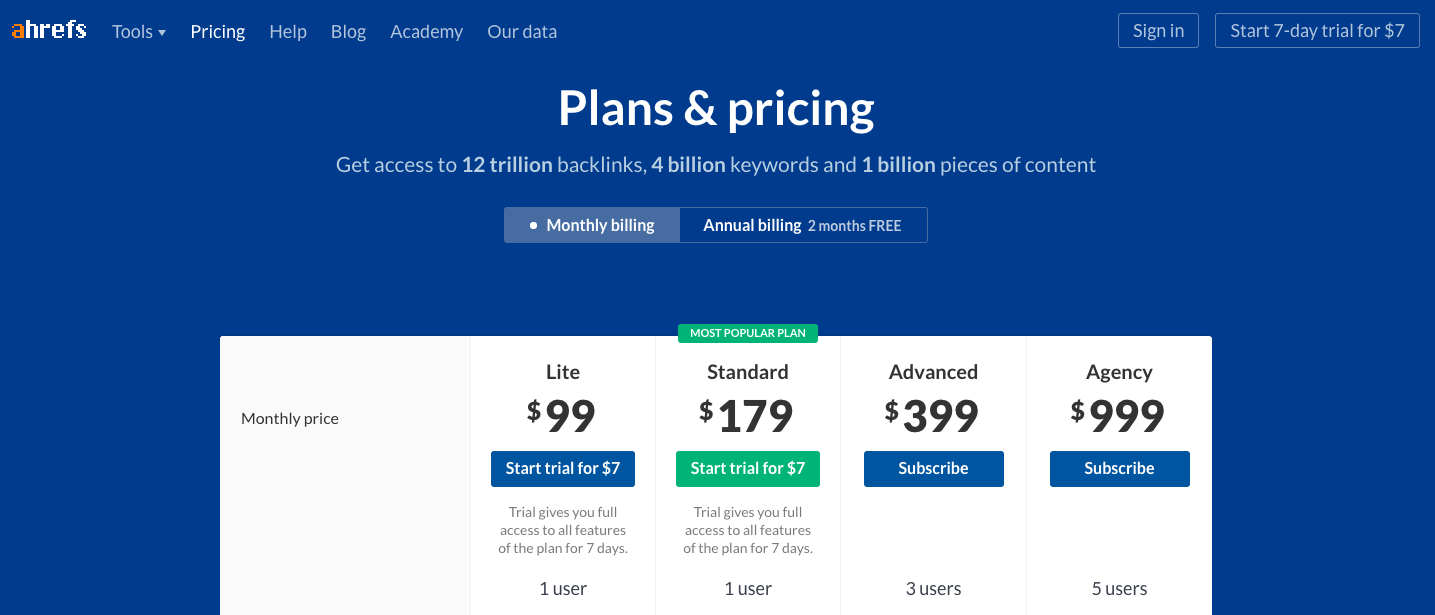 Paid products can charge users in advance or apply a pay-as-you-go pricing model, depending on the type of product.
Similarly, the price can be fixed or depend on the number of services used, the number of users associated with one account, etc.
Freemium vs Free Trial: 4 Questions That Can Help You Make the Right Choice
Only a couple of years ago, we were starting our journey at Chanty, just like thousands of SaaS startups out there do every day.
At that time, one of the most important decisions we needed to make was the choice of the pricing strategy for our business messenger. 
Having spent hours brainstorming ideas, discussing opportunities and researching the market, we eventually closed in on the free trial vs freemium model.
If you can't decide on the right pricing strategy for your product, ask yourself these four questions first.
1. Is there any business value your non-paying users can provide if you go with freemium?
Even non-paying users can sometimes add value to your business.
For example, Dropbox acquired their 4 million users in just over a year thanks to referrals.
The company offered its free users additional storage space if they bring a friend. The strategy was later used by PayPal as well. 
For many startups, simply getting real feedback at an early stage is a valuable contribution. 
So, think about your product. Will you be able to generate traffic by referrals or do you need feedback to finetune your product first?
2. What type of market are you targeting? Is it a B2B or B2C niche? How large is it?
If you are building a B2B product, take into account the size of your market first of all.
Is it a small niche or a competitive mass market you are targeting? In the first case, for example, freemium doesn't really make sense.
You can go with a small trial or even try out the paid approach if your product is really unique and useful. 
Plus, it might be difficult to find the required number of freemium users within a small market. It works best for large B2C or B2B markets.
3. Do you have enough resources to support a freemium model?
As mentioned above, it might be difficult to actually become profitable with the freemium pricing model.
You might have to serve 10,000 non-paying users for every 100 paying ones.
So, do your math and make sure you can support your product at least for some time before you can at least break even.
4. Can your product offer an instant and obvious value to the users or does it need some time to pay back?
If your product can solve the users' pain instantly, go with the free trial option.
If the value is added gradually with time, allow the users to upgrade later with a freemium model. 
Wrapping up
Talking about our product at Chanty, it became clear that freemium is a far better option for us to start with.
We are targeting a quite massive market, thus it would be relatively easy for us to get enough free users.
There is also a pretty good chance that our users would like to invite their friends and colleagues
Furthermore, we believe that the benefits of the freemium pricing model will recoup the expenses in the long run. We are also thinking about switching the pricing model to free trial down the road if it makes more sense.
The story doesn't end here. In fact, choosing the right pricing strategy is only a first step on a long and thorny path to success. We hope the insights we've shared make your path a little less challenging.
Author bio: Olga Mykhoparkina is a Chief Marketing Officer at Chanty a simple AI-powered business messenger and a single notification center. You can follow Olga on Twitter or feel free to connect on LinkedIn. 
Are you starting a Saas Startup? Build it on a .tech domain!