Change is the only constant. And in the business world, organizations need to embrace digital changes and technological advances along with their consumers' needs.
While implementing digital changes may not be a critical part of your business plan, it needs to be taken into account once your business starts growing and expanding.
You need to make your products or services available in real-time, while fixing problems quickly, and responding to concerns at a moment's notice to keep up in a world of constant communication.
It's understandable that change needs to happen, but it's important to respect that change can also bring discomfort.
As you plan and implement a series of much-needed digital changes, use these 4 tips to get even the most worried stakeholders on board.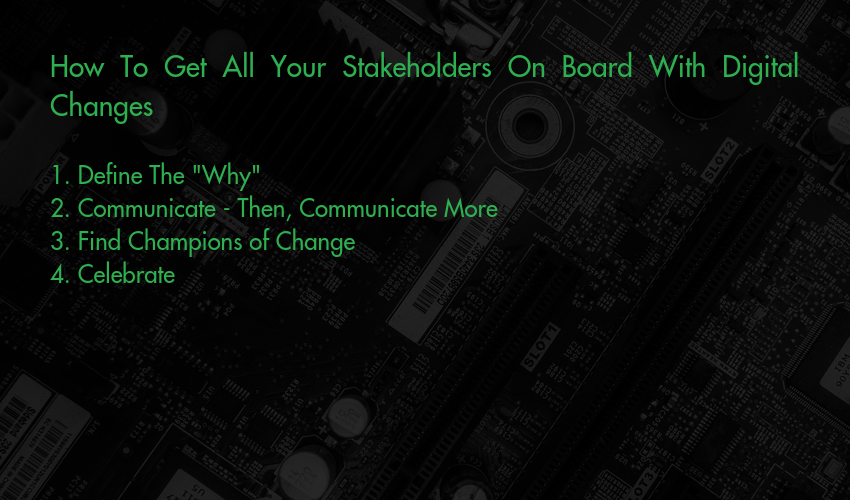 How To Get All Your Stakeholders On Board With Digital Changes
1. Define The "Why"
First and foremost, you need to be able to clearly talk about why this change is taking place.
Your goal is to answer the following questions—Why now? Why us? Why change?—for both your team and other stakeholders within the business, because these very questions are where the discomfort with change comes from.
"Change can make people uncomfortable, but if you take the time to ensure all the important stakeholders know what's happening, understand the 'why' behind it and how it will benefit not only them but more importantly, the end-user or customer, you can ease the discomfort," says Michael Stahl, executive vice president and chief marketing officer of HealthMarkets, a company that has undergone various digital changes to response to consumer health insurance needs.
Remember that your stakeholders include customers, employees, investors and anyone else that can be impacted by the digital changes you are implementing.
Think broadly about what the 'why' might mean to different people and be ready to answer questions as you receive them.
As you develop this why consider both rational and emotional thinking. In their article, "10 Principles of Leading Change Management," authors DeAnne Aguirre and Micah Alpern explain:
"Leaders will often make the case for major change on the sole basis of strategic business objectives such as 'we will enter new markets' or 'we will grow 20 percent a year for the next three years'… they rarely reach people emotionally in a way that ensures genuine commitment to the cause."
You need all stakeholders to get on board, so develop a "why" that relates to everyone's needs and concerns.
2. Communicate—Then, Communicate More
The "why" is the backbone of your communication plan, but that's not going to be enough. You need to have a strategic plan in place, outlining the questions you answered above for all potential stakeholders—like internal memos along with external press releases.
As you put your plan together, remember what Nicole Dorskind, Forbes Council Member, says: "A strategic communications plan will acknowledge that change means different things to different people, such as senior managers vs. front-line staff. What you want them to do and what's going to motivate them will vary."
What's more, this also means you need to consider the timing of communications in your plan. Dorskind continues, "As a result, your messages will need to land at a range of times and in multiple ways to resonate."
Engaging a team of communication and human resources professionals to help design and implement change management is critical.
Not only does this provide a sense of structure for the change(s), but it will also ensure your messaging and communications are effective. A team can also help you develop a deployment plan.
For example, when will you alert staff, and how? Perhaps an all-hands meeting is best for initially sharing the information, followed by 1-on-1 meetings and smaller team meetings.
There will also be notifications to customers and social media followers as needed, along with board members. All of these need to happen at the right time, for the right people.
Dorskind acknowledges this, saying, "Just because you and the leadership team understand it and might be articulating it doesn't mean your people really understand what's happening … Reinforce the message in different communications and through various programs and actions."
3. Find Champions of Change
Not all employees and stakeholders will be afraid of change. Some will be excited, ready to learn, execute and grow the business.
These are your champions of change and the people you want to call up as you prepare to make this digital transformation.
This starts with knowing your team, customers, board members, and other stakeholders, and understanding who would make a good champion.
For example, your top three customers may be ideal for beta testing the changes and then promoting their benefits within their networks.
Conversely, an internal employee champion can be helpful in mitigating doubts among co-workers and leading transformation among teams.
As Dorskind writes, "These people serve as ambassadors for change, cascading and embedding the messages for varying audiences. This ensures that the program is driven by your people, as opposed to being led only by internal communications, and it will come across as more authentic."
Work with team leaders to identify potential champions, both in and out of the company, and bring them into the conversation ahead of time.
As the updates are shared company-wide, your champions will be ready to spread their enthusiasm, helping uncertain employees feel more confident.
4. Celebrate
English novelist Arnold Bennett said, "Any change, even a change for the better, is always accompanied by drawbacks and discomforts."
There's no question big changes will bring some negatives—perhaps positions are eliminated or processes are discontinued, both of which impact roles and teams.
These are the drawbacks any organization would face with any sort of digital changes that are implemented. While acknowledging emotions that can come with those types of changes is important, it is also essential to celebrate the wins.
Build this into your transformation plan. When certain project milestones are hit, celebrate and communicate it.
If there are certain team members who go above and beyond to help make the digital change happen, acknowledge them. Get everyone excited and keep them excited to increase buy-in and engagement over time.
Get Everyone On Board With Digital Changes
Not everyone is going to be as excited as you when announcing the major changes up ahead.
That's why you need a plan for how you'll communicate, what you'll say, and where and when these messages will be shared, both internally and externally.
With change comes great opportunity, but without important stakeholders on board, you'll struggle to make progress.
Don't let this fall to the wayside—make it a priority and plan accordingly. You may just find the transition is even more successful.
Starting a tech business? Build it on a .tech domain!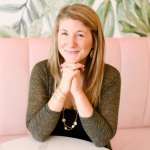 About the author:
Jessica Thiefels is an entrepreneur and founder and CEO of Jessica Thiefels Consulting. Follow her on Twitter @JThiefels and connect on LinkedIn.