Swiftlane was established to accelerate the positive use of AI and technology by building a modern touchless access control system for offices, buildings, and workplaces.
Swiftlane's touchless door access control and video intercom system eliminates the need for manual check-in using key cards and allows authenticated users to simply walk in and out of the secured premises.
This technology is particularly helpful in the post-pandemic world in offices and commercial buildings because it reduces contact with common surfaces such as door handles and keycard readers, allowing people to return to their workplace in a safe manner.
We spoke to CEO, Saurabh Bajaj, and asked him about AI technology, tech startup funding, and his marketing strategy for Swiftlane.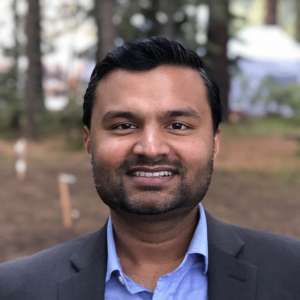 Let's find out what he has to say!
1. How did you start Swiftlane? What was the inspiration behind this business?
My background is primarily in tech companies and the software industry. Previously, I've worked at Facebook, Instagram, and most recently was building out machine learning and computer vision for self-driving cars at Lyft.
I started noticing issues around security, both digital and physical, around 2017 and 2018 – gun violence in the news, crypto scams, security breaches, and ransomware hacks. And on the physical security side, I started seeing a lack of safety and peace of mind. 
At Lyft, we saw that there are people who might be upset as a driver or a passenger, and there's a lack of sense of safety even at the office.
So, I started to think about what the security experience looks like and how I can use my background in building deep tech to solve some of those problems. The rest is history. 
I ended up digging deep into the physical security side of the security experience and knew I had the capacity to incorporate digital security to improve it overall.
2. How did you fund Swiftlane? What funding options did you explore?
Swiftlane is a VC funded company. We are lucky to have a great set of investors including Bloomberg Beta, Caffeinated capital, Scifi VC, and tons of incredible angel investors. 
VC funding makes the most sense for us to develop deep tech and overhaul the physical identity experience for the future. VC funding is not always the right choice, especially if you are looking to develop a lifestyle business or passive income style smaller startup. 
Self-funding might be a better way to give you full independence. For us, we have a very big task ahead of us – our goal is to completely transform the physical identity experience. VC funding can be an accelerant to achieve these large goals at hyper speed.
Startup funding advice from 40+ startup founders including Saurabh Bajaj.
3. What is the core problem that you are solving with your offering?
Simply, we are focused on creating a better building security experience. Right now, the current technological advancements and innovations that have been developed don't align with the most popular solutions on that market. 
Further to that, the most popular players in physical security systems are not suited for smaller operations – for example, a 6 unit multifamily building – or those with a limited budget. 
Our goal is to create the most convenient, frictionless physical security experience that is available and accessible to buildings and businesses of every size. 
That is the main problem we are solving, and with that solves secondary problems like package theft rates, increased tenant retention, peace of mind, etc.  
4. What role does AI play in your video intercom systems?
AI is an important component of our face recognition and video intercom system. It has given us the ability to put security back in the hands of property and facility managers who can then pass greater flexibility on to their tenants and occupants. 
Our video intercom system uses the latest tech trends in cloud management so that remote functionality is easy for admins on the management side and also for access on the tenant/occupant/visitor side. 
AI also plays a big role in our access control solutions. We use facial recognition access control and mobile credentials for access. Face ID has revolutionized how we unlock our iPhones. We want to bring a similar experience to physical spaces. 
Swiftlane's technology provides seamless face access to buildings without having to worry about carrying key cards. 
We put a ton of work into the security and privacy of our systems to provide the highest data safety and security to our customers.
5. How did you introduce your product to the market? What was your go-to marketing strategy?
Swiftlane is sold 100% through channel partners that bring in a full suite of security services to end customers. 
The reason for that is security integrators are already working with customers to solve their biggest challenges and can offer a comprehensive solution to the customers, beyond access control. 
For most startups, a direct sales strategy might be a better fit, this is more suitable for the physical security industry. 
As for marketing, first and foremost, we are in the business of educating about issues surrounding physical security. Education empowers our customers and potential users to make the best decision for their business to be successful. 
This is what we would like to accomplish – setting our users up for the greatest amount of success. And if Swiftlane happens to be the solution to do that, then we are thrilled! 
Our mission is to provide our users with the best product and the highest level of support that we can.
6. How is the current market for tech startups? When is a good time to launch a new tech startup?
There has never been a moment in our lifetime that has offered so many options for someone looking to pursue their own tech startup. 
With that said, if you see a problem and can surround yourself with a great team of people who are passionate about solving that problem and have all the skills to do so, that's your window.
COVID has impacted almost all the startups in a negative way, but also accelerated innovation and funding for new ideas. For us, COVID has accelerated the education and awareness around modern access control systems, and we are seeing a strong adoption from customers to overhaul their current approach to identity in physical spaces. 
VC funding activity is actually very high right now if you have the right team, mission, and product to go ahead and pitch. 
7. What advice would you give budding entrepreneurs who aspire to build their own tech startup?
A few words of advice:
#1 
Every company's journey is different, so seek advice but also be skeptical. There is a lot of bad advice just because every business and vertical can have its own set of challenges.
#2
Talk to end customers, talk to your future customers. Do that as early as possible. Surround yourself with industry experts. Make sure you pay attention to go to market, sales, marketing, along with the product. Don't assume those things. It takes a long time to develop each of those functions. 
#3
Surround yourself with people who are smarter than you. I know quite a bit from my time in the industry, but I can't claim to know everything, and when I don't, I have an amazing team behind me that wants to see us all succeed. 
#4
Market your solution, even more than your product. Become the thought leader in your field and educate your audience. If you are genuinely solving a problem and are giving the end-user the tools they need to solve that problem on their own, you are in a great position.
#5
Be an expert in what else is out there. What are other people in your field doing? What is the next big thing? And most importantly, what do your end-users want that isn't readily available?
8. What are your future plans for Swiftlane?
The COVID-19 pandemic has changed the game for everyone in security. It has shown us the importance of having a security solution that will remain resilient through any situation outside of our control. This goes beyond security and speaks to business continuity overall. 
Our plan is to continue to educate about that need and help as many people as we can to strategize and prepare for the future so that we can eradicate any future disruption in business and peace of mind as it pertains to physical security. 
Building your own AI startup? Build it on a .TECH domain!