Health tech is a result of the two most important industries coming together and working towards finding advanced solutions for the health care sector. Some examples of health tech solutions are applications for doctor appointments, applications to prepare patients for surgical procedures, wearables with sensors, patient monitoring devices, etc.
A vertical of the health tech industry is the Femtech (female technology) industry. As the name suggests, Femtech focuses on software, diagnostics, products, and services that use technology to focus on women's health.
Kegg is a fertility tracking device launched by Lady Technologies Inc. with a vision to implement sensing technology into consumer devices to advance women's health. It is an intuitive device that increases the chances of natural conception by detecting the fertile window and ovulation up to 7 days in advance.
In this interview, Kristina Cahojova, Founder and CEO at Kegg, talks about the Femtech industry, the shocking challenges she faced while marketing Kegg, and her experience as a woman entrepreneur in the tech industry.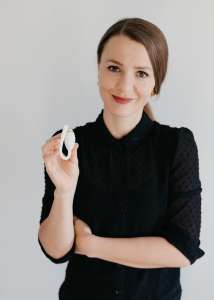 Here's what she has to say!
1. How did you start Lady Technologies Inc.? What inspired you to start a company focused on women's health?
I have always struggled with tracking my fertility; my cycles are irregular due to stress and traveling, so the ovulation tests and temperature methods provide limited information about my ovulation and none about my fertile window. Later, when I refused to "fix my cycles" with hormonal birth control, I was told by a fertility specialist to track my vaginal fluids. I was shocked that there was no technology to help me with that.
So, I completed my training in the Creighton Model and the Sympto-Thermal Method of fertility awareness. These fertility tracking methods rely on the user's ability to observe vaginal fluids to understand reproductive health. Naturally, it left me stressed and anxious as these methods aren't easy to learn.
After 7+ years spent working at Amazon and eBay, I decided to pursue kegg. For decades, we've accepted that our fertility is only good for making babies. In reality, you and I both know better. It is the rhythm of our being and our fifth vital sign.
2. What is the core issue you are addressing with the launch of kegg?
At kegg, we understand that women's fertility is more complex than just a "28-day cycle" and many of us don't ovulate on Day 14. That's because we are cyclical beings.
Kegg is on a mission to empower women to take control of their fertility through body literacy. We are taking the guesswork out of fertility tracking by monitoring the most accurate sign to a woman's fertile window: vaginal fluid.
3. What is your opinion of the Femtech industry and its growth?
The concept of 'digital solutions' for women's health is relatively new and the expression Femtech was coined barely 4 years ago! Females were excluded from research and not included in clinical studies for ages. So, Femtech for me is not just bringing a device to the market but it's empowering women and giving them back their full-body control by leveraging the latest technology.
Femtech is set to become a $50 billion industry by 2025. It deserves more attention as there are many neglected opportunities. We must innovate and continue investing in Femtech to make this happen and we hope to continue to empower women to understand their fertility.
4. What challenges did you face while marketing kegg?
Our marketing team has had some uphill battles since beginning the process of marketing kegg. We had a very successful Indiegogo campaign that led to many women purchasing kegg for the first time.
Once we fulfilled our first round of orders, we started doing a more traditional digital marketing campaign. Some of our ads get rejected by Facebook because Facebook deems kegg as a sex toy.
However, kegg has an amazing marketing team that is working diligently to overcome these hurdles, tweaking our messaging daily, and ultimately getting a kegg in the hands of many women around the USA.
5. What advice would you give budding entrepreneurs in the Femtech industry?
You've got to show, not tell especially if you are a female founder— like most things in life, women have it tougher than men. The same goes for the startup / Femtech industry. Expect certain things can be tougher for female entrepreneurs and you will have to prove yourself every step of the way.
6. What are your plans for kegg in the next 5 years? 
In the next 5 years, our company, Lady Technologies Inc., will continue to innovate in the science of fertility predictions as kegg collects more data from its many many users. We are continually improving our algorithms and app based on users' feedback.
We hope to expand beyond fertility to encompass perimenopause, menopause, postpartum, and more as we collect more data. We are conducting ongoing research and studies to be able to always improve our product and to finally close the data gap about cervical fluid.
For kegg itself, we have plans to enhance its sensing capabilities and expand our partnerships in the fertility field.
7. What made you choose .TECH for kegg's website?
Since all .com domains for 4 letter words are already sold out we were looking for some alternative and we decided .TECH is a great one because we are a technology company and it represents us.
Building a Femtech startup? Build it on a .TECH domain!