Since the onset of Covid-19, IT leaders have been critical in helping businesses weather the onslaught of challenges and complexities that the pandemic has brought with it.
The roles of CIOs & CTOs have been elevated from managing technology as a support function to driving strategy to fortify operations and adapt to new shifts that are imperative for survival. 
And while this newfound spotlight has given them more prominence, it's also ratcheted up the pressure incalculably on these IT leaders who find themselves shouldering more responsibility than ever before. Of course, this means that the teams under these technology stewards have grown in importance as well.
Yet, while their leaders have seen their roles upgraded, the vast majority of these employees are living with more ambiguity about their position within an organization than ever before.
Reeling from massive bouts of layoffs and other disruptions from the crisis, tech workers are fleeing cities for more affordability and security. And with 43% of IT leaders saying that they plan to make layoffs in the next three to six months, this cohort faces even more uncertainty ahead.
With all of this as a backdrop, the team at .Tech Domains, the leading top-level domain name for the tech ecosystem, commissioned the .Tech IT Leader Study in December.
Specifically, we surveyed 350 U.S.-based IT leaders in CIO & CTO roles to see how the Covid-19 crisis has impacted them and their teams, as well as the decisions they will be making in the coming months to keep their organizations on the road towards recovery.
49% of IT Leaders Want Teams in the Office Full Time After a Vaccine 
As we find ourselves just weeks away from 2021, 33% of US employees are still working remotely, with those in tech operating in WFH environments at an even greater rate.
In fact, an August survey found that 61% of tech workers were working fully remote. Remote work has been a challenge for everyone involved, especially those in IT, where much of the job centers around access to the right technology and solutions.
It's not surprising, then, that 79% of IT leaders say that Covid-19 has created a digital divide amongst employees.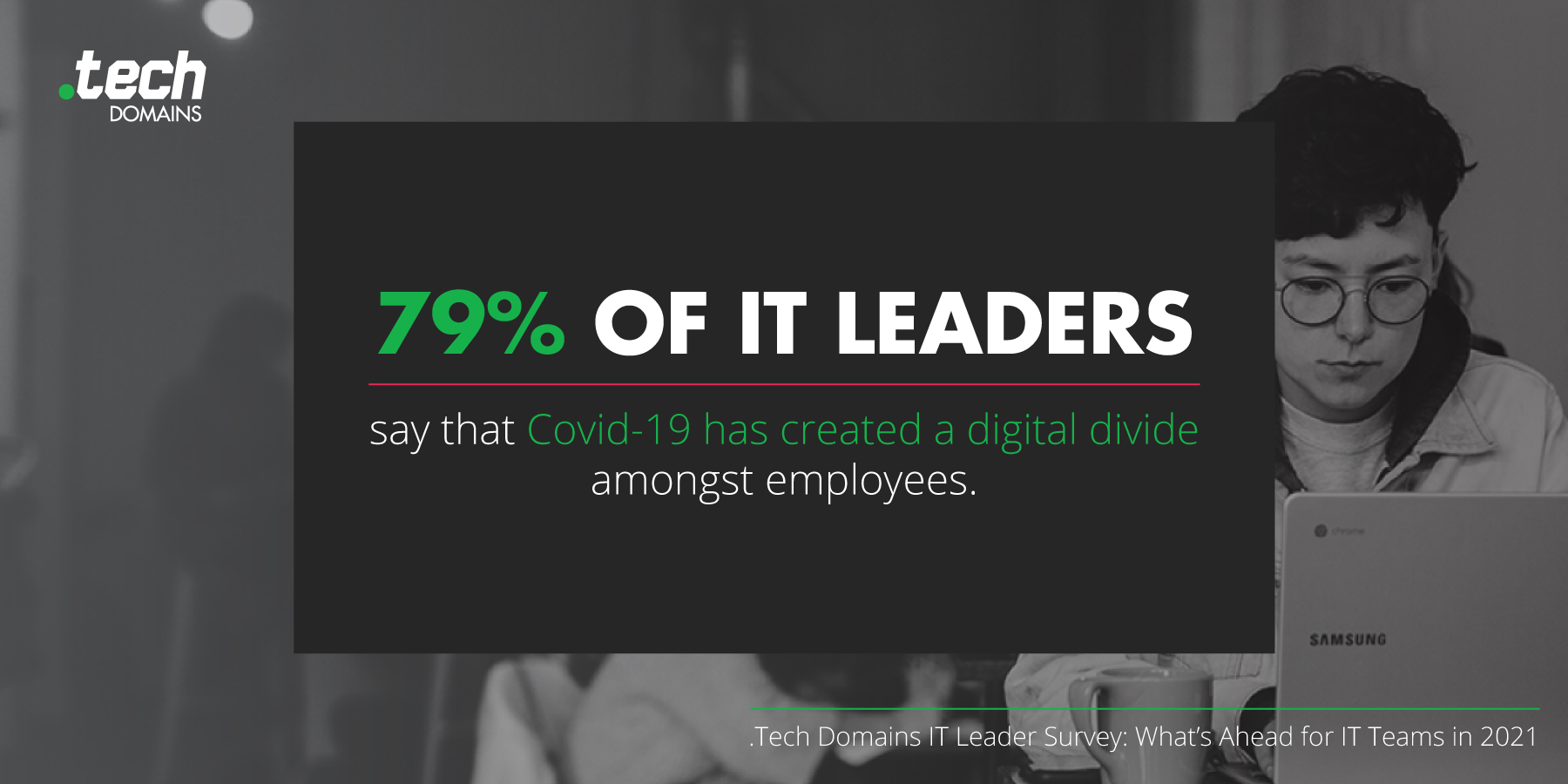 Perhaps this is the reason why a somewhat surprising 49% of respondents also report that they would prefer their employees to come into the office full time once a Covid-19 vaccine is in place.
While many have argued that remote environments elicit greater productivity as distractions such as commuting and unnecessary meetings have been eliminated, it appears that this may not actually be the case for those in IT.
In fact, 47% of CIOs & CTOs say that they have had to fire an employee due to lack of performance and productivity in WFH or remote environments.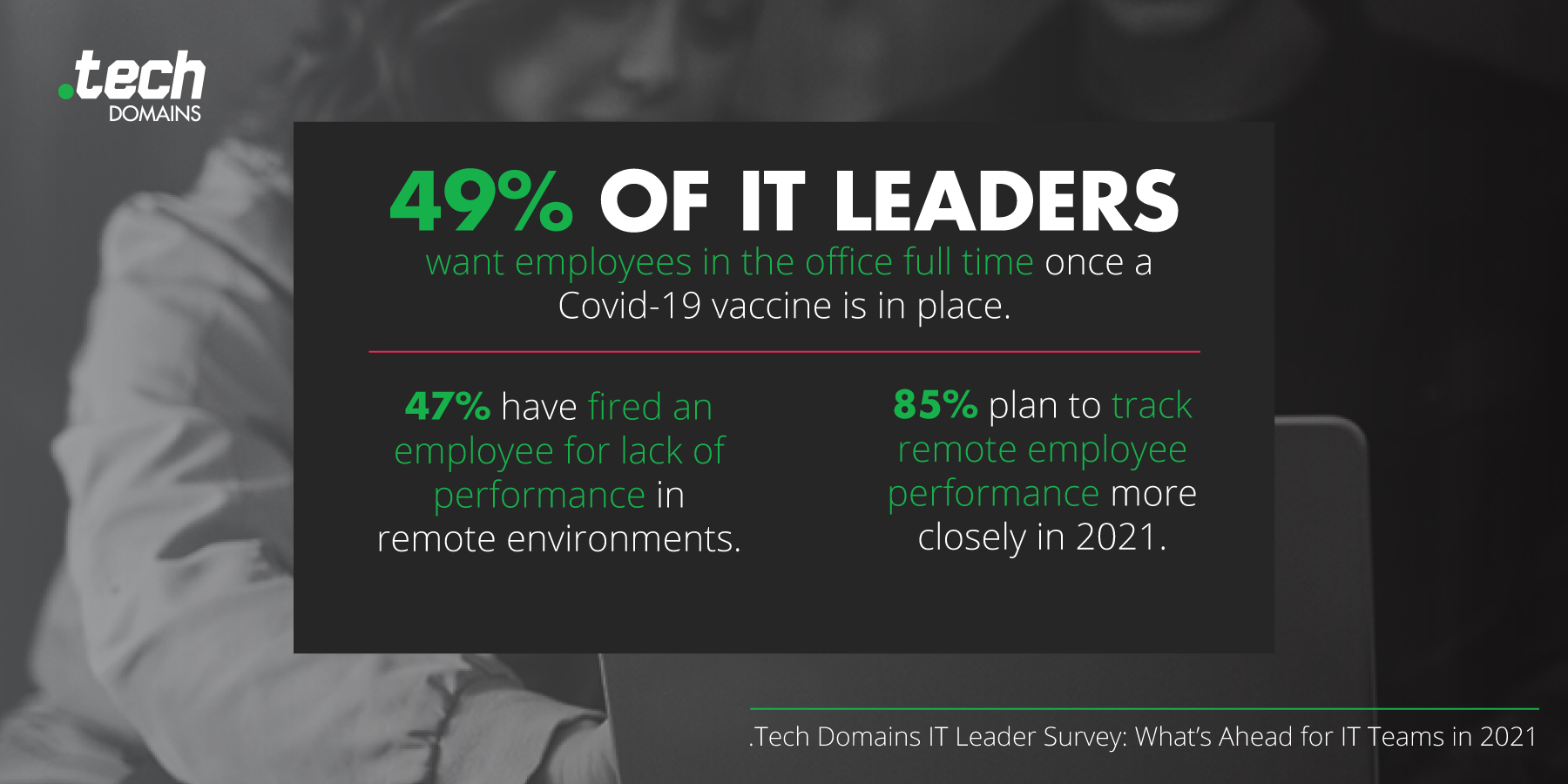 With the performance of their team having much greater implications for their organizations, it appears that IT leaders aren't accepting of the lag that remote environments are creating for some employees.
To combat this, the vast majority plan to take a proactive stance on monitoring their distributed workforce more closely in 2021.
An overwhelming 85% of leaders we surveyed said that they "plan to track employee productivity/performance (when working remotely) more closely in 2021."
In the coming months, it will be interesting to see how these leaders manage this preference for having teams centralized in the office, as well as the adoption of virtual micro-managing strategies in an attempt to maximize productivity.
While it's hard to argue against the rationale behind these approaches, there's no doubt that they will be the cause of friction between teams operating in already stressful situations.
91% of Managers Have Plans to Increase Diversity in 2021 As Engagement Wanes 
While the IT team has never been so directly tied to an organization's overall success, it has also never been as disconnected.
42% of IT leaders say that their team is less engaged since the onset of Covid-19, with only 16% responding that team engagement seems to be at a similar level to what it was pre-pandemic.
While there are many factors that determine a team's level of engagement, it's long since been known that diversity has a significant impact.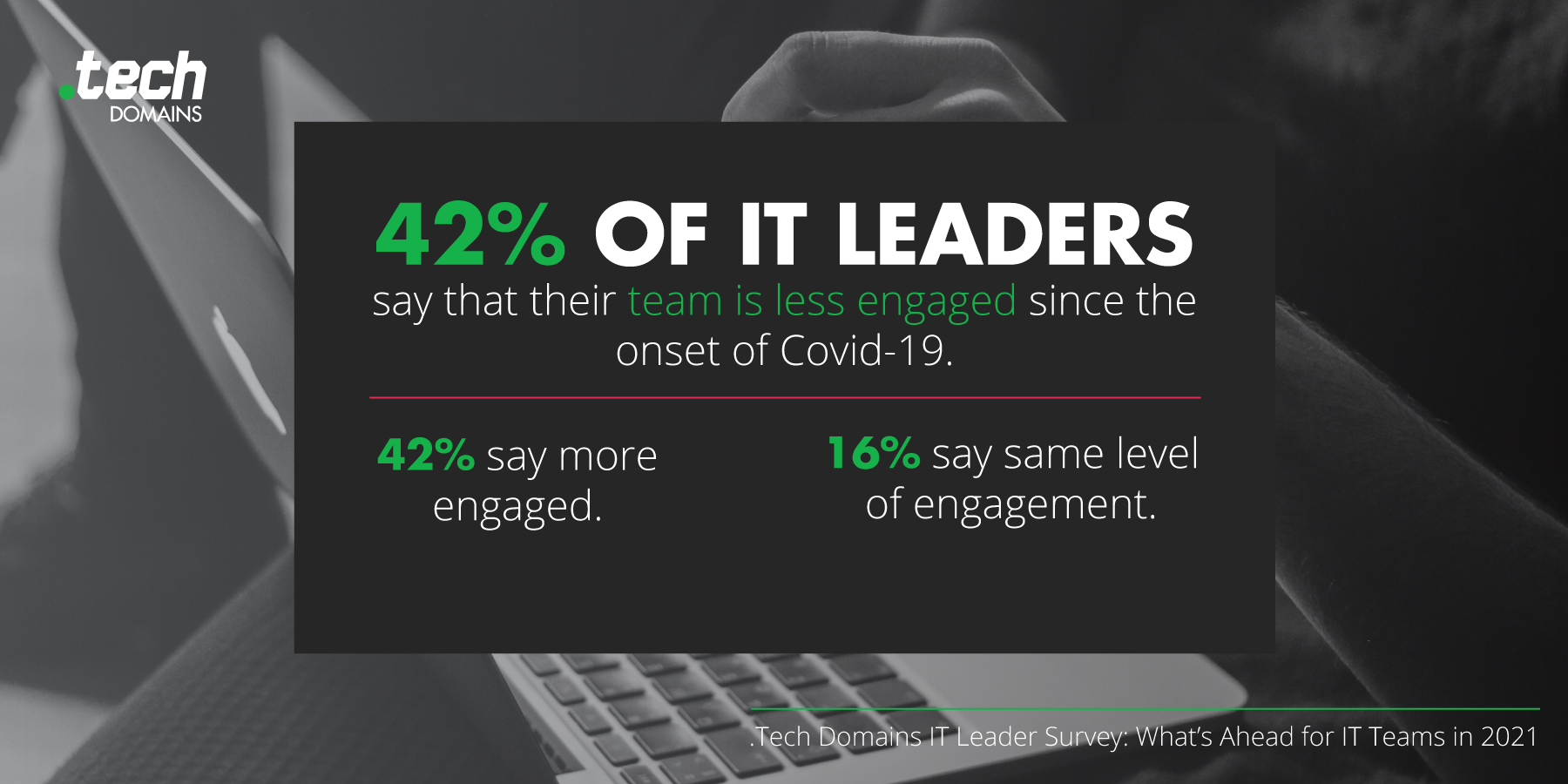 And while diversity and inclusion have been oft-talked about subjects in tech circles as studies continue to magnify the disparities that exist in the technology workplace, the crisis seems to have added a welcomed degree of urgency for organizations to take action.
91% of IT leaders say that they are placing an increased focus on diversity and inclusion heading into 2021, with measures such as expanding diversity and inclusion programs (47%), focusing on diversity in the recruitment and hiring process (52%), and increased training for managers (35%).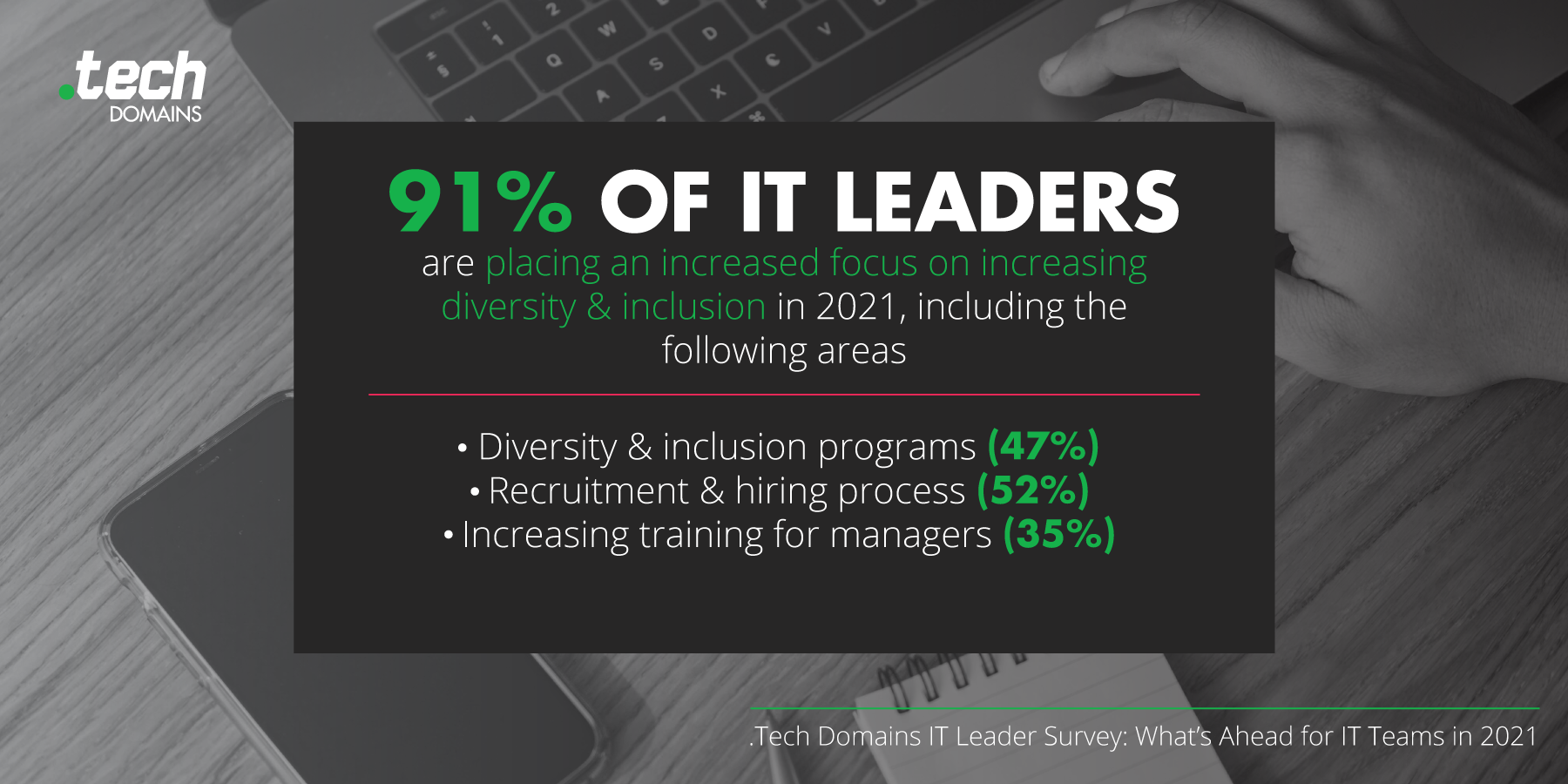 With society examining its stance on social equality, and organizations seeing a drop in engagement, it seems that IT leaders are ready to take the necessary steps to increase diversity — not just as a moral imperative — but as a way to ensure that they are building stronger teams.
Research continues to show that a diverse workforce leads to new ideas, increasing an organization's capacity for innovation, and building resilience to allow it to better survive a challenging market.
45% of IT Leaders Say They Need to Improve Their Management Skills 
While making their teams more diverse will surely help IT departments increase engagement, as we embark on what's likely to be many more months of at least partial remote work, IT leaders are also having to reassess other areas.
This includes the need to look within and assess one's ability to successfully manage remote and dispersed teams.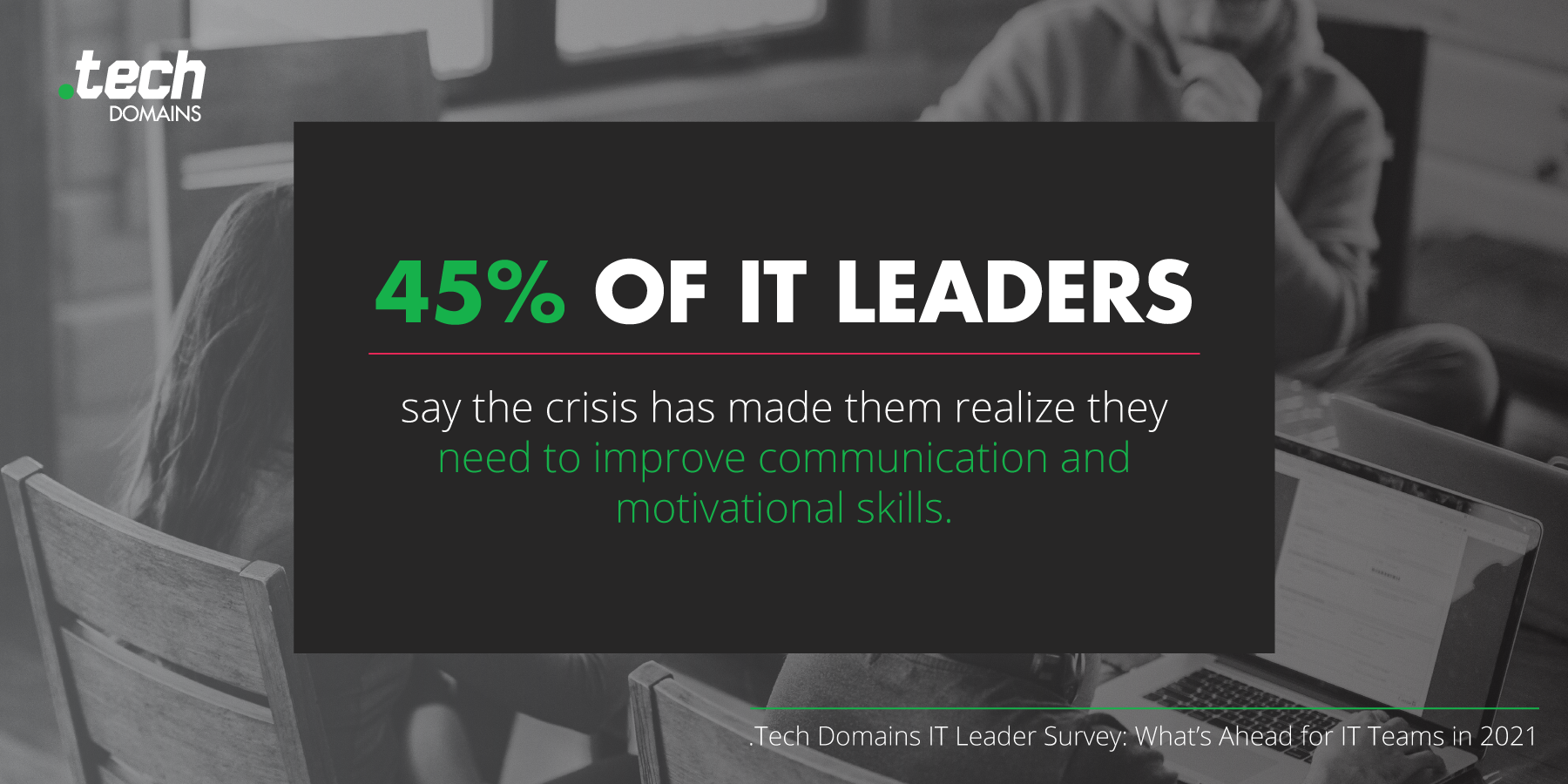 While a lack of leadership qualities and communication skills could be partially absorbed by the rest of the team in normal environments pre-Covid, the addition of remote work has made it impossible to overlook these shortcomings.
As such, nearly half (45%) of IT leaders we surveyed said that the crisis has "made me realize I need to improve how I communicate with and motivate my team." 
CIOs and CTOs are also rethinking the type of hires they are making as Covid has increased the importance of new skills and attributes. Surprisingly, when asked to rank the most important hiring criteria in a Covid/post-Covid world, "people/communication skills" took the top spot, followed by "technical skills", "experience", "degrees", and lastly, "cultural fit".
Typically not known for their communication prowess, tech workers will need to cultivate new skills in order to be successful in a post-pandemic world.
Interestingly, these responses come at a time when many are questioning the relevance of degrees when it comes to job opportunities and income mobility.
Top Fears Entering 2021
When asked to choose their biggest fear headed into 2021, there was a three-way tie between "Being victimized by cyberattacks due to vulnerabilities caused by remote work and WFH environments" (21%), "Lack of support from leadership that prevents my ability to help my organization adapt to shifts brought on by Covid-19" (21%) and the "Inability to retain top talent due to challenges brought on by Covid-19" (21%).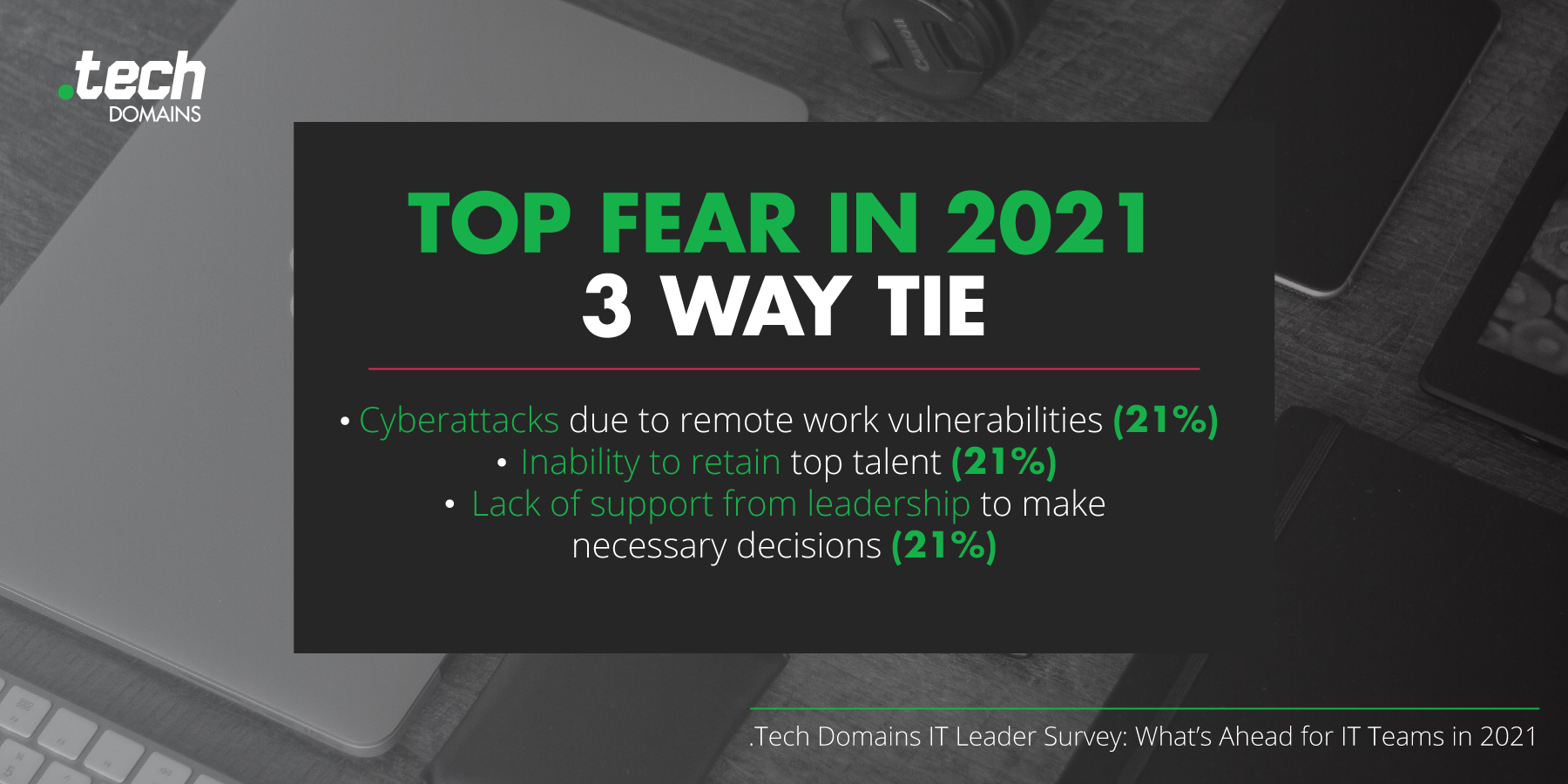 With the meteoric spikes in cyberattacks and fraud taking place as a result of the confusion and chaos the crisis has caused, pervasive skills gaps, and an exodus of tech workers from the country's biggest hubs, it's not surprising that security threats and the ability to retain talent are keeping leaders up at night. 
However, given their increased importance within an organization, it's interesting that more than 1-in-5 of those we surveyed said that their top fear is a lack of support from leadership.
This also coincides with the fact that 30% of respondents replied "not sure" when asked if they believe they will be given the ample budget needed to invest in their growth plans — with an additional 18% saying "no".
With Gartner projecting that IT spending will only rise 4% — from $3.6 trillion in 2020 to $3.8 trillion in 2021 — it's possible that this fear may become a reality for many.
Looking Ahead
IT leaders have been thrust into the spotlight as the pandemic has accelerated the urgency to digitize operations and create experiences for customers and employees that align with the widespread shifts that have taken place.
Because of this, CIOs, CTOs, and others at the decision-making level have unprecedented levels of pressure and opportunity. 
Opportunities can only be seized with an engaged and cohesive workforce. IT leaders know this, which is why nearly 1-in-4 say that delivering a high-quality employee experience is more important to their organization's recovery/continued momentum in 2021 than delivering a high-quality customer experience.
If there is one takeaway from this study, it's the fact that there will undoubtedly be continued change for IT teams in 2021.
While CIOs & CTOs were successful in 2020 for their ability to leverage technology to digitize operations, these adaptations have had unintended consequences on their teams.
In 2021, IT leaders must balance their use of technology in an effort to build a road towards recovery with a human-centered approach to bridge the gaps that exist within their teams.