The world of technology is driven by profound ideas and innovative solutions. To add a layer of progression and balance to the tech community, Django Girls is an international non-profit organization and a community that empowers and helps women to organize free, one-day programming workshops by providing tools, resources, and support.
Anna Makarudze, the Fundraising Coordinator at Django Girls Foundation, talks about the inspiration behind starting Django Girls and how they have empowered women from all over the globe to pursue a promising career in tech. Read on!
What inspired the creation of Django Girls?
Django Girls was born from the feeling of frustration that the tech scene and Django community was not a diverse place. We were super keen to invite more people, especially women, to join the community and fight the stereotype that you don't need to start early or have some magic powers to be a successful developer.
We discovered that many women were discouraged to pursue a career in STEM (Science, technology, engineering, and mathematics) in the early stages of their education or career. We really wanted to give people a good opportunity to learn and try programming in a safe, friendly environment, regardless of their age, occupation, and knowledge about computers.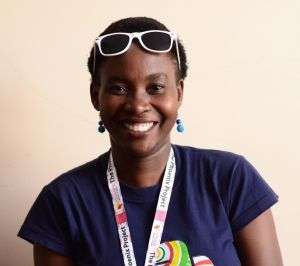 What are some of the most amazing stories of women at Django Girls?
We have so many amazing stories. These include women being motivated to moving towards a career in tech, becoming developers after newly learning to code in our workshops and being convinced that coding is also for them.
We have so many women who have become role models in their respective tech communities and have gained the confidence to organize, attend and speak at tech conferences. We share many of these stories in our Django Girls blog and in our Django Badass Ladies series.
What are the biggest challenges that you face in organizing events and workshops?
Some of the most common challenges that our volunteers face have to do with finding enough sponsorship to cover event costs as well as finding coaches to help mentor the girls.
Some of our volunteers from marginalized communities have trouble finding enough girls with laptops to attend their events. Other organizers get a huge number of applications when they have limited places while others struggle to get enough applications for their events.
We also have volunteers who face resistance from communities emanating from the name of the programming language being taught. For instance, in case of Python, many communities associate the python snake with witchcraft and occultism.
Basically, the challenges faced with running workshops are very diverse given the diverse backgrounds of our organizers.
Samedi 21 avril 2018 @ Campus CESI Bordeaux
How is it that you have been able to reach 87 countries so far? Tell us all about it.
Django Girls is mainly volunteer-run and since it started in Berlin on the 21st July 2014; it rapidly spread to many countries through other volunteers stepping up to organize events in their own countries. What we have managed to do as a foundation is to provide the resources that our volunteers need to organize their own events in their cities.
The resources include a website and email address for each city, online tutorial, coaches' manual and organizer manual. The foundation takes care of the costs of maintaining these resources and our volunteers then get to organize events that have a website and email address at no cost to them.
All the volunteers have to worry about is the venue, food, t-shirts, swag, advertising and sometimes financial support costs for their event.
What is your message to girls who wish to make a foray into programming?
One of our major beliefs as Django Girls that drives us in the work that we do is that technology is for everyone and therefore everyone should be able to build it, and that also includes girls. We also highlight and promote the work of other female programmers to promote the message that girls can code.
So, our message to all girls who wish to make a foray into programming is that programming is for girls too and girls can also make it in the programming field just like men. While programming isn't easy, it isn't difficult either and anyone who is determined to be a programmer can make it in the field, even if they are girls.
There are women all over the globe wishing to mentor and be role models to girls who wish to pursue programming career and girls interested in programming should take advantage of this.
Thanks to all our amazing supporters we've hit our fundraising goal of £10,000!
If you didn't have chance to donate, you can still support our work for just two more days!#codewithkindness #bekind https://t.co/25Hw6YYqJ5 pic.twitter.com/xuIkldOTRh

— Django Girls (@djangogirls) March 27, 2018
Share with us one key learning about running a non-profit organization.
When we started, we mainly relied on volunteers to vet prospective events, deploy event websites and set up event email addresses. By 2015, the number of event requests grew so much that we couldn't only rely on our volunteers to help alone.
The most important lesson we learned from this experience was the need to have at least some paid staff members to carry out most of the key duties of a non-profit organization and therefore began looking for the best-hired help within the Django Girls community. This was crucial to ensure good turnaround times and to help the organization function smoothly.
'Starting a new all-women powered technology business?  Get on a .TECH domain!