It's no secret that there's a diversity issue in tech. Everywhere you look, from the top companies in Silicon Valley to the allocation of venture funding to women-led startups, there's an underrepresentation of diverse racial groups and genders. And while the discussion of diversity and inclusion continues to heat up as study after study continues to magnify the disparities that exist, it's clear that we still have a long way to go before actually solving the problem.
In fact, according to the U.S. Equal Opportunity Commission Bureau, Black, Hispanic, and Indigenous people account for just 16% of the tech population, with Asian workers representing another 14%. And as if these statistics weren't dismaying enough, of the 25% of women working in computing-related jobs in the U.S, just 6% of these jobs are held by Asian women, 3% are held by Black women, and 2% are held by Hispanic women.
Aside from the basic moral and humanitarian reasons, companies have a massive incentive to increase diversity inside their organizations. Studies from McKinsey & Company show that companies in the top quartile for gender or racial and ethnic diversity are "more likely to have financial returns above their national industry medians."
With plenty of reasons to diversify the makeup of their organizations, the active reprioritization of corporate strategies aimed at doing just that, and the collective power of societal movements blowing the winds of equality across the country, one would expect to see positive change accelerating at a rapid pace. However, when you dive deeper into the experience of today's tech workers, it becomes clear that in order to grow a more diverse workforce, the roots of this deep problem must be addressed first.
To look at where some of these barriers to change are stemming from, the team at .Tech Domains commissioned a survey in May to nearly 550 tech workers living in the US. Here's what we found:
Lingering Workplace Bias Stifles Progress
The tech industry has long since been accused of favoring white male employees and discriminating against all others. This isn't a new issue, but it still exists. Take crypto behemoth Coinbase, for example, which was recently called out for how it has mistreated its minority and women employees. Despite more and more U.S. companies banding together in a vow to fight racism, these instances of discrimination are unfortunately still widespread.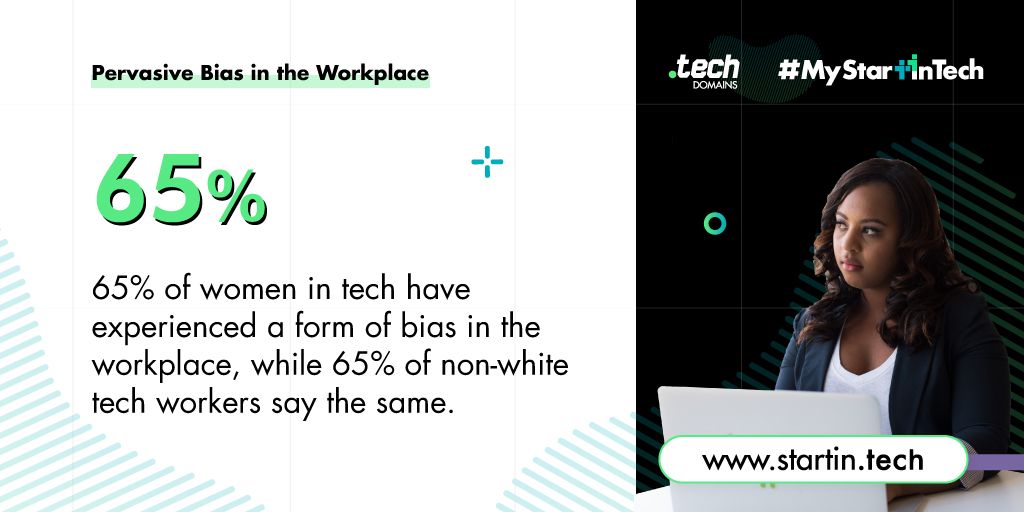 But this isn't just a problem inside tech titans today. Our study found that bias is an extremely prevalent issue across the entire tech worker experience. In fact, 65% of women working in the technology industry reported that they have experienced a form of bias in the workplace, while an additional 65% of non-white tech workers say the same. This inherent bias has made its way into offices across the nation with one report finding that women in tech were nearly twice as likely as men to have lost their jobs or been furloughed due to the pandemic.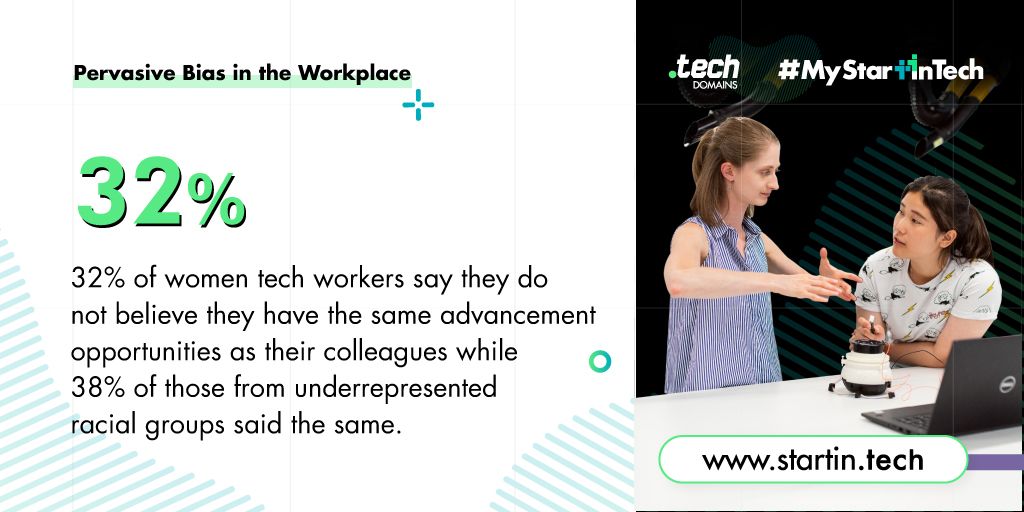 Additionally, just under a third of women (32%) say they do not believe they have the same advancement opportunities as their colleagues at the same level, while 38% of tech workers from underrepresented racial groups said they do not believe they have the same advancement opportunities. To put that into perspective, only 22% of white males said the same. While unwinding the many layers that lead to this type of bias takes time, there's no doubt that there are more immediate steps that can be taken — starting at the top.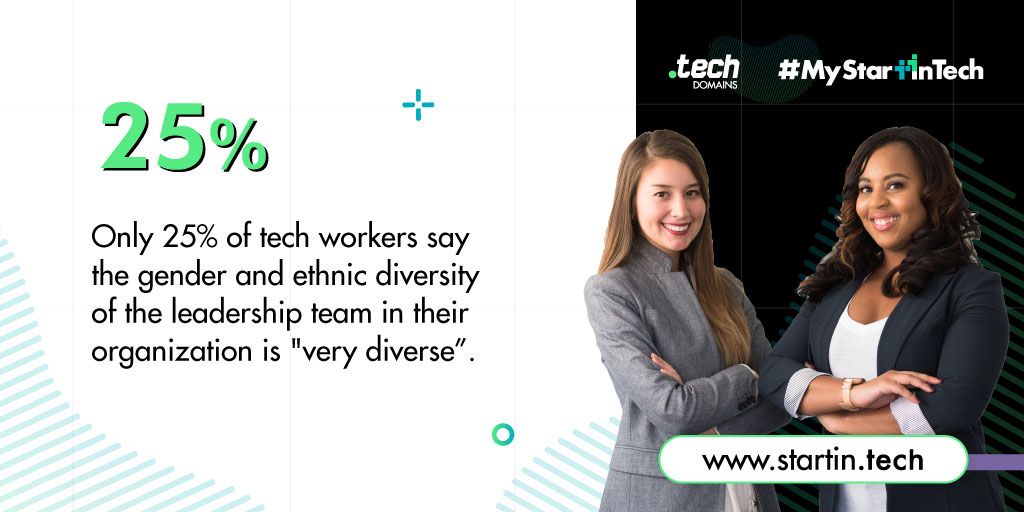 It's absolutely crucial that organizations diversify the makeup of their leadership teams to ensure that they are representative of the entire workforce and in touch with their beliefs and values. However,  we found that only one quarter (25%) of all tech workers classified the gender and ethnic diversity of the leadership team within their organization as "very diverse". Looking deeper, 29% of tech workers say that when it comes to gender, their leadership team is "not diverse at all", with an additional 45% saying it is only "somewhat" diverse. Similarly, for racial & ethnic diversity of leadership within organizations, 29% of respondents reported that their leadership team is "not diverse at all", with an additional 46% saying they are only "somewhat" diverse.
The above is very much in line with external industry studies, in particular McKinsey research that found that in the five years between 2015 and 2020, the representation of women in senior vice president positions grew from 23% to just 28%, and representation in the C-suite grew to just 21% from 17%. 
In a Year of Social Movement, Are Companies Turning Words into Action?
Late last year, another .Tech Domains study found that 91% of IT leaders said that they are placing an increased focus on diversity and inclusion heading into 2021, with measures such as expanding diversity and inclusion programs (47%), focusing on diversity in the recruitment and hiring process (52%), and increased training for managers (35%).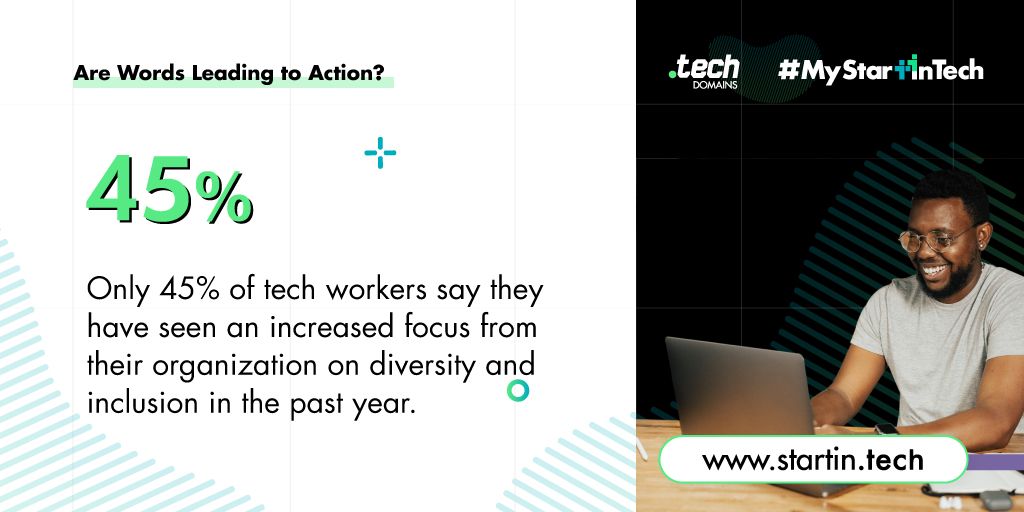 However, six months into 2021 and only 45% of our tech worker respondents say they have seen an increased focus on diversity and inclusion within their teams. Further, 55% of respondents said they are only "somewhat" satisfied with their company's diversity and inclusion efforts, citing that "they have made efforts, but believe they could be doing more. Perhaps, unsurprisingly, 65% of those from underrepresented racial groups say that they believe their organization "could be doing more".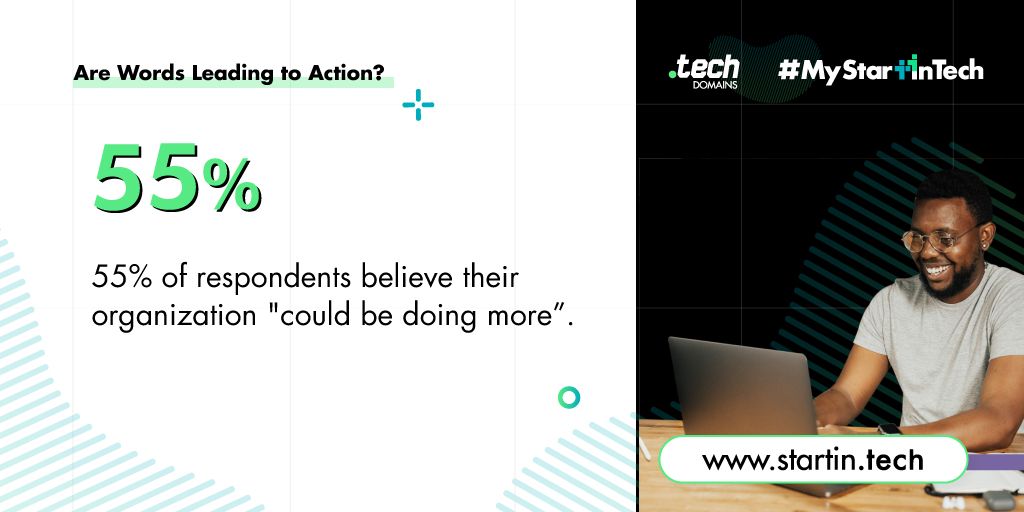 With the previously mentioned .Tech study also finding that Covid has created a lack of engagement amongst tech teams, the perceived lack of initiative to increase diversity and inclusion risks catalyzing an exodus by underrepresented groups already facing increased burnout from remote work and other pressures. In fact, studies have found that one in four women are contemplating downshifting their careers or leaving the workforce completely.
Companies are increasingly speaking out against societal injustices. And while this show of support is welcome, with recent research noting that companies that showed their support in the wake of the George Floyd murders had 20% fewer Black employees on average than those that didn't, one can only think that there needs to be more action taken. 
Finding the Root of the Problem
While it's crucial to focus on the challenges facing today's tech workers in the workplace today, it's equally important to understand the issues that come into play well before someone begins their tech career. There's a massive gap that exists when it comes to STEM curriculum in the classroom today. 
The rapid digital acceleration washing over the globe has ratcheted up the importance of things like the computer science curriculum and overall STEM education. To put it simply, the jobs of tomorrow will be digital and today's youth must receive the proper training to foster their interest in tech to fill those jobs.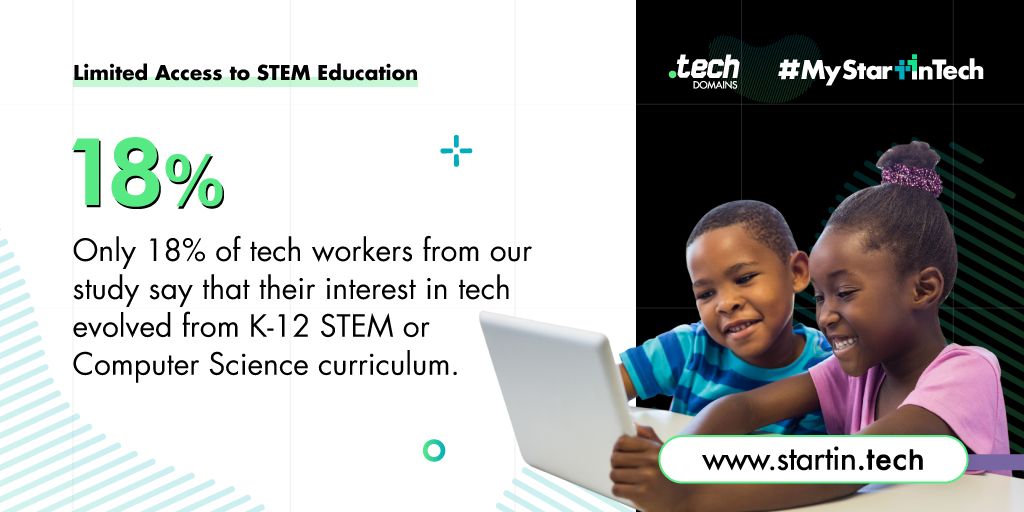 Only 18% of tech workers from our study said that their interest in technology evolved from K-12 STEM or Computer Science curriculum. And when you look deeper you can see there's even less access to this type of education for those from underrepresented racial backgrounds. Only 16% from underrepresented racial groups said that their interest in tech evolved from a K-12 STEM curriculum, vs 22% of white workers who said the same.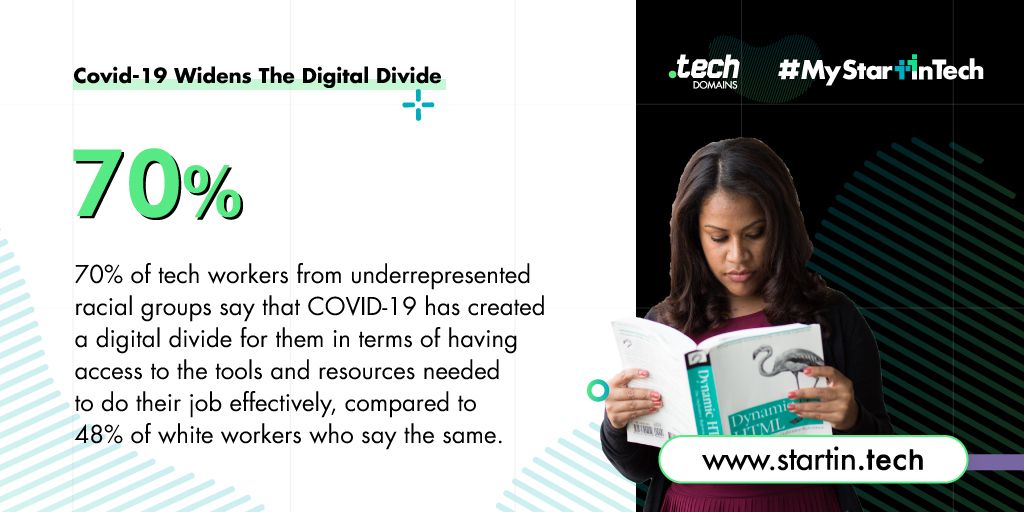 And it seems the pandemic has exacerbated this digital divide. 70% of tech workers from underrepresented racial groups say that they believe COVID-19 has created a digital divide for them in terms of having access to the tools and resources needed (WiFi, personal computers, devices, etc.) to do their job effectively. This is compared to 48% of white workers who say the same. In fact, this is in line with recent CODE.org data that found this gap also increasing amongst young women and underrepresented  groups in the classroom in the following ways:
Race

: 8% widened gap since the onset of Covid-19 between students from schools with larger populations of underrepresented racial/ethnic groups vs not

Income:

10% widened gap since the onset of Covid-19 between students from schools with larger populations of students on free-and-reduced meal plans vs not

Geography:

14% widened gap since the onset of Covid-19 between students from rural communities vs urban or suburban
Conclusion
While the past year has highlighted just how critical the technology sector is, it has also illuminated the problems that exist when it comes to diversity, inclusion, and equality. And while much has been written about these disparities and the need for tech companies to increase diversity within their workforce, less has been said about the impact of education on this unfortunately persistent problem. 
It's safe to say that as long as there is unequal access to computer science and STEM education in classrooms across the U.S., the tech sector will struggle to solve the issues that exist. After all, significant opportunities lie within these subjects for students, graduates, and professionals, with data from the  U.S. Department of Labor Bureau of Labor Statistics (BLS) predicting that the computer and information technology field will grow by 13% by 2026 — faster than the average growth rate of all occupations. The digital skills gap, however, means many of these jobs are going unfilled. 
With this in mind, it's crystal clear just how vital equal access to this type of education is. Although Code.org data shows that 67% of all new STEM jobs are in computing, the majority of U.S. high schools don't teach computer science and just 11% of STEM bachelor's degrees are in computer science. 
The good news is that more and more companies are banding together to help solve the issue. .Tech Domains, for example, has partnered with several domain industry leaders like GoDaddy Pro, Domain.com, and Namecheap to help close this gap in an effort to ensure a more diverse tech ecosystem in the future. The campaign, which will see us donate 100% of sales proceeds for every standard one-year .Tech domain registered through the participating partners to Code.org, is built around the theme of #MyStartinTech and allows anyone to get involved to show their support and increase awareness for these important issues.

It's vital that we continue to build awareness around the gaps that exist when it comes to access to computer science and STEM in schools with large populations of students from underrepresented and minority backgrounds. As we've already stated, COVID-19 has significantly exacerbated the issue. But the truth is, with the pandemic creating a surge in technological innovations, it has perhaps opened the door for even greater opportunities for students, graduates, and professionals from all backgrounds to create long-lasting careers in a sector with incredible growth promise.