To put it simply, startup accelerators are a startup's best friend. Startup accelerators help to fuel your business acumen and fight startup challenges by providing mentorship, support, education, and more.
Although startup accelerators are great, they aren't right for everyone. These programs can be quite competitive and exhaustive.
And it is this aspect that has transformed the young businesses into global, revolutionary companies (think Dropbox and Airbnb).
This guide explains what startup accelerators are and if they are the right choice for your business.
What Are Startup Accelerators?
Startup accelerators are vigorous two to three-month programs for established startups (those with a settled team, well-defined customer profiles, and a minimum viable product) to accelerate the progress of their business.
According to TechTarget: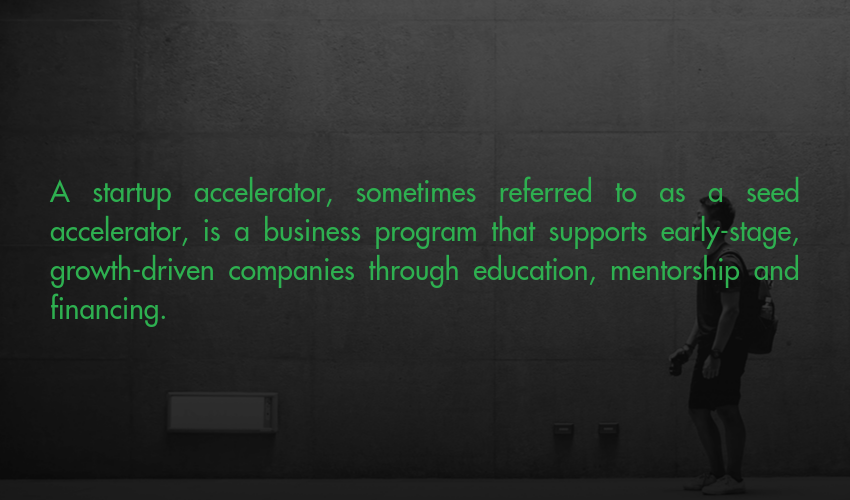 Startup accelerators often have a selective application process. Startups that are accepted receive mentorship, education, potential funding, and networking opportunities.
It's usual for startups to enter these accelerator programs in the hope of walking away with some funding.
That happens often when these programs guarantee some funding in exchange for an equity stake.
However, there are programs that give away little funding without asking for anything in return except that you complete the program.
Applying To Startup Accelerators
Startups don't need any specific funding to qualify for these programs. However, they do need to show a developed product, a strong team, and active customers to qualify.
From nearly no such programs in 2005 to over 200 in 2015 and consecutive years, startup accelerator programs have grown substantially.
This has encouraged more startups to learn, grow, and improve.
These accelerators have invested almost $20 billion in over 5000 startups and that's just in the U.S. alone.
The best part about this program is that it benefits all the parties involves— investors, customers, companies, and the economy at large.
Is Your Tech Business Ready To Be A Part Of A Startup Accelerator?
It can be a little confusing to know whether your tech startup is ready to be a part of a startup accelerator or not.
If you're in such a spot, ask yourself these following questions to get a clearer idea:
Is your business growing?

If you're collecting new customers, hiring employees at an overwhelming speed, then you're ready for the program.

Do you have an MVP (Minimum Viable Product)?

Startup accelerators are only for those businesses that have defined and sold an MVP.

Are you open to mentorship?

Are you in a place where you can clearly articulate your challenges? If you have a distinct, unanswered question that only experts might be able to answer, then it's time for an accelerator.

Do you have an established customer profile and a growing customer base?

Accelerators benefit businesses that have loyal customers and are willing to indulge in in-depth research to further expand their customer base.

Can you afford the price?

While startup accelerator programs provide funding, they do not give the benefit of paying your way through the program. Before you sign up, ensure that your team and you can afford to set aside a few months as you focus on your growth.

Can you relocate?

Many startup accelerator programs require physical relocation to get the most out of their resources and offerings. Which is arguably a small price to pay for the larger reward for your business' future.
How Do Startup Accelerators Work?
Startup accelerators operate in their own unique way but most follow a somewhat similar process.
The steps below will help you join a startup accelerator.:
1. Choose your accelerator
There are hundreds of startup accelerators spread across borders including the U.S., the UK, Canada, Russia, Chile, and more.
The programs vary on location, industry, experts, funding opportunities, and the kind of network they expose you to.
Before you apply to a program, do extensive research on whether they are a good fit for your business.
Here are a few factors to look for:
Industry

– Some accelerators work with specific industries such as marketing technology, fin-tech, retail, and eCommerce.

So, look for a program that aligns with your business's niche and where you can truly benefit from the exposure and mentorship.

Networking and relationships

– what kind of community and network will this program offer you? Also, who are the experts and educators that are going to be present at this startup accelerator? Are they relevant to your business? Will networking with them benefit you in the long run of your business?

Social proof – look for tech startups that participated in these accelerators and how much funding and experience did they gather? Are those businesses thriving? Aside from formal education, prestige and a good name are just as important in the entrepreneurial world. Being associated with a well-regarded accelerator can help your business in the long run.
Geography

– As mentioned earlier, startup accelerator programs are available across the globe and to participate in one may require you to physically relocate. However, if that seems to be a problem, then look for programs that either in your city or not too far away from where you are based.  
2. Apply to the startup accelerator program
Startup accelerators aren't easy to get into. Some of the top accelerator programs such as Y Combinator and Techstars only accept 1-3% of the 6,000 applications (almost) that they receive. They take only the very best.
To be a part of a program of such stature, take the application process seriously. Most programs demand and extensive written application along with multiple live interviews.
Here are a few things the programs are looking for in their applicants:
A minimum viable product (MVP)

– Without a viable product and an established customer base, accelerators won't take a second look at your application.

A clear competitive advantage

– What sets your business apart and can you communicate that in one-two sentences with real data? Accelerators look at thousands of applications so, unless you have extraordinary success to show, you may not qualify.

A strong team

– Do you have the right set of people to lead your business to success? Accelerators are not just looking at a strong product, they're also looking at the team that's making that product great.

A strong network

– Can you show that you have a well-established network in your industry before leaning on the accelerator? Displaying a well-defined network says that you're already putting in the work and are ready for a step-up.

A wish to learn

– If the experts at the program choose to mentor you, will you be open to the opportunity? Will you find it comfortable to apply their suggestions and ideas for your product growth? Humility and coachability play a significant role in getting your application accepted.
3. Present your business model to receive funding
The exit from the startup accelerator program is what sets it apart from all other business programs.
Towards the end of the program, founders participate in a "demo day" where they present their business model. The demo day happens for two reasons:
To share what the company learned and worked on during the program

To receive funding
Founders spend their energy building a comprehensive slide deck and pitching it to the investors at the program. Often the startups that receive funding do so in exchange for equity.
Final Thoughts
All startup accelerators are different but they share the same vision—encouraging entrepreneurs of all kinds to expand their business and impact.
Regardless of what industry you belong to or what product you sell, there is a startup accelerator program for you. Use these tips to find the right program, prepare your application, and make the most of the program.
Starting a tech startup or a tech startup accelerator program? Build it on a .tech domain!