More diversity leads to better innovations. Technology is constantly progressing and it's exciting to see women in tech take up leading roles to further enhance this industry. We spoke to Hayley Leibson–the mastermind behind Lady In Tech. Her goal is to be a positive voice that inspires and encourages young women to enter the tech industry. Together they work to increase diversity because of the pre-eminent role the tech industry plays in shaping the future. Read to know more about her endeavor.
What inspired you to start Lady in Tech? Tell us the story.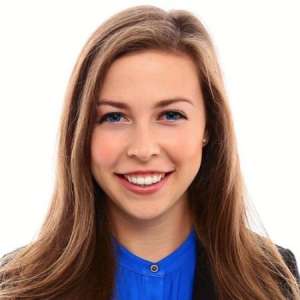 I found my way into tech during my undergraduate studies where I started taking engineering classes out of interest.
It was here, I discovered that the best way to make a positive impact on the world is through building technology.
I also realized, that there were few women in tech. I thought this was a huge problem.
We'll soon be walking hand in hand with autonomous cars, augmented reality, and artificial intelligence, and we are at a risk of embedding gender bias into all these new algorithms.
People tend to believe that algorithms are neutral when really, algorithms and machine learning models are just codifying the biases of the people who write them or the data that they are fed.
To help address this problem, I started the first "Women in Tech" organization to encourage women to pursue all careers in tech. Ever since starting that organization in college, I have been an advocate for diversity and inclusion of women in tech.
How does Lady in Tech empower female tech leaders and entrepreneurs?
Lady in Tech is making it easier to navigate start-up life through LIT (Lady In Tech) List, a monthly newsletter with invites to exclusive events, LIT content, reads, recommendations, special perks, offers, and much more! The LIT list makes it easy for female tech leaders and entrepreneurs to stay up-to-date on everything occurring in the Bay Area.
The organization also offers events to help female founders who have launched products/services to build scalable companies. Recently, Lady in Tech partnered with Product Hunt to host an inaugural invite-only event for female tech founders.
5 Reasons to Consider New Domain Extensions for Your Tech Startup
Today, tech startups are positioned as uber cool problem-solving entities packed with innovative solutions to everyday problems. And it would be quite unfair to label your revolutionary tech product or business with a conventional name. Many startup founders name their company on the basis of domain name availability.
How has social media helped you spread the word and reach female tech leaders?
I believe the growth in the following was due to being one of the few positive voices and providing followers with valuable content in the form of actionable advice from industry events and interviews as well as incorporating tech lifestyle pieces.
A lot of growth occurred after being covered by the BBC. For my work towards increasing inclusion and diversity in tech, I was invited to share my thoughts and solutions on how women in tech can break the glass ceiling with BBC World Service Radio show, BBC 100 Women, and BBC Mundo. The live broadcast reached over 300+ million people.
Who are some of the most notable female tech leaders that you advise aspiring women entrepreneurs must follow?
Some of my favorites include:
Jess Lee,
Leah Busque,
Whitney Wolfe,
Brit Morin, and
Megan Smith.
How do we include more women in tech?
Acknowledge the problem.
Understand the problem (this is the hard part).
Commit to solving the problem.
Experiment with different solutions; learn; iterate.
Most crucially, though, we need a mindset shift in how we think about diversity. So that we can treat it as we would any other business problem, with the same sort of rigor and creativity and commitment to results.
Could you share 4 tips with aspiring female leaders to follow to rise?
A ship in a harbor is safe, but that's not what the ship was built for. Go Sailing. Stop waiting until you feel perfectly ready to start something, or until you are an expert. Just start!
Create and surround yourself with a supportive, positive community both online and offline. Focus on building your network. We need the support network of women for us all to elevate women in tech.
Think critically about the world we live in and how to engage with it. As a future leader or founder, learn how to identify and interrogate privilege, power structures, structural inequality, and injustice. Think about what it is that you are building, and what the implications are for the world.
Aim to make the most leveraged impact that you can on the world.
Why did you choose a .TECH domain name?
I chose a .tech name because the name of my business is Lady in Tech and loved the domain name ladyin.tech!
"Starting a new tech brand? Build it on a .tech domain!"